Stop the HWDSB Madness
By Sean Burak
Published February 01, 2012
I want to think that this entire debacle of the Hamilton Wentworth District School Board moving to a suburban head office is an April Fool's joke years in the making. To maintain my sanity, I have to hope that this is the case.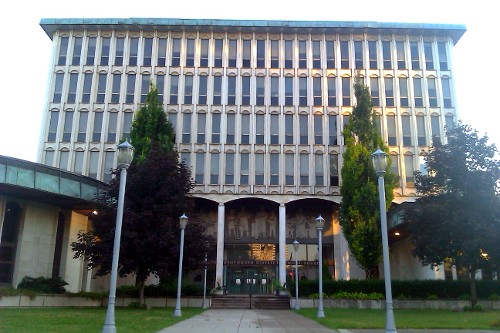 Board of Education Building, 100 Main Street West (RTH file photo)
This is 2012. Are we really going to spend millions of dollars building a nondescript box surrounded by surface parking, with all we know about the problems with suburban development and what it's doing to all of us?
Obesity is on the rise, and we are creating a generation of sedentary citizens who are trapped in neighbourhoods that are walkability nightmares. This is really the example the HWDSB Trustees want to set? As adults? As educators?
I read with disgust the latest report from the Spectator. Dundas Trustee Jessica Brennan's statement made me particularly sick:
Frankly, I want to pack my bags and go to our new building.
As if she can't get out of here fast enough.
I run a small bicycle shop in Hamilton, and I pay over $7,000 a year in property taxes for the privilege of operating in the core.
Every day I live with the challenges of downtown Hamilton and I do my small part to solve them. I'm not the only one. The lower city is full of great people who are dedicated to Hamilton and are doing their bit to improve the core in baby steps.
Meanwhile, our own Board of Education is eager to become part of the problem instead of the solution, undoing thousands of baby steps with this giant leap backwards.
To make matters even worse, they'll do it with our hard earned dollars.
This city has seen so much lamentable destruction, it is appalling and utterly unacceptable that our educators and our local government would subsidize the destruction of a perfectly functional building.
Architecture aside, we should not be destroying any building unless it is literally falling down. We simply can't afford it.
We as a city ask people to take care of their buildings. We soft-handedly suggest that people don't neglect their property.
Now we are going to set the example that it is perfectly okay to take a structurally sound and architecturally significant building and grind it into the ground.
Do as we say, not as we do.
Now is the time for us to set an example. Please stop this madness.
Post a Comment
You must be logged in to comment.