Excessive Parking in the Heart of Downtown
By Ryan McGreal
Published December 07, 2010
Here on RTH, we write a fair bit about the corrosive effects of all the abundant surface parking in the downtown core. In contrast to people (usually suburbanites) who claim the downtown would attract more visitors if it had more parking, we argue that the preponderance of cheap surface parking displaces potential destinations that might actually attract people.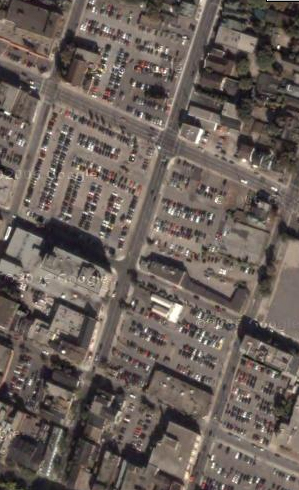 Block after block of surface parking; not to many actual buildings (RTH file photo)
The idea that there could be too much parking is controversial among people who think exclusively in suburban terms of easy motoring access, but the evidence strongly indicates that urban revitalization requires a commitment to replace cheap parking with actual destinations.
In downtown Hamilton, there's so much spare parking capacity that surface lots in prime locations - like the corner of Main Street and Bay Street - sit more than half empty in the middle of a workday.

Excess parking capacity at Main Street and Bay Street, within sight of the Standard Life building, Sheraton Hotel and HWDSB office
As long as we continue to think of downtown as a place that suburbanites might or might not visit, we will continue to try and reconfigure it to look like a suburban mall - and we will continue to fail at revitalization.
When visionary Toronto planners established the King-Spadina Secondary Plan and eliminated parking requirements, the doubters were apoplectic. "How will people get there if they have nowhere to park?" they asked.
The answer, of course, is that people and businesses moved into King-Spadina, and in droves.
This kind of non-linear thinking still escapes planners and engineers in Hamilton, who make the right kinds of noises about urban revitalization but still refuse to relinquish the suburban values of separation and speed.
Post a Comment
You must be logged in to comment.