So How's That Enforcement Working For You?
When policy goes up against human nature, policy loses every time. Successful policies work because they are designed to accommodate what people are going to do anyway.
By Ryan McGreal
Published May 14, 2009
The city has launched a road safety campaign in conjunction with Hamilton police, the public works department's traffic office, the public health department, fire department, and Ontario Ministry of Transportation to try and reduce the city's annual carnage of traffic deaths and injuries.
Their campaign entails a two-pronged approach combining education and enforcement in 'problem areas', including a pedestrian safety blitz targeting jaywalkers, who, as traffic manager Hart Solomon points out, are vulnerable road users.
Setting aside the disturbing notion that pedestrians are a 'problem area' in traffic safety, this approach is entirely reasonable, at least from a law enforcement perspective. There's just one problem: it doesn't work.
Moral Suasion and Enforcement Don't Work
In general, people with a given objective are going to pursue it as directly as they can, and they will act wherever possible to circumvent arbitrary barriers to progress.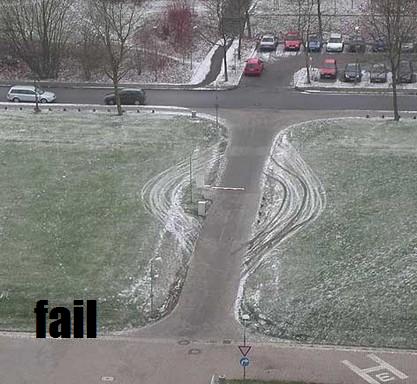 People will interpret arbitrary obstacles as damage and route around them (Image Credit: Failblog)
This is why, for example, Digital Rights Management (DRM) for music files is such an abject failure. People want music that isn't locked down and restricted, and if the music industry is too myopic to sell them what they want, they will go elsewhere - even into the legally murky waters of filesharing services - to get it.
It's why parks and campus green spaces often feature informal paths worn into the grass that stubbornly refuse to follow the official walkways. Smart park planners wait to see where the prevailing traffic flows before deciding where to place their paths.
It's also why pedestrians jaywalk. When you're walking, you will take the most direct path to where you're going. No one in their right mind would walk any distance out of their way just to use an arbitrary signalized intersection when the calculated risk of real-world Frogger is right in front of you.
(Yet the city persists in putting up signs at non-signalized intersections instructing people to walk 400 metres out of their way in a return trip to the nearest traffic light. The mind boggles.)
It further explains why motorists persist in racing down wide, straight, multi-lane thoroughfares with timed lights despite legal speed limits.
When policy goes up against human nature, policy loses every time. Successful policies work because they are designed to accommodate what people are going to do anyway. Think of the smart park planners who put pathways where people already walk.
Change the Balance of Incentives and Disincentives
If you want to encourage different behaviour, you can't just insist that people stop acting in a manner that seems reasonable for them. Instead, you need to change the balance of incentives and disincentives in which people make choices.
If you want motorists to drive more slowly, a better option is to make it physically and psychologically more difficult to drive quickly. The following structural changes are effective at slowing traffic:
Two-way traffic flow
Wider sidewalks
Narrower lanes
Curbside parking
Street trees
Non-synchronized lights
This produces several mutually reinforcing effects simultaneously, chiefly by reducing the average speed of traffic flows:
Due to the exponential correlation between vehicle speed and risk of pedestrian death in a collision, lower vehicle speeds dramatically reduce the risk of death and serious injury when collisions do happen.
Because the stopping distance of a vehicle is proportionate to the square of its speed, lower speeds also mean that drivers are much less likely to hit pedestrians in the first place.
Because the street is safer and friendlier for pedestrians, there will be many more of them, which will benefit local businesses and normalize, for drivers, the idea that you have to watch out for pedestrians.
Because it is less convenient to drive, people will drive shorter distances and less frequently, choosing instead to combine trips, source goods more locally, or use other means of transportation - including walking, cycling and transit.
That, in turn, will also improve local business, which will attract still more pedestrians, which will further dis-incentivize driving, and so on in a virtuous circle of livability.
Decriminalize Walking
Here's a dangerous, irresponsible idea: if we changed our streets so they were no longer thoroughfares, we could simply throw out our jaywalking laws.
This recalls the article I referenced in a recent blog post about how to make cities more pedestrian- and cycling-friendly:
[Pedaling Revolution author Jeff] Mapes takes us to even more pedal-friendly cities. In Amsterdam, 40 percent of non-walking trips are by bike. He quotes, approvingly, Jack Wolters, the city's top traffic-safety officer: "The target of the police is not to control cyclists and pedestrians. It is to control the most dangerous part, motorcar drivers. [emphasis added]"
Can you imagine if pedestrians, and not motorists, had a right of way by default?
Why not? If we truly want, as we claim, to get people out of their cars and to start walking, cycling and using transit more, we need to stop building our physical and legal infrastructure to encourage what we claim to oppose and to discourage what we claim to support.
People will walk more if it's easier, more convenient, and more enjoyable to walk. As long as both street design and law conspire to punish those pedestrians who dare to take advantage of the chief advantage of walking - the ability to follow one's own direct, unregulated path to a given destination - they will continue to discourage people from walking.
Shared Space and Negotiation
If we follow this reasoning courageously enough, we eventually cross paths with Hans Monderman, the Dutch traffic engineer who bucked the trend of his profession and threw out the standard package of self-fulfilling assumptions on how streets work.
Monderman, who died last year, leaves a tremendous legacy in his shared space approach to traffic safety - a concept for which I fear Hamilton's top-down, enforcement-oriented politicians and planners are utterly unprepared.
Unlike most traffic engineers and planners, whose response to the discovery that regulatory controls don't work is to impose more such controls, Monderman concluded that streets work best when the controls are stripped away and people using the street in various capacities are left to negotiate with each other to arrange passage.
Every fibre of my being screams that this is a disastrous idea - that Hamilton motorists will "negotiate" by mowing down any pedestrian foolish enough to step in their way. This, I'm given to understand, is a common reaction when people are exposed to Monderman's ideas.
Just as it's reasonable to conclude that the solution to dangerous streets is more enforcement, it's likewise reasonable to conclude that taking away rules will make streets more dangerous.
Again, the only problem with this perfectly reasonable conclusion is that it's wrong.
In cities that adopt Monderman's shared streets model - and cities across Europe have been doing this for several years - what inevitably happens is that rates of traffic collisions, injuries and deaths drop precipitously.
It actually gets weirder. Not only do collision and death rates collapse, but also overall road capacity actually increases and traffic jams all but disappear, even as the numbers of pedestrians and cyclists explode.
As Ben Hamilton-Baillie, Britain's main proponent of shared space, puts it:
This approach draws on behavioural psychology involving the way drivers respond to their surroundings. It removes the sense of security provided by barriers - such as curbs, and traffic lights. Instead of relying on the street system for security, drivers are forced to use their reactions.
The result is slow, cautious drivers making eye contact with unpredictable-by-design pedestrians and cyclists, negotiating rights of passage down the street, and proceeding carefully with a heightened awareness of other street users.
Lest you think the kind of exceptionalism that says this couldn't possibly work here only obtains here in the Hammer, Hamilton-Baillie has to answer the exact same argument due to Britain's notorious "aggressive drivers".
To this he responds, "There is a clear link between people's surroundings and their behaviour. If people are in an unpleasant environment, they will behave badly."
The reverse is true: in a pleasant, mutually respectful environment, people behave well.
Post a Comment
You must be logged in to comment.