What's Up With Fluoride?
My take on water fluoridation, based on current scientific knowledge, is that the benefits outweigh the risks.
By Ted Mitchell
Published November 26, 2008
I've been following the debate over water fluoridation with interest. There are two solitudes: scientists and policy makers who cannot seem to connect with the public; and various interest groups who grasp at whatever scientific straws are available and overinflate the concept of scientific uncertainty, adding large helpings of moral indignation.
Several years ago, I read a book by aerospace engineer and sociologist Alan Mazur entitled The Dynamics of Technical Controversy, which among other topics examined the chronicle of water fluoridation proponents and opponents over several decades.
The essence of this book was that in many controversies, you see a nonintuitive effect of increasing polarization of the allegations between opponents and proponents over time. Mazur's work is only a small part of the sociological literature for which this endless debate supplies a gold mine of material.
This controversy has been going on since the early days of the Cold War, where fluoridation of water was said to be part of a Communist plot to decrease the IQ of American children. More recent opposition is slightly more credible, but scientific objections are overwhelmed by political and moral objections.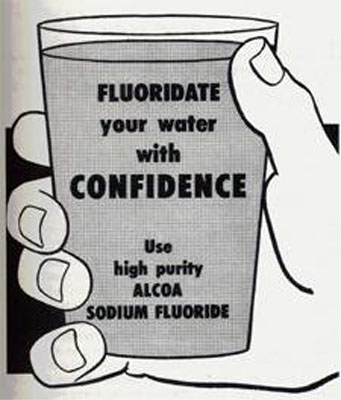 Image: 'Fluoridate your water with confidence - use high purity Alcoa sodium fluoride' (Source: Mercola.com)
On the pro-fluoride side, you have the organizations like the Canadian and Ontario Dental Associations, Health Canada, the WHO, CDC, and the U.S. Surgeon General who support fluoridation, but generally come across as condescending experts who dictate in top-down fashion what is good for us.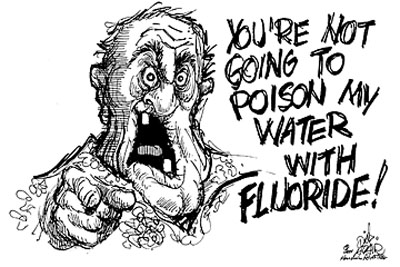 Image: You're not going to poison my water with fluoride! (Source: Illuminati News)
On the other hand, you have a mishmash of opponents, from rogue scientists and dentists to right wing nuts, some environmental groups, and a loud, ignorant public who couldn't think themselves out of a wet paper bag.
An interesting example of this muddled thinking is found in Wikipedia (I know...), where an article titled Water Fluoridation launches immediately into side effects of excess fluoride before efficacy is briefly discussed halfway down the page, and at least 2/3 of the article is dedicated to potential side effects.
A related page, Water fluoridation controversy redirects to Water fluoridation opposition, clearly a different subject. The resulting page is a confounded muddle of both topics, again heavily emphasizing potential harm.
When such heavy bias and failure to simply define the issue dominate internet search results, we have a deep problem.
The town I grew up in, Dryden, Ontario, recently decided to stop fluoridating water. There was strong public opposition to fluoridation, based in my opinion on moral indignation stoked by a hired gun scientific cynic. Self-righteousness is a recurrent theme up there.
More recently, a group of which I am - or was - a member, the Canadian Association of Physicians for the Environment (CAPE), has embarrassingly waded in to this quagmire in opposing water fluoridation. Regardless of the rationale for this position, it is not worth being tainted by the company you keep. In my view, this endorsement degrades the many other more important health issues that CAPE aims to address.
The precautionary principle is the raison d'etre of CAPE, superficially consistent with opposing fluoridation, but missing the boat in that it should only be invoked in cases where scientific evidence is lacking or impossible to obtain.
This is not the case with fluoride.
I've sifted through a hundred or so scientific abstracts on the effects and safety of supplemental fluoride - just a small part of all the scientific articles published on the subject. It appears that the cavity reducing benefit from water fluoridation runs between 15 and 60 percent, is observed independently in many countries, and the effect is stronger in children.
Supplemental fluoride (e.g. toothpaste) is also important, but the additional effect of either supplements or fluoridated water when one of these is already present leads to diminishing benefits.
I couldn't find any credible evidence of harm in the doses used for fluoridation. This has been examined for many diseases and so far, nothing is worrisome. The only significant effect is a weak correlation with cosmetic dental fluorosis. More significant cases are almost always due to rare medical conditions or residence in an area with excessively high natural levels of fluoride.
My take on water fluoridation, based on current scientific knowledge, is that the benefits outweigh the risks.
The many studies and meta-analyses are not exhaustive, but the size of any potentially harmful effects must be small or these would have been detectable and reproducible. (A meta-analysis takes all the studies ever done on fluoridation, keeps the good quality studies, drops the poor ones, and pools the statistics.)
The most readable and objective meta-analysis I found is available online from the British Medical Journal: Systematic review of water fluoridation.
Their conclusion is more nuanced than the paternalistic public statements from dental and governmental organizations, and it bears reprinting here.
Given the level of interest surrounding the issue of public water fluoridation, it is surprising to find that little high quality research has been undertaken...

The evidence of a reduction in caries [cavities] should be considered together with the increased prevalence of dental fluorosis. No clear evidence of other potential negative effects was found. This evidence on positive and negative effects needs to be considered along with the ethical, environmental, ecological, financial, and legal issues that surround any decisions about water fluoridation. Any future research into the safety and efficacy of water fluoridation should be carried out with appropriate methodology to improve the quality of the existing evidence base.
To clarify:
Fluoridation doesn't matter much in the big picture of pollution.
There is a better way to resolve this argument.
I cannot stress point 1 enough. If you care about environmental toxins, fluoride is way, way down the list. So if you go out on a limb insisting that fluoride be banned from the earth, then to avoid being a total hypocrite you have to be more concerned about things like greenhouse gases, second hand smoke, endocrine disruptors, coal plants, diesel engines, single occupancy driving, woodstoves, two-stroke engines, and pesticides.
As for point 2, this matter needs work, including hefty doses of public input and discussion into future scientific studies. I have seen no better example of the need for dialogue to bridge the widening chasm between the lay public and the ivory towers of epidemiology. This approach is necessary to make science more respected and useful to the public interest.
The alternative is a further polarization and false association of science with politics, thereby making it a divisive target for political attacks. Everybody loses in that scenario. Real science has no political agenda: truth is not affected by your interpretation of it.
Further Reading
Post a Comment
You must be logged in to comment.