Downtown Update
Decisions, dilemmas and drive-thrus downtown could demolish our doldrums or derail our developments.
By RTH Staff
Published November 26, 2008
Council Rejects Fare Increase
After twelve Councillors were deadlocked at the November 15 Committee of the Whole on a ten cent HSR transit fare increase, Council met again last night for a final vote on fares.
Council deadlocked again with eight votes in favour and eight against. Mayor Eisenberger proposed as a fallback to raise fares by just five percent. Demonstrating once again that a good compromise leaves everyone mad, Council couldn't muster the votes to pass this increase either.
Now that Council has rejected increasing the burden of HSR operating costs on transit riders, they have to decide how to balance the transit budget. To put it bluntly, this will require either increasing the transit tax levy or cutting service.
As council has also repeatedly demonstrated an unwillingness to increase the burden of HSR operating costs on ratepayers (for example, by refusing to open up the area rating debate), that seems to leave only the option of somehow finding savings in the HSR operations itself.
Essentially, Council is deadlocked on whether to raise fares or raise the transit levy, with half supporting one and opposing the other, and the other half opposing one and supporting the other. The votes generally reflect the urban / suburban-rural split among councillors in our amalgamated city.
Stay tuned to see how this story develops.
City Rapid Transit Update Meetings
The city's Rapid Transit office is holding two public meetings in December to provide an update on the rapid transit initiative.
First Meeting
Date: Tuesday, December 2nd, 2008
Time: 6:00pm - 8:00pm
Location: Hamilton Convention Centre, Webster Room C
Address: 1 Summers Lane, Hamilton
Second Meeting
Date: Thursday, December 4th, 2008
Time: 6:00pm - 8:00pm
Location: Barton Stone United Church
Address: 21 Stone Church Road West (at upper James), Hamilton
A presentation will begin at 6:30pm. The same information will be presented at both meetings.
Right now, Council's position is that Metrolinx should pay 100 percent of the capital cost. Metrolinx has indicated that this isn't realistic, though they are prepared to pay "the lion's share" as Metrolinx Chair Rob MacIsaac recently told the Spectator editorial board.
Essentially, Council is telling Metrolinx: light rail is so critical to Hamilton's revitalization that you need to pay for it; but we're not prepared to commit any of our own money to make it happen. That simply isn't a reasonable position to take.
Now, this may merely be an opening position in the city's negotiations with Metrolinx, but if Council intends to stand on this position, it will actually hurt Hamilton's chance at getting provincial LRT money.
Staff (and council) need to hear from Hamiltonians that we are willing to put up some of our own money toward this if that's what it takes to make LRT happen.
Metrolinx has indicated that it expects the city to put up around 15 percent of the total. Now, public works staff have estimated that the east-west B-Line could cost $650 million (though this is for separate lines running on Main and King Streets). 15 percent of that is just under $100 million, which the city would have to amortize through its capital budget.
Essentially, the city borrows its capital budget, and then services its debt from operating revenues. For the next couple of years, the capital budget is constrained by the big financial shadow still being cast by the RHVP construction, but that will start to ease by, say, 2010 (though planned expansion to the Woodward water treatment facility will put new pressure on the capital budget very soon).
Here's a back-of-the-envelope capital outlay schedule for LRT:
Potential LRT Budget Schedule

| Year | Budget (millions) |
| --- | --- |
| 2010 | $10.0 |
| 2011 | $20.0 |
| 2012 | $30.0 |
| 2013 | $37.5 |
| Total | $97.5 |
The city's upcoming information meetings represent an important opportunity for citizens to communicate to public works staff that the city must be willing to put in a small share of the capital costs for the east-west LRT line, particularly given that the expected increase in commercial tax assessments will be so impressive.
King West
As the Fortinos on Dundurn puts the finishing touches on an in-store pharmacy, the neighbouring Shopper's Drug Mart is moving kitty-corner to the Harvey's plaza on King at Dundurn. The new location will be smaller but will include a drive-thru pharmacy - because we need more drive-thru businesses in Hamilton.
Apparently the old G.P. Grumpy's building at 470 King St. W. has been bought by a new investor who plans to renovate the upstairs apartments. No word yet on what they plan to do with the storefront.
Also on King, the King West BIA heard from businesses between King and Dundurn at a meeting to discuss whether to expand the boundary of the BIA farther west. Currently the BIA runs on both sides of King from Caroline St. to Queen St.
Jackson Square
The mall, that is, not the album.
The new People's Jewellers at Jackson Square is open. This is a business that located in JS once, then closed, and has now returned. Is this a sign of more good things to come?
The new Food Court expansion is also progressing, and the draping that until recently hid it from view has been removed. Instead of a food court, Yale Properties should convert it into a badass Roller Derby rink, though they'd probably have to wrap the load-bearing pillars in padding to appease their insurance provider.
And Then There Was One?
Heading east, the city is now the proud owner of Maxim's strip club at 95 King St. E. CityHousing Hamilton, the city's public housing bureaucracy, plans to convert the Gore Park property into public housing. The Maxims building is next to the recently-constructed Gore Building, which also provides subsidized housing.
In a way, it's a shame the city plans to shut down the strip bar. Absenting squeamishness, this could provide an important revenue stream to help offset pressure to raise property tax rates...
Maxim's is one of two remaining "gentlemen's clubs" in the Hammer. The other is the ever-classy Hamilton Strip on Barton St. E.
Centre Mall Turns its Back
The new Centre Mall is coming together, and just as we feared, the buildings on Barton St. have their backs turned to the sidewalk, presenting only blank rear walls.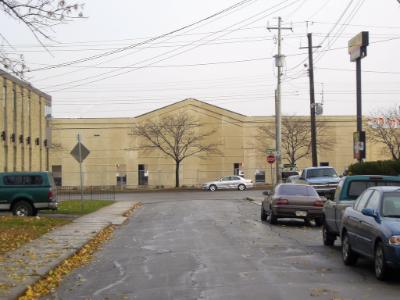 Centre Mall big box store from Barton Street (Image Source: Flickr.com)
Maybe it was just too, I don't know, radical to expect a real urban development in poor old Hamilton. But would it have been too much to ask for the buildings on Barton to be flipped around and open onto the sidewalk with vehicle access from the rear? The Barton streetscape would have been so easy to do properly - even a bland stucco facade would have been acceptable.
Instead we're stuck with a development that actually looks ashamed of its surroundings, including the vibrant Ottawa Street commercial district.
We're tired of the diminished expectations in this town, the self-fulfilling sense that we should be grateful for whatever scraps fall our way. The blank rear walls of one-storey stores hiding from Barton Street are just not good enough.
Aerotropolis: Will it Fly?
Aerotropolis: Will It Fly? - Hamiltonians for Progressive Development (HPD) are sponsoring a night of straight talk about the Airport Employment Growth District (AEGD) planned urban boundary expansion around Hamilton International Airport.
The AEGD has met with resistance from the Province. Concerns about fuel costs, climate change and the loss of foodlands don't appear to have been considered. This plan also dismisses the possibility of re-using older industrial areas along Hamilton's bayfront.
This meeting, hosted by HPD chair Michael Desnoyers, will let you find out WHERE the lands in question are, WHAT the current status is, WHO the stakeholders are and HOW you can voice your opionions and concerns over the 'Aerotropolis' plan.
Date: Wednesday, December 3, 2008
Time: 7:00 PM - 9:00 PM (doors open at 6:30 PM)
Location: Mount Hope Community Hall
Address: 3027 Homestead Drive, Mount Hope
with files from Citizens at City Hall (CATCH), Jason Leach, Ryan McGreal and Trey Shaugnessy
Post a Comment
You must be logged in to comment.