Council Takes a Leap of Faith and Reaffirms Support for LRT
After months of turmoil and dysfunction, Council made history last night by voting to move the city's Light Rail Transit forward with a Provincial commitment to extend the line to Eastgate.
By Ryan McGreal
Published April 27, 2017
Dundas Councillor Arlene VanderBeek best captured the spirit of last night's landmark Council vote for the Light Rail Transit (LRT) project: "If you're not sure, err on the side of progress."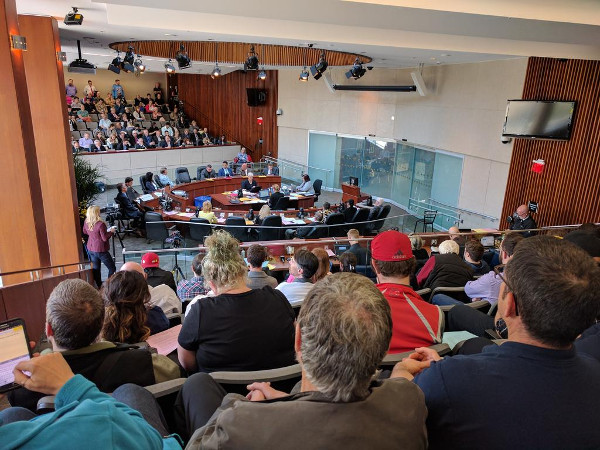 Standing room only at Hamilton City Hall for historic LRT vote
It was standing room only at City Hall as a packed gallery waited for the big decision after two deferrals of an Environmental Project Report (EPR) amendment that the Ministry of the Environment and Climate Change must approve as part of the mandatory Environmental Assessment (EA) process before the project can move forward.
In the end, Council voted 10-5 to approve the EPR amendment - and in doing so, helped restore the faith of Hamiltonians who have been shaken by months of turmoil and dysfunction.
A huge factor in this decision was the last-minute announcement by Ontario Transportation Minister Steven Del Duca committing the Province to work within the approved LRT funding envelope to extend the line to Eastgate Square.
In a letter to Mayor Fred Eisenberger, Del Duca wrote:
Given the funds made available from the removal of the LRT spur, I can confirm that the Province will work to add the Eastgate extension to the current project scope and procurement. This would be contingent upon Hamilton City Council support as well as the consideration of available funding to address any additional cost requirements, if necessary. The Province will work with the City to explore ways to reduce costs to accommodate the extension within the original project budget.
For a Council that had painted itself into a corner over the past few months with a barrage of concerns about the approved line from McMaster University to Queenston Traffic Circle, the extension to Eastgate represented a face-saving way to move past the rhetoric and salvage a once-in-a-lifetime transformative investment in the city's future prosperity.
More importantly, it is also the best decision for the LRT project itself, connecting the line to an important eastern transit terminus and providing rapid transit service directly to Stoney Creek.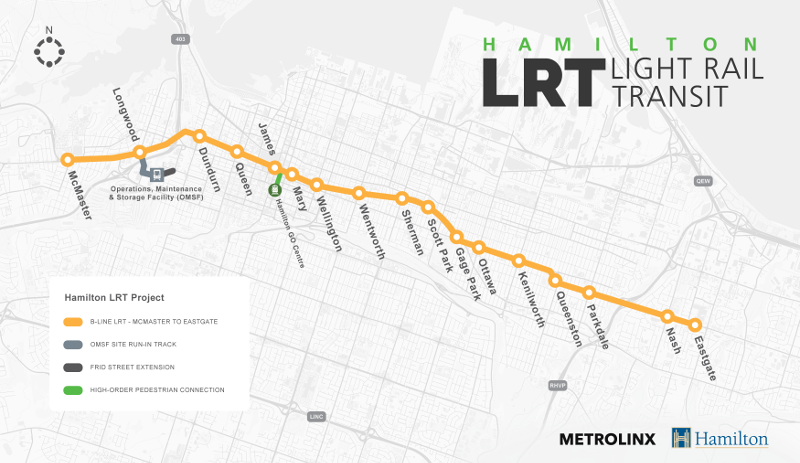 B-Line LRT route with Eastgate extension included
Voting in favour of approving the EPR addendum were Mayor Fred Eisenberger, Ward 1 Councillor Aidan Johnson, Ward 2 Councillor Jason Farr, Ward 3 Councillor Matthew Green, Ward 4 Councillor Sam Merulla, Ward 5 Councillor Chad Collins, Ward 6 Councillor Tom Jackson, Ward 8 Councillor Terry Whitehead, Ward 12 (Ancaster) Councillor Lloyd Ferguson, and Ward 13 (Dundas) Councillor Arlene VanderBeek
Voting against were Ward 7 Councillor Donna Skelly, Ward 9 Councillor Doug Conley, Ward 10 Councillor Maria Pearson, Ward 11 Councillor Brenda Johnson, and Ward 15 Councillor Judi Partridge.
Ward 14 Councillor Rob Pasuta was absent due to illness.
Many Thanks to Go Around
First of all, we need to thank Mayor Eisenberger and the five Councillors whose LRT support has been steadfast and unwavering: Aidan Johnson, Jason Farr, Matthew Green, Sam Merulla and Lloyd Ferguson. While many councillors have been on the fence and some have been openly opposed, these six have remained champions in the face of all the opposition.
Without this hard core of support, there would have been no foundation on which to build last night's majority of votes.
We also need to thank the swing councillors - Chad Collins, Tom Jackson, Terry Whitehead and Arlene VanderBeek - who ultimately voted to take the leap of faith for LRT despite the inevitable uncertainties of such a large project and the mixed message they must be hearing from their constituents.
Their support should rightly be regarded as conditional and contingent - Jackson explicitly said that his vote should not be regarded as support for LRT as such but rather support to let the process unfold to answer the pending questions about operational cost and implementation detail. LRT supporters will have to work hard to build on their willingness to stay the course with support and advocacy to expand public support.
We need to thank Paul Johnson, the City's unflappable LRT Director, and the dedicated staff of the LRT office. Through a debate that became highly politicized and even ugly, they maintained their professional integrity (even when certain councillors tried to impugn it) and have always been prepared with detailed, accurate and thorough answers to the questions that Councillors and the public threw their way.
Johnson in particular has spent more hours in the hot seat over the past year than perhaps any other City employee, and his calm professionalism has been an inspiring model. He is to be congratulated for keeping his cool and patiently riding out the turbulence.
We definitely need to thank the Province, which has once again saved us from ourselves by committing to Eastgate and giving Council the political cover it needed to reaffirm its own commitment to the project. Specifically, we need to acknowledge Ancaster-Dundas-Flamborough-Westdale Liberal MPP Ted McMeekin, who went all-in on this project and has staked part of his political legacy on seeing it completed. He has fought long and hard at Queen's Park to keep this thing alive for Hamilton's sake.
We also need to credit Transport Minister Del Duca and Premier Kathleen Wynne for going to the mat on this. There is no narrow political upside to them fighting for this project to succeed, and they could easily have sat back and allowed the city to self-immolate. There are plenty of other cities that would love this money, and Hamilton is probably not going to swing Liberal any time soon.
It's hard to conclude anything other than that they committed to this project because they sincerely believe it's the right thing to do. That kind of principled stance is not common in politics and deserves to be recognized and celebrated.
We need to acknowledge the literally hundreds of businesses, community organizations and anchor institutions that had the vision and courage to publicly affirm their support for this plan and to throw their weight behind it. It takes a lot for a business or institution to take a public stand on a political issue, and they deserve our thanks for their willingness to get involved.
We need to thank the many Hamiltonians who have actively engaged on this issue. Movements do not just happen by themselves, and an inspiring coalition of volunteers came together over the past several months and years to coordinate LRT activism and advocacy on a number of fronts: developing communications strategy, canvassing door-to-door, organizing a rally that drew hundreds of supporters, researching, analyzing and writing about various aspects of the project, reaching out to an astonishing array of diverse community institutions for affirmations of support, writing and soliciting letters and phone calls to Councillors, the Province and local media, and more.
More broadly, we must applaud the thousands, even tens of thousands, of Hamiltonians who have taken the time to learn about the project, read reports, attend public information sessions, ask questions, and express their opinions. Many people who started out skeptical or opposed came to support the plan as they have learned more about it.
But even those people who still oppose it are at least willing to take the time to be engaged, and we must respect their essential role in the messy democratic process of building consensus around a large, transformative initiative.
Important credit for the strength of this plan must also go to the fair-minded skeptics who have asked tough questions in good faith and rightly demanded good answers. The project as a whole is better for having its rough edges burnished against these challenges.
Collins: Act as a Team
Perhaps the biggest surprise in last night's vote was Councillor Collins, long regarded as the Machiavellian mastermind of the anti-LRT Council faction, who has consistently voted against LRT since the Province announced full capital funding in May 2015.
Collins is a quiet power broker, not given to grandstanding or showboating. But last night he spoke for almost half an hour, a heartfelt and deeply personal reflection on the highly contentious debate, the political pendulum "swinging wildly back and forth" (he referenced Toronto going from Mayor David Miller to Mayor Rob Ford and the USA going from President Barack Obama to President Donald Trump), and the extraordinary level of civic engagement on LRT. "We've been inundated with phone calls and emails."
He also spoke of the personal toll this debate has taken on council members: the lost sleep and anxiety, the strain on friendships around the table (he joked, "My best friend here [Councillor Merulla] was ready to knock my block off"), the "gong show" of multiple 13-hour ultramarathon General Issues Committee meetings, and the heavy burden of responsibility for a project that has deeply divided the community.
He reiterated that LRT success depends in part on what Council does to prepare the city, including resolving area rating for transit - "this project doesn't get much beyond 2018 if we don't resolve area rating" - and making the service level improvements identified in the Rapid Ready LRT plan, which "will require significant investment from around this table."
He also raised the spectre of lawsuits from businesses affected by LRT construction and warned that Council can't deal with these things effectively unless it has consensus. "When we arrive at City Hall, the community expects us to act as a team."
To that end, he committed, "I'm willing to work with Council" on moving the project forward and warned that his colleagues must be willing to do the same. He finished by stating, "I will be supporting the EA" to an eruption of applause from the gallery.
VanderBeek: Opportunity Not to be Wasted
Councillor VanderBeek, the most enigmatic undecided 'swing' councillor before the meeting, also landed in support of the plan. VanderBeek was a protege of former Dundas Councillor Russ Powers, who was the first member of Council to vote against LRT in April 2013, when Council voted to reaffirm its support for the Rapid Ready LRT plan.
"During the past election," VanderBeek said, "I made it clear that LRT was not a priority for me." But over the course of the LRT debate, she has gradually changed her mind. "I have become convinced that this is not a terrible risk but an opportunity not to be wasted."
Speaking to the often-touted alternative of bus rapid transit (BRT), VanderBeek noted, "BRT may be cheaper and more flexible, but also more expensive to operate in the long run." With 100 percent capital funding for LRT comes "risks and costs, but opportunities" as well.
Like Collins, VanderBeek spoke to the importance of implementing the transit service improvements outlined in the Rapid Ready LRT plan in time for LRT to start operation in 2024. "It's high time we prioritize transit spending, and we're the only ones who can do that."
VanderBeek took pains to note that her community is split on LRT and that no matter what decision she made, "a large part of my constituents will be outraged."
Just before announcing her support, she said, "I'm sorry that I'm going to disappoint some of my constituents," keeping the gallery in suspense until the very end.
Ultimately, VanderBeek, concluded, "we need to watch the message we send to investors, youth and Millennials" about Hamilton's values and priorities. "If you're not sure, err on the side of progress."
What Comes Next
This project is not yet a done deal. Next year, after the Request for Proposals (RFP) process has concluded and Metrolinx has picked a winning bid to build, operate and maintain the LRT line, Council will have to vote on an Operational Agreement with Metrolinx that will spell out in detail how the City and Province will share the operating costs and revenues.
Before that happens, a shortlist of consortia will submit proposals to build and operate the line. The winning bid will be the one that offers the most cost-effective contract in terms of both capital and operating costs. We have a fairly good idea what that operating cost picture will look like for Hamilton, but we won't know the exact numbers until the winning bid has been selected.
The grand coalition of LRT supporters has its work cut out: over the next year, we need to work hard to broaden the base of support for LRT. It's fair to say that today, most Hamiltonians don't have particularly strong feelings one way or another about the project.
A telephone poll conducted earlier this month suggested a community divided over the plan, but even setting aside the skewed sample (69% of respondents were over age 55 and only 4% were aged 18-34), the unhelpful short set of survey questions failed to capture the extent to which respondents actually understood what is at stake.
As Councillor Ferguson argued last week and Councillor Merulla reiterated last night, when you take the time to explain what the LRT plan actually is, most people agree with it.
What the poll does suggest is that we have our work cut out to explain and evangelize LRT to a lot more Hamiltonians so that Council goes into next year's Operational Agreement with a clear sense of purpose so that we can avoid another iteration of what Collins called "the gong show".
An important part of that will involve reaching out to business owners along the LRT line who are rightly concerned and even frightened about what this major road reconstruction project will do to their livelihood.
There will be challenges without question, but we need to ensure that we do everything possible to support those businesses - even the ones who don't support LRT - so that they are included in the success of the LRT implementation.
A small group of volunteers is already in the early stages of a campaign we're calling "Shop the Corridor", which aims to provide business owners with a set of resources to stay connected with their customers and to encourage people to make a point of shopping in their stores during the construction phase.
We plan to study other cities that have recently built LRT systems in search of best practices that we can bring to Hamilton to mitigate lost revenue so that our business owners are still around to enjoy the fruits of owning a business on our LRT line.
We are surely not alone in that aim. The Hamilton Chamber of Commerce is also looking at what it can do to support businesses through construction, and Metrolinx has community benefits - including supporting local business - as part of its mandate.
Let us all take a few moments to breathe a sigh of relief after last night, but we can't afford to grow complacent. The real work of building a broad consensus across all of Hamilton is just getting started.
Post a Comment
You must be logged in to comment.