LRT Poll Shows 52 Percent of Hamiltonians Support or Are Undecided on LRT
Despite a flawed poll and a year long misinformation campaign, Hamiltonians are still split down the middle on LRT.
By Nicholas Kevlahan
Published April 18, 2017
Obviously, it would have been better, given the ten years of planning and $70 million already spent or committed if the poll showed a majority respondents supported LRT. But the reality is that the poll didn't give important background information (e.g. that province was paying 100% of the capital costs, that Council had asked for the funding, and that much of the money would go to infrastructure upgrades). And respondents self-describing as 'informed' about LRT doesn't really mean much, given all the misinformation being spread by anti-LRT councillors and suburban newspapers.
We mustn't forget that during the extensive public consultation period in 2009-2011, over 80% of Hamiltonians were in favour of the LRT project when they were actually told about the project and why Hamilton was doing it.
In this case, I agree with the Mayor: given all the misinformation and the claims by the anti-LRT Councillors that 'no one' supports LRT the fact that 52% are in favour or undecided is not so bad. You really can spin it either way.
Interestingly, as Andrew Dreschel pointed out, Waterloo conducted a similar poll in 2011 that produced almost exactly the same result (48% opposed, 39% support, 83% wanted a referendum).
Nevertheless, Waterloo region pushed on despite the controversy because they understood why they needed LRT. Today people in K-W are very excited about their nearly completed LRT. I predict that a similar poll a year from now would find a strong majority glad they built it (even though, unlike Hamilton, they have to pay about 1/3 of the cost).
In fact, I don't know of any community that's decided it was a mistake to have built LRT. To the contrary: communities almost invariably start working on extensions immediately after the first line is operational!
It's also important to remember that only 4% of respondents were aged 18-34, while 69% were aged 55+. It is very difficult to correct for such a large sampling bias, especially given that 94% of respondents were contacted by landline. (The Ipsos-Reid poll in Kitchener-Waterloo that I linked to above established "quotas based on age [...] to ensure proper age representation across the sample", an important step that was notably not taken here in Hamilton.)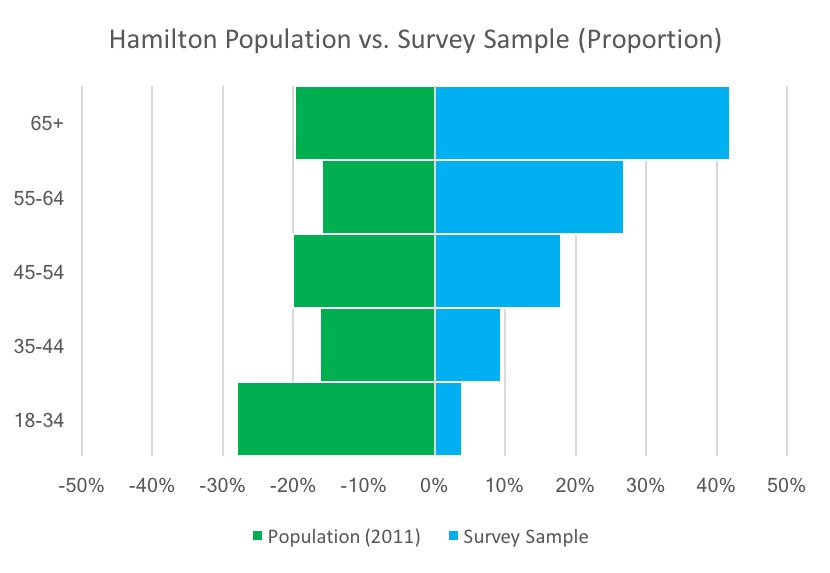 Hamilton population compared to LRT survey sample proportion, by age group (Image Credit: Chris Higgins)
We should be paying particular attention to the desires of the younger, working, population of Hamilton. The fact that those under 55 tend to support LRT more than older residents is a strong argument in favour of LRT: remember that we're building LRT for the future and this shows the future wants it.
A city that ignores and alienates its younger residents is a city without a future!
Post a Comment
You must be logged in to comment.