Why Does Council Not Support LRT More Strongly?
Community and business support for LRT is as close to unanimous as feasibly possible. How has this unprecedented level of support not translated into strong political support?
By John-Paul Danko
Published March 25, 2017
If there is one aspect of Hamilton's Light Rail Transit (LRT) project that I cannot rationalize, it is this: with community and business support for LRT as close to unanimous as feasibly possible, how has this not translated to an equivalent level of political support?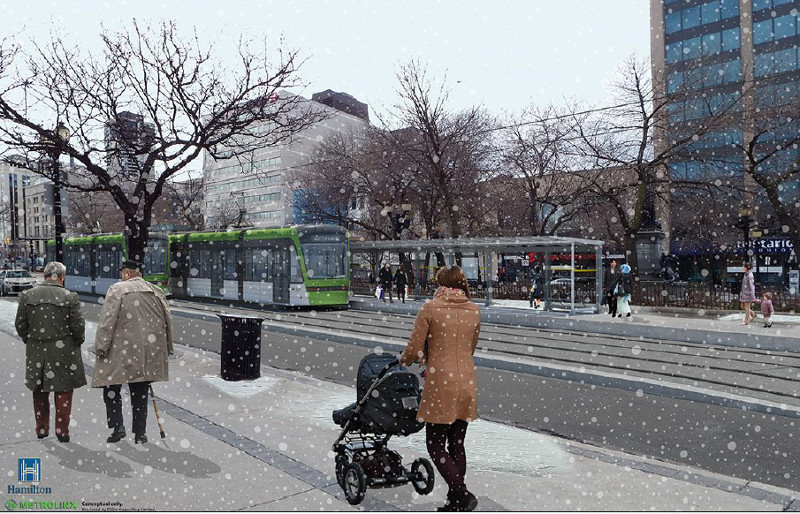 Rendering: LRT at Gore Park
Who Supports Hamilton LRT?
Let's start with the Hamilton Chamber of Commerce, representing 944 Hamilton businesses.
Add Hamilton's largest employer, Hamilton Health Sciences, and every single other major Hamilton institution: McMaster University, Mohawk College, both the public and Catholic school boards and St. Joseph's Healthcare. Just these six institutions alone represent more than one out of every four jobs in the entire city.
But Hamilton is a manufacturing City, you might say? Arcelor Mittal Dofasco, Hamilton's largest private sector employer, also supports LRT. Then there are the hundreds of other individual small businesses who care enough to publicly support LRT.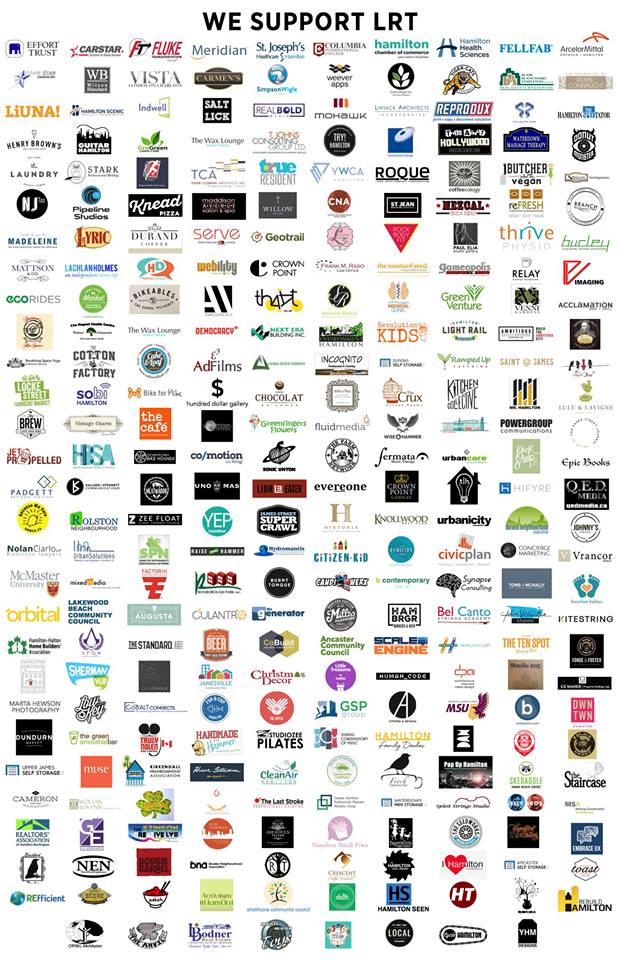 LRT support poster (Image Credit: Graham Crawford)
In addition, professional associations like the Hamilton-Burlington Society of Achitects and the Realtors Association of Hamilton-Burlington support LRT and have done so for years.
Even the Hamilton Tiger-Cats support LRT!
The Provincial government is investing a billion dollars into Hamilton's LRT, so we can presume that they support the project (although I'm pretty sure they are wishing they cut a cheque to Waterloo Region instead). The Federal government supports public transit too, even if they're not directly involved in this project - so both levels of upper government are on board.
Okay, but what about the two groups usually accused of funding council's election campaigns and exerting undue influence over Hamilton municipal politics: unions and developers? Again, even here there is overwhelming support for LRT from both, including two of the most influential: LiUNA Local 837 and the Hamilton-Halton Home Builder's Association.
But what about environmental organizations, poverty reduction groups, artists, urban activists, militant cyclists, transit advocates, communists and car haters? Surely these groups don't agree with the unions and developers? No wait, they do - all are in support of LRT.
Neighbourhood Associations? The ones that have taken a public stance, like Kirkendall Neighbourhood Association, Durand Neighbourhood Association, Beasley Neighbourhood Association, North End Neighbours, Crown Point Planning Team, Sherman Hub Community Planning Team, Rolston Neighbourhood Action Team and Lakewood Beach Community Council are in favour of LRT.
The LRT support list also includes area MPs and MPPs, former Mayors and Regional Chairs, and a group of at least 57 Hamilton medical doctors.
And then there is a small but vocal group of residents - currently totaling 3,330 - who support LRT and have are asking Council to take YES for an answer.
If this isn't as close to unanimous citywide support for LRT as is humanly possible, I don't know what is.
Who is Opposed to Hamilton LRT?
Most opposition to Hamilton's LRT is entirely predictable. Humans are opposed to change by default: statistically, opposition to anything is much more likely than support. I believe this is known as the "status quo bias".
Yet given the predictability of opposition-by-default to something new like LRT, the actualy sustained, organized opposition in Hamilton is surprisingly small.
A handful of small businesses that will be directly impacted during construction obviously have valid concerns, which have manifested in opposition to the project in general.
These businesses are important to Hamilton's economy, but none carry anywhere near the heft of the businesses in support.
I don't know of any organized institutional, labour, developer or other community organization opposition to LRT. I am sure some exists, but again - it's nowhere near the level of support.
Similarly, there is a small but vocal group of residents who oppose LRT. However, their opposition seems to be largely limited to leaving angry comments on Spectator articles. I can't even find a #NoLRT petition with more than a few hundred signatures. (Meanwhile, a pro-LRT petition has close to 1,700 signatures as of this writing.)
Presumably, if there was a silent groundswell of anti-LRT sentiment throughout the city, it wouldn't be hard to present a massive petition to council.
I sincerely don't want to trivialize opposition to LRT, but given a full year of deliberate obfuscation and active undermining by anti-LRT councillors, the level of organized opposition to the project is still at the level of background noise compared to the voices in support.
This is even more surprising given that we are currently going through a significant level of populist distrust of all government initiatives.
Who Doesn't Care If Hamilton Proceeds with LRT or Not?
I think everyone around council is well aware that the average citizen of the City of Hamilton could care less if LRT proceeds or not. I am of course generalizing - but at the municipal level, people are concerned about potholes, speeding on residential streets and where the garbage man chucked their blue box.
King or Main? Don't know, don't care.

Eastgate Square or Queenston Circle? Don't know, don't care.

LRT or BRT? Don't know, don't care.

James Street spur line or A-Line? Don't know, don't care.

Transit ridership levels? Don't know, don't care.
The nuts and bolts of the project are of vital importance for those actively advocating for or against LRT, but the average person just wants to be able to trust their councillor and their government to make good decisions on their behalf. People want to know that their taxes are being invested well - that's it.
It will be interesting to see the results of various councillor's latest telephone survey of resident opinion on the project. Given a full years' worth of continuous bad press, it will be amazing if the "silent majority" doesn't reflect the ongoing negativity towards the project and poll resoundingly against LRT.
However, the bottom line is the vast majority of these people don't actually care enough to get involved and organize against the project - certainly nowhere near the level of supporter anyway.
How Has The Unprecedented Level Of Support For LRT Not Translated To Political Support?
Given the sheer breadth of support for Hamilton's LRT project - support that transcends an extremely diverse group of businesses, institutions and residents across the city, support that ranges from Hamilton's most influential to the grassroots, support that is truly unprecedented - how has this level of support not translated to political support at council?
The current lack of political support for LRT around the council chamber is that much more mystifying, considering that council has already settled this debate: we are currently (today! right now!) in the process of building LRT. All council has to do is get out of the way and let it happen.
But no, that would be too easy - if not entirely rational.
Further, council already has a hands-on example of what happens when you screw politically with the implementation of a major public infrastructure project while you are in the process of implementing the project: it's located at 64 Melrose Avenue North.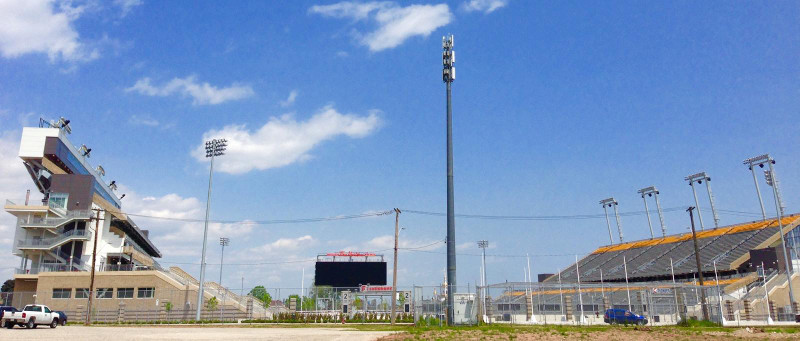 Tim Horton Stadium (RTH file photo)
So what is it? Why isn't the overwhelming public support for LRT reflected on council? Why hasn't council learned from their mistakes with the stadium?
How can a consensus of opinion from so many with so much invested in the outcome be straight-up ignored?
We can speculate: pandering to core supporters, lack of vision, lack of leadership, lack of understanding, urban versus suburban, mountain versus city, ward versus ward, personality versus personality, alliance versus voting block, party versus party, vindication versus slight, cats versus dogs.
Personally, I don't buy it. These answers are too simple, and all imply a level of malice on the part of councillors who oppose LRT.
I honestly believe that all councillors are overworked and underpaid for what they do, and all are good people who work harder to improve our city than they will ever be given credit for.
So if it's not malice, then what could possibly be holding council back from joining what should be a political slam dunk? What am I missing? Any ideas?
Post a Comment
You must be logged in to comment.