The Cost of LRT Uncertainty
By prolonging the uncertainty over its outcome, the LRT opponents are playing political games with millions of dollars in foregone tax revenue. They are costing the residents of Hamilton access to new businesses, jobs and investments.
By Nicholas Kevlahan
Published October 12, 2016
The next time an LRT opponent talks about potential risks of a $1 billion provincial investment in Hamilton's Light Rail Transit (LRT) project and infrastructure upgrades, think about the real risks of losing a $1 billion provincial investment in LRT and infrastructure upgrades.
Those few City Councillors and residents who are desperately trying to nurture uncertainty about whether LRT will actually go ahead are costing the City and property owners real money right now. And the cost will only increase if they manage to keep the confusion going for the next few years.
Evidence from other cities shows that LRT significantly increases property values along the transit corridor. As long-term owners of under-utilized buildings sell to new owners with real business plans, the ownership also shifts to people who will actually invest and create jobs, rather than sit on empty buildings.
As property prices rise, the City collects more money in taxes. As new owners build new buildings and renovate old ones, this also increases tax revenue for the city. This means people in other parts of the city are under less pressure to see their taxes increase.
Project Needs Certainty
The catch is that this virtuous cycle of investment and property value increases only starts once investors and owners are sure that the LRT project will definitely happen. As developer Darko Vranich wrote earlier this year:
[I]it is very hard for any private sector person investing in Hamilton such as myself to understand why some on Council is contemplating turning their backs on $1 billion in provincial investment in our City.

Be assured that many developers, myself included, are watching the LRT initiative very closely.
Likewise, the Hamilton-Halton Home Builders Association (HHHBA) also expressed deep concern about the prospect that Council might turn down the money:
As the City invests in its downtown, as it has with incentive programs to bring residential and [industrial, commercial and institutional] development to the downtown CIPA, waterfront, Barton/Tiffany and other areas, we must look at opportunities to further facilitate that development.

The province's complete investment of over $1 Billion dollars is a gift to the City, one the City lobbied for and worked hard to achieve. It is shocking that an injection of this type of investment by others into the City would be reconsidered or potentially turned down.
LiUNA Local 837, which recently broke ground on a new purpose-built student apartment building on James North, also warns that rejecting LRT would be disastrous:
LiUNA has been following with dread the ongoing battles of City Council about the project's merits. We are reminded once again that City Council repeatedly chooses to over-debate matters, often to the misfortune of the hard working tax payers of this city.
By prolonging the uncertainty over its outcome, the LRT opponents are playing political games with millions of dollars in foregone tax revenue. They are costing the residents of Hamilton access to new businesses, jobs and investments.
The sooner the uncertainty ends, the sooner we will start seeing the economic benefit of LRT, even before the line is complete!
West Harbour Redevelopment
At the same time as Councillors Chad Collins, Donna Skelly and Terry Whitehead are trying to destroy the certainty that LRT will actually happen, the City is in the process of trying to put together its biggest real estate deal in recent memory.
It's been touted as a game changer — a project that could change the character of the whole North End. Now the city hopes to put the development of all nine blocks of its waterfront project into the hands of one company.

The city hopes to attract one developer — or consortium of developers — to build all nine blocks of condos and retail space on Piers 7 and 8 in the west harbour.
Portraying the city as a reliable partner will be essential to finding a good developer, and this particular development will clearly be more valuable if the LRT to the waterfront is built.
The anti-LRT faction on Council is actively working to ensure that the City generates less revenue from this project - if it even goes ahead at all in the face of a retreat from LRT - and they are doing real damage to the city's reputation as a reliable development partner that will stick to a plan.
This is yet another way that nurturing uncertainty about LRT will cost residents money and investment long before the line is actually completed: the City aims to negotiate with the developer "finalists" in early 2018 ... the year Collins pitched for his proposed LRT referendum!
Transit-Oriented Developments
The mixed-use, mixed-income 20-storey building the City is proposing to build with private partners on York at Caroline is a good example of how increased land values generated by LRT can lead to more affordable housing.
This site is currently occupied by a small two-storey building with no residences. The City is working on more of these proposals to make better use of land owned by the city (e.g. parking lots). However, these mixed-income projects only make sense if the land value is high enough and if there is demand from people will to pay market prices.
Ironically, Collins actually has the audacity to push the advantage of being close to transit:
"Being on a major bus route, on the edge of the downtown, it just seemed like an obvious opportunity to test what resources we can squeeze out of the private sector," said Collins, who also chairs the board of CityHousing Hamilton. "For a city that is land-rich but cash-poor, this is an obvious opportunity to explore."
Yet he neglects to mention that the proposed project would also be just a couple of blocks from the proposed LRT line, and it is the LRT line that would be needed to increase land values to the extent that the project is viable.
Affordable Housing
The uplift potential for the entire LRT corridor is extremely positive. That corridor includes many properties which are currently either vacant lots, vacant buildings, or buildings that have been left empty above the street level for decades. This was pointed out last year during the Downtown Renewal Jane's Walk and represents an exciting opportunity to make much more productive use of these properties.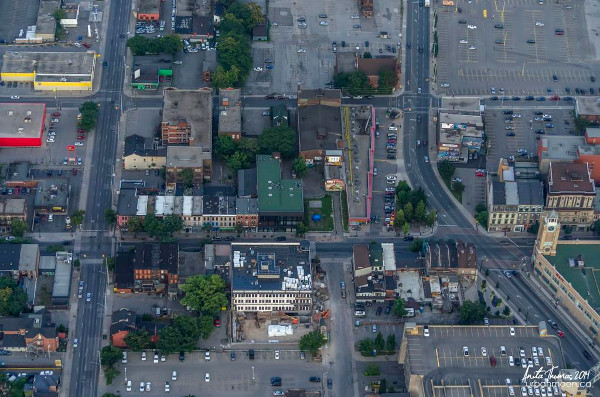 Aerial view of surface parking in downtown Hamilton (Image Credit: Anita Thomas)
At present, the corridor is providing far less accommodation and business opportunities than it should. Many of the multi-purpose buildings are largely empty. For a city with a housing shortage, this is a deplorable state of affairs.
Increasing the supply and variety of rental and purchase accommodation is a much better housing strategy than making it easy and cheap for property owners to keep buildings vacant and derelict.
The rising property taxes that accompany increased development and value will be a challenge for some, but remember that taxes only increase if there is a real increase in the value of the property.
The City can respond to this by investing some of the increased tax revenue on additional social housing, as well as implementing inclusionary zoning to guarantee that new developments include affordable units.
The worst policy would be to keep Hamilton poor and economically under-performing. Not only would this take away policy levers the City can use to provide more affordable housing, it would also relegate the existing cheap housing to continue degrading until it is no longer inhabitable and falls off the market.
Post a Comment
You must be logged in to comment.