Downtown Renewal Jane's Walk: Real Progress, Ongoing Challenges
The downtown revival is exciting but remains constrained by parasitic property speculators and a transportation policy that continues to prioritize moving cars over accommodating people.
By Nicholas Kevlahan
Published May 06, 2015
this article has been updated
This past Sunday, I joined the Downtown Renewal Jane's Walk in Hamilton. It was led by Glen Norton, the City of Hamilton's Manager of Urban Renewal, and Hazel Milsome, the City's Coordinator of Urban Renewal Incen­tives.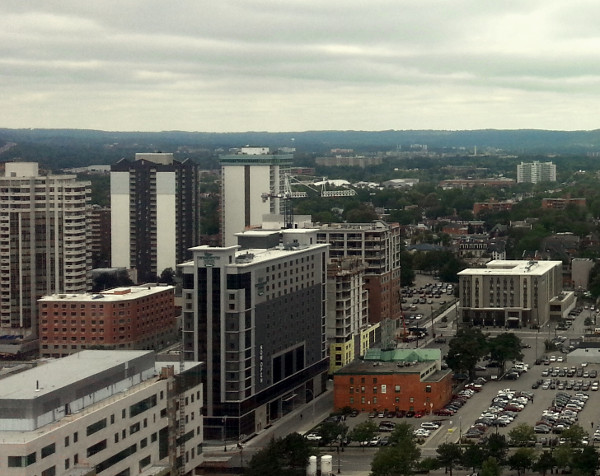 The block of Main between Caroline and Bay under construction (RTH file photo)
The walking tour was long and extremely interesting. Almost all of the 30 or so walkers stayed for the whole two hours!
Glen and Hazel were enthusiastic, knowledgeable hosts who shared their wealth of experience in the City's incentive programs and their role in driving renewal and increasing property values downtown.
They also shared many interesting anecdotes about the how development projects actually happen. During the stroll criss-crossing the downtown core, I learned or confirmed some important things about downtown development.
First, real developers are starting to build serious projects, including some very large new builds. We may finally have reached the tipping point.
Unfortunately, however, I must observe that the success of these new projects has not led Hamilton's old guard of parasitic "developers", i.e. property speculators, to develop or sell many of the surface parking lots, used car lots and vacant sites they have been holding onto for decades.
Instead, the lift in property values has simply made them even greedier. Norton said the owner of a small used car lot downtown now wants at least $3 million for the property!
Meanwhile, the owner of another site, a huge gravel parking lot, does not have a serious plan for the site but occasionally muses about building a big one-storey strip mall. Such a land use is obviously not acceptable to the City. At the same time, the owner will not sell to someone who might actually move ahead with a good development plan.
The City is providing generous advice and financial assistance to encourage property owners along King Street to renovate and develop the upper floors of their buildings. Most of these units have sat empty for decades, and the City sees them as an opportunity to boost property taxes, jobs and residents downtown.
Unfortunately, there are several absentee landlords who have no interest in doing anything with their buildings except collect whatever rents they can get from marginal ground-floor tenants.
Norton and Milsome were very excited about all the new residents who will soon be moving in to the new buildings on Main Street between Caroline and Bay Streets. Interestingly, most of the units are rental, which is good news since almost no new rental has been built in the last 20 or 30 years.
I suggested that with close to a thousand new residents expected in that one block, the City should improve the very unpleasant pedestrian experience on the Main Street sidewalks - e.g. widen sidewalks, plant trees, add buffers.
Norton said, "I agree entirely". Milsome, however, added, "The city has no plans to change anything in the next decade, and because of LRT everything is up in the air."
It is infuriating that the City is quite happy to have huge density and millions in new taxes in a tiny one block strip, but will not make the smallest improvements to the immediate environment of those residents.
If this were a greenfield sprawl development, those residents would definitely warrant a new park (and the city would need to invest in new infrastructure). Downtown, the marginal cost to the City is close to zero and yet they are unwilling to even widen the sidewalk and plant some street trees.
Note that the north curb lane on Main has been closed for years now with no impact on automobile traffic - this is very low-lying fruit the City refuses to grab.
It is downright passive-aggressive for the City to use "possible LRT" as an excuse not to make various relatively minor street-level improvements for pedestrians and cyclists year after year, while simultaneously doing everything it can to ensure that Hamilton has as weak a case for LRT as possible.
If Hamilton is not going to be "ready" for LRT for at least ten years - even though we were actually "ready" for LRT back in 2008 - why is the City still using it as an excuse to avoid making modest improvements for all our new residents and hotel guests in the meantime?
This especially confusing since we're talking about Main Street and the LRT is planned to go on King Street.
Knowing that LRT is possibly coming did not stop the City from resurfacing King Street East a few years ago and repainting it exactly the way it has been for decades.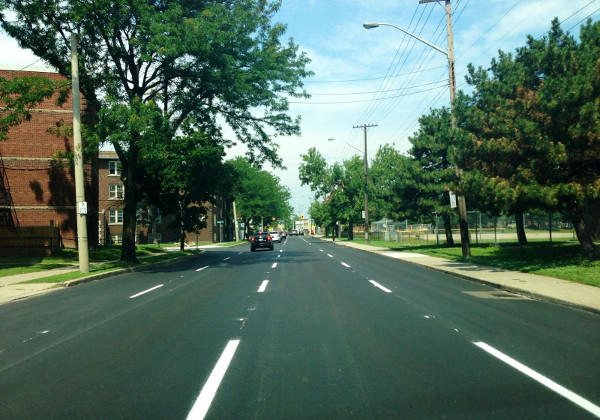 King Street East repainted (RTH file photo)
Overall, I got the impression that Norton and Milsome "get it" but are constrained by parasitic speculators and a few owners who do very cheap work on their buildings to get subsidies (they are thinking of instituting design and quality standards).
Their efforts are also hampered by a Public Works department that often works at cross purposes by keeping downtown Hamilton an auto-centric place rather than making it a people place.
The millions in new taxes generated by thousands of new residents should mean that their needs for an attractive, liveable local neighbourhood and excellent transit get taken very seriously!
Unfortunately, that's not happening yet, even though Council keeps approving new high-density developments with decreased parking requirements.
Further, while the City maintains lots of lucrative incentives for property owners to help pay for facade and leasehold improvements, the City is constrained by a Provincial tax policy that forces the City to give a big property tax discount to vacant buildings and an even bigger discount for demolishing the buildings altogether.
When Wilson-Blanchard demolished the three-storey office building at 20 Jackson Street West, the annual property tax went from $77,000 a year to just $7,000.
This system of tax rebates with no expiry dates and permissive demolition makes it very easy for speculators to sit on land year after year at very little carrying cost or risk.
Meanwhile, it is detrimental to both the economy and quality of life for the downtown core and costs the City untold millions of dollars in foregone property tax revenue.
For just an example of what kind of property tax revenue we're losing, RTH editor Ryan McGreal noted last year that the property tax revenues for 123 James Street North, 68 George Street and 40 Bay Street South increased by between 10 and 20 times after they were developed.
Increased Property Tax
Location
Pre-Development
Post-Development
Assessed Value
Property Tax
Municipal Portion
Assessed Value
Property Tax
Municipal Portion
123 James St N
$371,000.00
$12,527.81
$9,169.49
$3,800,000.00
$144,459.24
$93,919.24
68 George St
$436,500.00
$17,955.66
$11,210.86
$9,643,750.00
$350,273.11
$228,761.86
40 Bay St S
$760,000.00
$28,434.02
$18,122.86
$13,000,000.00
$473,796.18
$309,996.18
There is no excuse for an ambitious and energetic downtown property owner not to improve their property and actively search for tenants.
Continued speculation is particularly antisocial and perverse, because the speculators' land value will rise only once other, more responsible and dynamic, land owners develop their nearby properties.
---
Update: updated to clarify that Norton and Milsome were not calling the absentee landlords and property speculators "parasitic".
Post a Comment
You must be logged in to comment.