Collins' LRT Referendum Ploy Would be a Cowardly Cop-Out
Ward 5 Councillor Chad Collins wants council to hide behind a referendum instead of standing behind its decision.
By RTH Staff
Published September 30, 2016
Ward 5 Councillor Chad Collins is reportedly planning to introduce a motion in spring 2017 to put a referendum over Hamilton's Light Rail Transit (LRT) on the 2018 municipal ballot.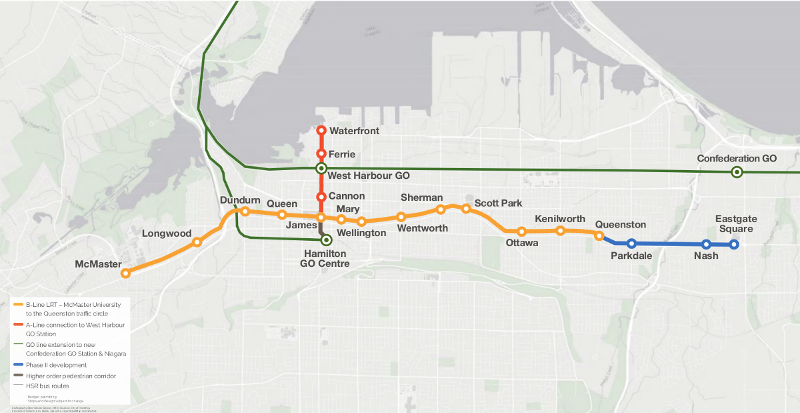 Phase 1 LRT implementation map
After consistently supporting LRT since the City first started planning it in 2008, Collins switched to opposition and began voting against the plan after the Province finally committed full capital funding in May 2015.
Council has overseen this project for over a decade and has already accepted the Provincial funding commitment, signed a Memorandum of Agreement to implement the plan and established an LRT office to work with Metrolinx on doing just that.
Now Collins is saying he wants to set all of that aside and put the project to a referendum two years from now!
Disingenuous Proposal
This disingenuous proposal is not about holding a legitimate plebiscite to allow the people to make a decision directly. Rather, it is a procedural ploy to suffocate LRT in a two-year circus of political theatre and operational paralysis.
Municipal elections only attract 30 percent of eligible voters and a referendum needs to have over 50 percent participation to be binding. That means the results almost certainly will not be binding. But Collins is already saying he doesn't care:
Collins maintains it's immaterial if the referendum is legally binding or not because one way or another it will send a clear signal to the newly-elected council and provincial government.
Collins is treating this as a glorified opinion survey following a two-year delay, and he does not mind that it has no chance of reaching the 50 percent participation level to make it binding.
It is likely that we would see a participation rate similar to the last election, about 30 percent. If 50 percent of those voters opposed LRT, that would be only 15 percent of eligible voters, with the other 85 percent either supporting or abstaining.
That would not suggest strong opposition, but Collins and other LRT opponents would still interpret this as a mandate to kill LRT.
Meanwhile, it allows Collins to get around the fact that he does not have the two-thirds support around council for a reconsideration motion to reverse Council's previous votes to move ahead with implementing LRT. Instead of killing LRT outright, he gets to hit the pause button for two years and throw the project into crisis.
Unprecedented
Hamilton has not held referenda on any other major infrastructure or policy issues in living memory. Why is a provincially-funded transportation investment that will boost the local economy and pay for tens of millions of dollars in local infrastructure upgrades being held to a different standard than previous contentious transportation investments?
Collins is aware of the fact that LRT was a major issue in the last two municipal elections, and in both cases candidates who campaigned on pro-LRT platforms defeated opponents who campaigned on anti-LRT platforms. (In the last provincial election, explicitly anti-LRT Liberal candidates in Hamilton East-Stoney Creek and Hamilton Mountain lost to their pro-LRT opponents.)
His very weak response to this is that the 2003 election, in which Larry Di Ianni defeated David Christopherson for Mayor, was a de facto referendum on the Red Hill Valley Parkway - but somehow the 2014 election was not a de facto referendum on LRT.
It is even more absurd when you consider that unlike the Parkway, LRT is a project funded entirely by the Provincial government, so it is not even a question of residents having a say in how their municipal tax dollars are spent.
Abdicate Responsibility
A referendum at this late stage would result in Council abdicating its responsibility to actually make decisions, and to be consistent with its own previous decisions.
Council is elected and empowered to govern: that is how Canada's parliamentary democracy works. The referendum would not decide anything, since it would almost certainly be non-binding, but simply by agreeing to hold the referendum, Council would throw the whole LRT project into chaos and confusion. That, of course, is exactly what LRT opponents like Collins want.
This shirking of responsibility, with devastating and hugely costly consequences for the City, would be gross dereliction of Council's duty!
Destroy Hamilton's Reputation
Doing this would destroy Hamilton's reputation as a trustworthy partner with other levels of government. Council has spent over eight years steadfastly pursuing LRT with full provincial funding.
They've spent many millions of dollars of both municipal and provincial money to do this. They have signed a Memorandum of Agreement to support the Province, and they have hired staff and set up an office. Metrolinx is now in the implementation phase.
It would be hugely irresponsible to change our minds and set a referendum for November 2018, ten years after Council (including Collins!) originally voted to pursue an LRT plan, and more than three years after the full funding commitment from the Province.
Any higher level of government would have to think very carefully about entering into any other funding agreements with Hamilton after this.
Reckless Political Game
There is a reason City Council has consistently and repeatedly voted to request Provincial funding for this LRT project: it clearly provides the biggest overall benefit to Hamilton, as documented consistently across City, Provincial and independent studies over the past decade.
Collins is playing a reckless political game with Hamilton's future. At stake is a once-in-a-lifetime opportunity: a billion-dollar investment in the first phase of a high-quality rapid transit network that will serve the entire city once it is fully built out.

Citywide B-L-A-S-T rapid transit network
Tens of millions of dollars in badly-needed municipal infrastructure renewal we can't afford ourselves. 6,000 person-years of construction jobs. Hundreds of millions of dollars in new private investment. New property tax revenues to ease pressure on tax rates. A thriving downtown that becomes an economic engine for the entire region. A competitive local housing and employment market so Hamilton can attract more young professionals. The chance to plan ahead so Hamilton isn't snarled in Toronto-style traffic congestion in 20 years.
It would be an appalling failure of leadership for Council to run and hide behind a referendum now, instead of standing behind its decisions, supported by strong evidence, multiple election mandates and broad public engagement.
It would throw the LRT implementation into turmoil and uncertainty, once again dissipating the momentum and great work of dedicated staff carrying out Council's will.
It would signal to the Provincial Government - and all three major Provincial parties - that they should not bother sinking a lot of political capital in a city that cannot stick to a decision.
It would likewise signal to the Federal Government, which is currently rolling out an historic infrastructure investment, that we are not a reliable partner.
It would broadcast to the rest of the country that Hamilton is not serious about becoming a great place to live, work and do business.
And all this for a glorified public opinion poll that will not actually settle the one question its proponents claim it can answer!
Adopting Collins' motion would be breathtakingly cynical and self-destructive, even for Hamilton.
Post a Comment
You must be logged in to comment.