Improvements Suggested for Claremont Access Cycling Design
The proposed design is a huge improvement on the status quo, but it can be improved further with a few adjustments.
By Kevin Love
Published August 26, 2016
The city has published a proposed design for the Claremont Access cycling facility and included detailed drawings [PDF].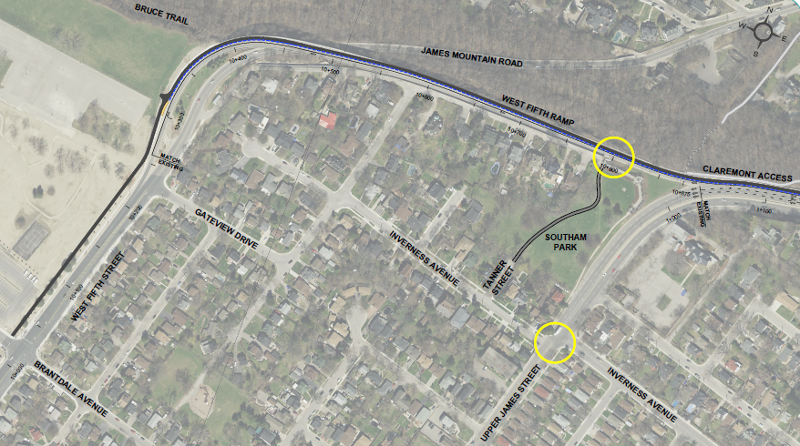 Upper portion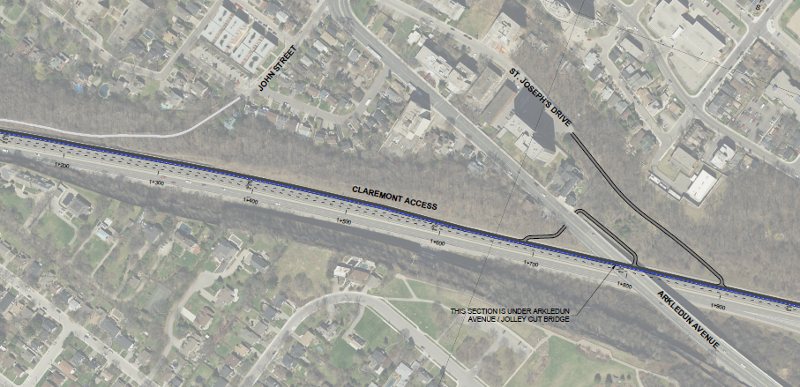 Middle portion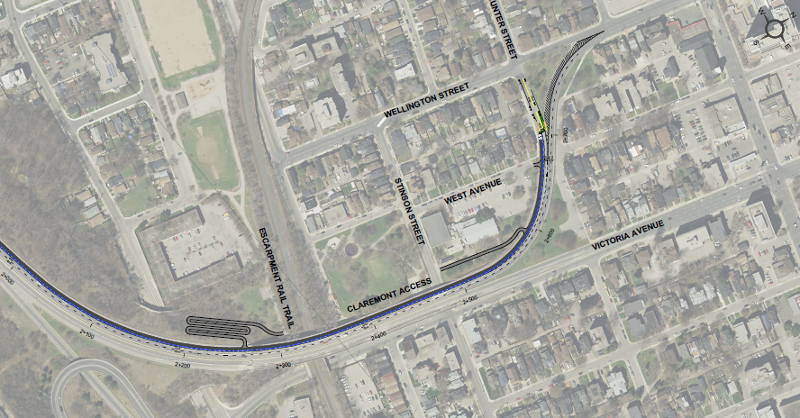 Lower portion
Overall, the proposals for the Claremont Access mark a big step upwards from what we currently have. This is important because the Claremont Access provides key links for people to travel from A to B for many popular destinations.
Examples include St. Joseph's Hospital, the Hunter Street GO Station and downtown Hamilton. The Claremont Access also provides connections to the Escarpment Rail Trail and other key active transportation infrastructure.
Needs Dedicated Pedestrian Space
However, there are some problems with the proposed design. On a path with a width of as little as three metres, it is proposed to mix upbound cyclists, downbound cyclists and pedestrians.
Simply coasting downhill will result in people reaching speeds of 40-50 km/hr. This is quite safe in itself, but mixing those bicycle speeds with pedestrians is not.
Currently, there are no sidewalks or any other pedestrian infrastructure on the Claremont Access. If pedestrian traffic is to be accommodated on the new infrastructure, this should be done by way of providing a sidewalk for pedestrians.
In several places on the drawings, the proposed design puts a "Multi-Use Path" right next to a pedestrian sidewalk. One example is on the drawing entitled "West Fifth Street Pathway Figure #7."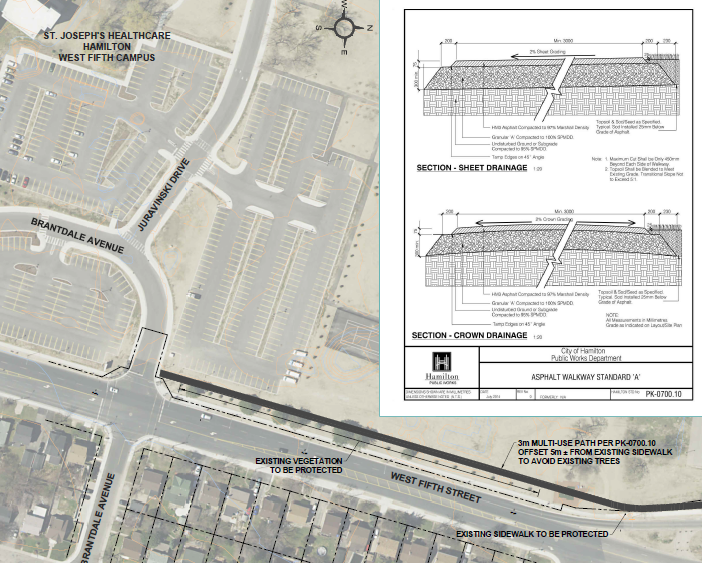 West 5th Street pathway
There are notes: "EXISTING SIDEWALK TO BE PROTECTED," and "3m MULTI-USE PATH PER PK-0700.10 OFFSET 5m +/- FROM EXISTING SIDEWALK TO AVOID EXISTING TREES."
In this and every other case where there is a sidewalk, this should not be a multi-use path. It should be a cycling-only path and the sidewalk should be pedestrian-only.
Unnecessary Stop Sign
Another dangerous situation is seen in the proposed design on Figure #13, entitled "Hunter Street and West Avenue connection." This proposed design places a "Stop" sign directed at cyclists at the bottom of the Mountain at Hunter Street.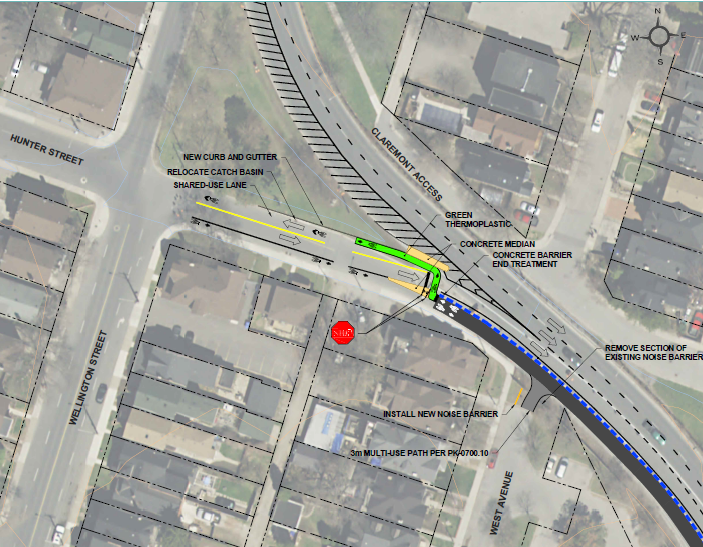 Hunter Street and West Avenue Connection
It is always Not Recommended to place Stop signs at the bottom of hills. It is human nature that people who have put so much effort into going up the hill will be very reluctant to have all that effort wasted by stopping at the bottom after coasting down.
That makes the currently proposed design problematic, particularly because there will be a large volume of traffic heading to the Hunter Street GO station and downtown destinations.
Fortunately, this problem is easily fixed. Hunter Street is currently one-way Westbound except for the last block east of Wellington Street. This last block should also be made one-way Westbound and right-of-way given to traffic on Hunter Street at its intersection with Wellington. The existing Hunter Street bike lanes can then be extended to connect seamlessly with the Claremont Access.
Hunter Street currently has right-of-way at the next three intersections travelling West, which are at Spring Street, Liberty Street and Ferguson Avenue. This should not be changed at these three intersections.
This fix enables someone to coast down the Claremont Access, and then seamlessly continue coasting Westbound on Hunter Street. This prevents wasted effort and momentum, and enables considerable savings of time and effort for people travelling to the GO station or other destinations. Most importantly, it avoids the dangerous situation of the present design.
Post a Comment
You must be logged in to comment.