Hamilton Lucked Out With Bike-Share
If just one little thing had happened differently with the request for proposals for a Hamilton bike-share, it might have been a disaster.
By Ryan McGreal
Published August 23, 2016
Many people don't know just how amazingly Hamilton lucked out with its bike-share program. If one little thing had happened differently, it might have been a total disaster.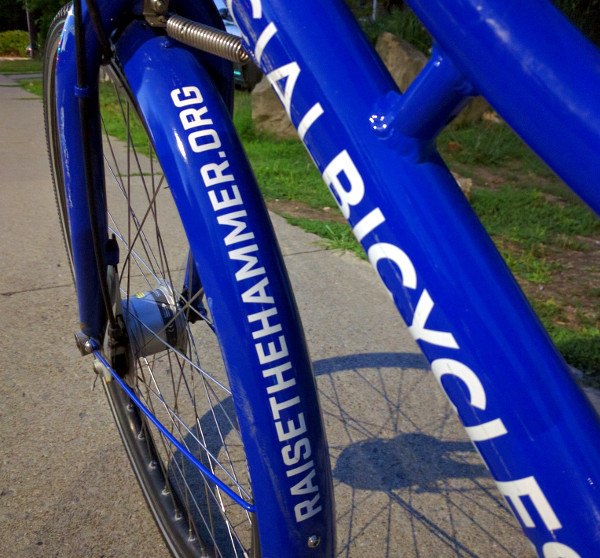 Bike-Share History and Bixi
The concept of a modern bike-share system in which members use an ID card to sign out a bike dates to a small program at Portsmouth University in 1996.
The first municipal system came two years later in the French city of Rennes, built in partnership between the city and Clear Channel, an ad company that wanted the bikes and stations for space it could sell to advertisers.
That large-scale model of a member-based system partially funded by ad revenue appealed to JCDecaux, an ad company based in France. In 2005, they launched a system in Lyon with 1,500 bikes.
Two years later, they went massive with a 6,000 bike system in Paris - a number that has since more than tripled as that system has continued to grow and expand.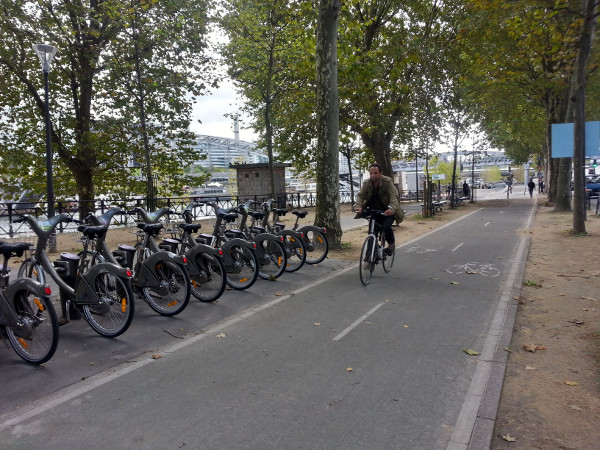 Velib' station near Gare d'Austerlitz, Paris (RTH file photo)
In 2009, bike-share came to to Canada with Bixi (a portmanteau of bicycle and taxi), a new system created by Public Bike System Company (PBSC), a corporation owned by the municipal government of Montreal.
The publicly-owned company started with a 3,000 bike system in Montreal, but decided they could help defray the cost of that system by selling the same technology to other cities.
Over the next couple of years, the company went on to set up bike-share operations in Toronto, Melbourne, Minneapolis, Washington, Boston, Chicago, London, San Francisco and several other cities.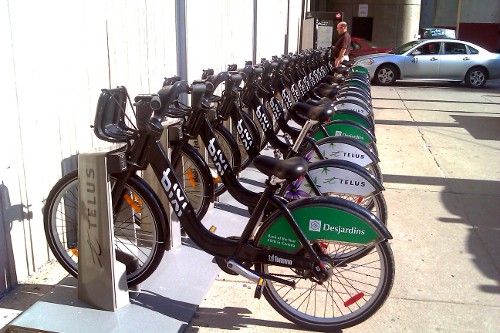 Toronto Bixi station in 2011 (RTH file photo)
In North America, at least, Bixi was the state of the art.
Toward Bike-Share in Hamilton
During this time, Peter Topalovic started seriously thinking he would like to see a bike-share system right here in Hamilton.
Mr. Topalovic is the City's project manager for transportation demand management, which basically means: getting people to drive less. A bike-share system can be an excellent way of getting people to do that, by providing a more convenient, cost-effective alternative for short-distance trips.
So he did his research and developed a proposal that was so easy to swallow, even Hamilton City Council would have a hard time saying no.
Metrolinx, the arms-length organization coordinating regional transit across the Greater Toronto and Hamilton Area (GTHA), had a "Quick Wins" capital fund that cities could use to make active transportation investments. A grant of $1.6 million was available for Hamilton, but the city had to spend it before the end of 2013 or else we would lose it.
Topalovic determined that $1.6 million from the Metrolinx Quick Wins fund would pay for a Bixi-style bike-share system with 300 bikes at 35 stations between McMaster University and downtown.
After the initial roll-out and a few years of growth, the operational costs could be covered from member subscriptions, ad revenue and title sponsorship.
The proposal landed in front of City Councillors in February 2013, at the end of an epic general issues committee meeting in which Councillors waded through and then voted to approve "Rapid Ready", the city's light rail transit (LRT) plan and provincial funding request.
By the time they got to the bike-share proposal, they were too progress-exhausted to consider it, and they pushed it back to staff to look more closely at the city's potential liability.
The report came back in spring of 2013 with reassurances that the City would not be liable in the case of an injury claim, and Council directed staff to put out a request for proposals (RFP).
Then disaster struck: the bid submitted by PBSC, the Montreal-owned company behind Bixi, was automatically rejected because the application form was not filled in correctly. Bixi was the most widespread system in North America, and losing it from the running meant Hamilton's options might be severely limited.
Bixi Meltdown
That incorrectly-filled form turns out to have been a blessing in disguise.
Bixi was proving to be popular in several cities, but behind the scenes, PBSC was having serious problems. In 2012, the corporation fought with 8D Technologies, a partner company that had developed the software that ran the Bixi system, to take the software development in-house.
That resulted in a lawsuit by 8D Technologies. Making matters worse, the new PBSC software was a long-delayed, bug-ridden fiasco. That, in turn, created big problems for the company's municipal bike-share clients, some of which began withholding payments until the issues were resolved.
The PBSC business model was fundamentally sound, but mismanagement had pushed the company into a cash-flow crisis. That crisis came to a head in 2014 when the company declared bankruptcy with $46 million in debt.
A real estate developer named Bruno Rodi swept in and bought the international division of PBSC, supplying badly-needed capital, adding developers to fix the software, and starting to shift its focus from operations to pure hardware and software sales. (The other part of the company, Montreal's Bixi system, is still publicly owned and is a PBSC customer.)
In 2015, Rodi sold the company to Luc Sabbatini, a former sales executive, who took over as CEO, and the company is now profitable again. There are currently 47,000 PBSC bikes and 3,800 stations in operation in 15 cities and two university campuses.
Still, try to imagine the level of angst around the horseshoe at 71 Main Street West if all that was going on while Hamilton prepared to roll out a bike-share under the same system in 2014, while the company was going through bankruptcy. Can you hear the howls of outrage and vitriol from the anti-progressive squelchers and trolls?
Council would have backpedalled from the plan so hard they would have cracked the sound barrier.
Social Bicycles
But by a happy accident, we managed to dodge that whole fiasco. Instead, the winning bid was from a young, small, high-growth company called Social Bicycles (SoBi), a New York-based tech startup dedicated to creating the next generation of bikeshare technology.
Unlike Bixi-style systems, where the technology to run the operation is embedded in expensive docking stations, SoBi bikes themselves include the hardware and software used to manage them - including GPS positioning so that the system always knows where every bike is at any moment. (It's thanks to this feature that I was recently able to analyze bike-share trip data to determine that most bike trips along the Cannon Street cycle track are short-distance and local.)
Because of the lower cost of the SoBi system compared to Bixi, we ended up getting more than twice as many bikes as the original RFP proposed: 750, with 115 stations in a 38 square kilometre area.
Council signed off on the contract in December 2013, and Hamilton Bike Share launched officially on March 15, 2015.
Since then, both membership and daily ridership have been growing by leaps and bounds. This summer it has had around 1,200 trips a day, and it has been used for commuting as well as various other short trips.
I think it's fair to say that the system is already succeeding far beyond even the most optimistic projections of its supporters. Even the detractors - who predicted that no one would use it and it would fail - have fallen silent.
Post a Comment
You must be logged in to comment.