At Long Last, Installation of Charlton, Herkimer Bike Lanes
Starting this Sunday night, staff will install parking-protected bike lanes on Herkimer and Charlton between James and Dundurn.
By Ryan McGreal
Published June 24, 2016
Starting this Sunday night, City of Hamilton staff will be installing parking-protected bike lanes on Charlton Avenue West and Herkimer Street between Dundurn Street South and James Street South.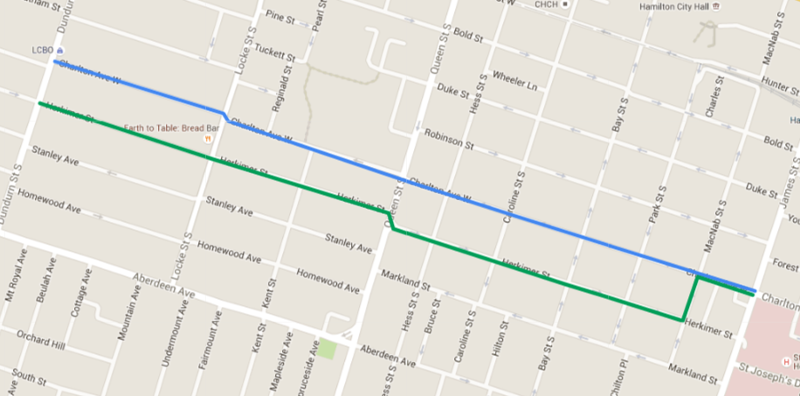 Map: bike lanes on Charlton and Herkimer between Dundurn and James (Image Credit: Google Maps)
The bike lane on Charlton will be one-way westbound and the lane on Herkimer will be one-way eastbound, so that each lane matches the one-way directionality of its respective street.
In addition, the streets will be reconfigured so that the bike lanes are physically protected from moving automobile traffic by a row of on-street parallel parking. Similar parking-protected designs are in use in New York and other cities, and provide a safer, more comfortable experience for people on bikes than unprotected painted lanes.
Installation of the new pavement markings will be done overnight in segments starting at James and moving west. As a result, temporary overnight parking restrictions will be in effect on the segments where staff are working. The other work, including sign installations and traffic signal adjustments, will be done during business hours.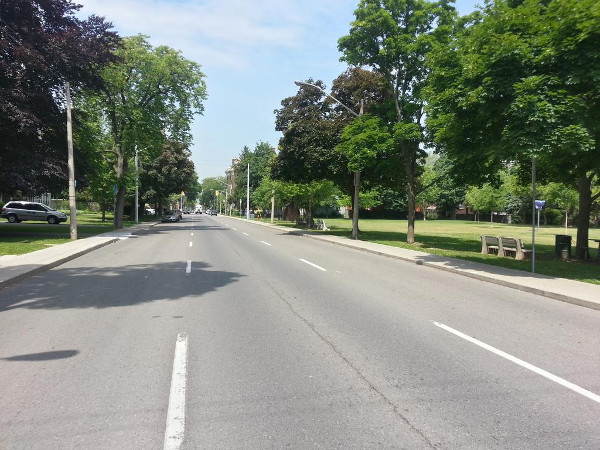 Herkimer Street near Durand Park (RTH file photo)
This project has been a long time coming. Staff were going to install painted, unprotected lanes in October 2014, but members of the Durand and Kirkendall Neighbourhood Associations pushed back with a request to beef up the design. The project was put on hold and staff met with the community organizations to consider the proposed design changes. An ad-hoc cycling committee was formed to work with staff on developing a design.
In August 2015, the City announced that they would install parking-protected lanes, but designs were not made public. The final designs were presented at a well-attended public meeting on January 28, 2016 with a stated installation date of spring, 2016.
Post a Comment
You must be logged in to comment.