Herkimer, Charlton West Bike Lanes: Background and Key Facts
This project has shown that ensuring more resident voices in the detailed design stage of cycling infrastructure planning leads to better results.
By Southwest Ad-hoc Bike Committee
Published January 29, 2016
Citizen engagement takes time, but it works and leads to better outcomes. That's the experience of members of Charlton/Herkimer Ad-Hoc Bike Committee had in working with city staff on the Charlton and Herkimer West bike lanes.
History and Context
In Fall of 2014, the City posted signs informing the public that bike lanes would be installed on Herkimer and Charlton West, as recommended in Hamilton's Cycling Master Plan (adopted by City Council in 2009).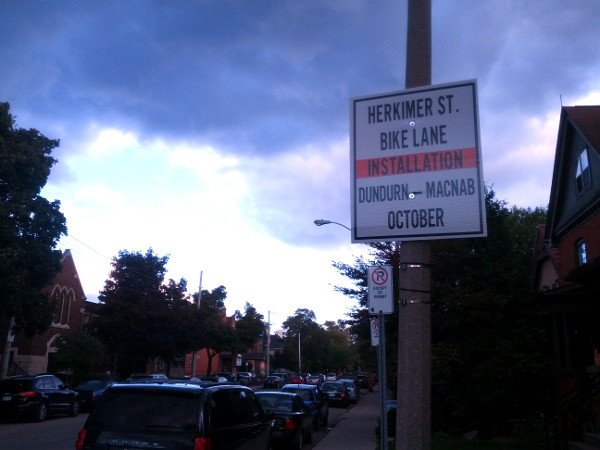 Sign in fall 2014 announcing planned bike lane installation (Image Credit: Kyle Slote)
While many residents were happy to see these lanes were finally going to be installed after so many years of delay, some residents were concerned that the proposed lanes would be fairly "pedestrian" and not meet emerging standards for safe cycling. They wanted to upgrade the bike lanes from painted lines in the "door zone" of parked cars to lanes which would be parking-protected.
Herkimer resident Kyle Slote described the reaction of many neighbours when he wrote in 2014 that the design "feels like another case of one step forward, two steps back that will undermine the cycle-ability of these streets rather than improve it."
These residents, with support from the Durand Neighbourhood Association, created the Charlton/Herkimer Ad-Hoc Bike Committee. The committee called for two major changes to the bike lanes on both Herkimer and Charlton:
Parking-protected bike lane: Install the bike lane between the curb and the parking lane, instead of between parking and the travel lane as originally proposed by the City. This type of separation of bike lanes is becoming more common in North America and offers a greater degree of comfort and protection from car traffic. Parking separated lanes are also the least costly type of separated bike lanes to install and maintain.

Make left turns from Herkimer safer by moving bike lane to left side: The Committee argued that the bike lane on Herkimer needed to be on the left/north side of the road instead of the right/south side, since almost all bike traffic ends up turning left off of Herkimer to destinations north of the street (due to the presence of the escarpment, there are few destinations south of Herkimer).

With a bike lane located on the left/north side of Herkimer, it would be much safer and easier for bikes to turn left, than if the lane was on the right/south side.
Ward 2 Councillor Jason Farr was very supportive of this vision for higher quality bike lanes and encouraged staff to engage with residents to improve the design. Then-Ward 1 Councillor Brian McHattie was running for Mayor, so while supportive, he was not directly involved. Current Ward 1 Councillor Aidan Johnson has been supportive as well.
The preliminary re-design for the bike lanes received positive feedback at a Ward 2 Town Hall in early 2015. Councillor Farr's support and city staff's openness to changing the overall design was welcomed by Charlton/Herkimer Ad-Hoc Bike Committee members.
The city's final design incorporates the resident feedback and is a great improvement from the original design.
That design was presented by staff at a January 28 Public Meeting organized by Councillor Johnson. More than 50 residents attended the meeting, and there was broad and strong support for this design, with only three residents making negative comments.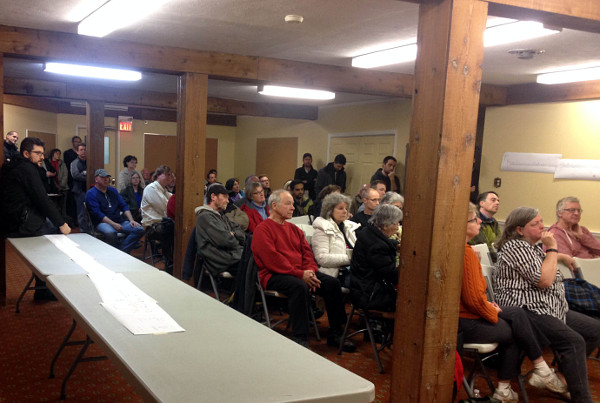 Attendees at the January 28, 2016 public meeting at Stanley Avenue Baptist Church
Demonstrated Need for High Quality Bike Infrastructure
The Committee argued that Herkimer and Charlton are perfect locations for Hamilton's first parking-protected bike lanes. There are already a large number of commuter cyclists who use these streets, so adding these protected bike lanes will increase their safety.
The extra protection of these lanes will be especially important to inspire new cyclists including seniors and families with children to cycle to nearby destinations. A 2014 poll found that 67 percent of Ontario residents would cycle more often if there was better cycling infrastructure.
Herkimer and Charlton West serve a very high number of destinations, and these high quality bike lanes will help further encourage cycling as a mode of transportation for short trips to these destinations. Destinations directly served by these bike lanes include:
Five Hamilton Bike Share hubs
Four churches
Three schools
Two parks
Two major commercial districts
One recreation centre
One major employer
Hamilton's densest neighbourhood (Durand)
The presence of numerous Bike Share hubs is another factor pointing to the need for high quality bike lanes on Charlton and Herkimer.
Hamilton Bike Share has been instrumental in re-introducing cycling as an everyday activity for thousands of Hamiltonians, but a common complaint they receive is that new riders wish there were more safe places to ride in Hamilton.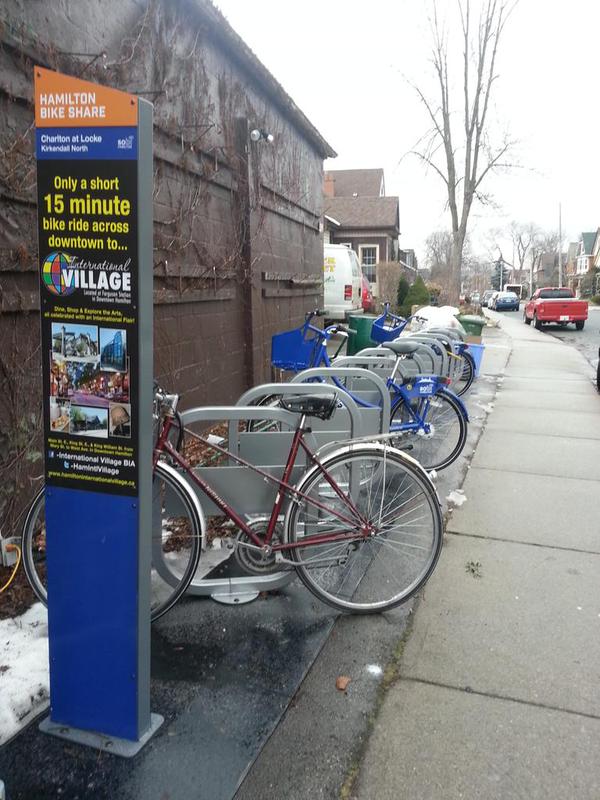 Bike share station at Charlton and Locke (RTH file photo)
Lane Widths and Street Calming
The street calming provided by bike lanes will benefit residents who don't ride a bicycle but walk or live on these streets. The bike lanes will reduce travel lanes that are currently around 3.5 to 4.5 metres (11-15 feet) wide to closer to 3 metres (10 feet) wide in most places, which will reduce the incidence of speeding while still allowing the current volume of cars to flow on these streets.
There is growing evidence that narrower travel lanes are safer for pedestrians, cyclists and drivers. The City of Toronto now aims to have travel lanes on minor arterial roads (which is the classification for Herkimer and Charlton West) to be 3 metres wide (with a minimum of 2.8 metres (9 feet) and a maximum of 3.3 (11 feet) metres where necessary).
The City of Toronto's updated Vehicle Travel Lane Width Guidelines [PDF] note:
Historically, passenger vehicles were understood to be the principal mode of transportation on Toronto's roadways. As a result, wider vehicle travel lanes were often favoured to create a more forgiving and comfortable environment for drivers. Today, Toronto's streets and roadways are significantly more heterogeneous. Lane widths must now balance the safety, access, and comfort for all users, including pedestrians, cyclists, transit riders, and drivers.
The National Association of City Transportation Officials (NACTO) guidelines about lane widths states:
Lane widths of 10 feet (3.05m) are appropriate in urban areas and have a positive impact on a street's safety without impacting traffic operations. [...] Research has shown that narrower lane widths can effectively manage speeds without decreasing safety, and that wider lanes do not correlate to safer streets. Moreover, wider travel lanes also increase exposure and crossing distance for pedestrians at intersections and midblock crossings.
Even with the evidence that narrower lanes are safer, these narrow widths will be an adjustment for drivers and residents on these streets. In particular, city staff are already planning operational adjustments to garbage pickup, street cleaning and snow clearing to accommodate these activities in the more limited space.
Timelines and Resources
City staff have indicated that the Charlton/Herkimer bike lanes will be installed in early Spring 2016. Charlton/Herkimer Ad-Hoc Bike Committee members have been dismayed that the timeline for installation of these bike lanes is continuing to be stretched to about 18 months after the initially designed lanes were planned to be installed (Fall 2014), and six years after their approval by Council.
The delays to the finalization of these bike lanes can be attributed in part to the fact that there is only one city staff person responsible for all cycling projects across the city and that special projects like Pan American Games diverted staff time from regular cycling projects like this one.
A city the size of Hamilton needs more staff dedicated to cycling infrastructure.
The one benefit from longer timelines is that there have been a few more opportunities for resident engagement than has been the case for most other cycling projects in Hamilton. Charlton/Herkimer Ad-Hoc Bike Committee members have been pleased to see that each round of design changes by city staff reflected community feedback and many major and minor details suggested by residents have been incorporated into the final design.
This project has shown that ensuring more resident voices in the detailed design stage of cycling infrastructure planning leads to better results. The city must continue to increase its engagement with residents in all parts of the city who want improved cycling infrastructure to get their feedback on what would be the best design for their neighbourhoods.
Post a Comment
You must be logged in to comment.