Aim High With Claremont Redevelopment
We can do better than just installing bike lanes on the Claremont Access. Imagine a pathway cross-section that resembles the High Line linear park in New York City.
By John-Paul Danko
Published January 19, 2016
Growing up in Hamilton, I always found it odd that other cities had a downtown when their town was not literally down.
I think that in addition to a physical barrier, the escarpment also serves to enforce a psychological division between the mountain and the lower city.
Add to that a historical (mis)perception of the lower City that persists from European newcomers like my grandparents, where "moving up" literally meant "moving up to the mountain" and away from the pollution and grit of the steel mills and industry where they worked.
I think that the legacy of these divisions is a population on the mountain that can feel disconnected from the lower city - a sentiment sometimes exploited by political leadership.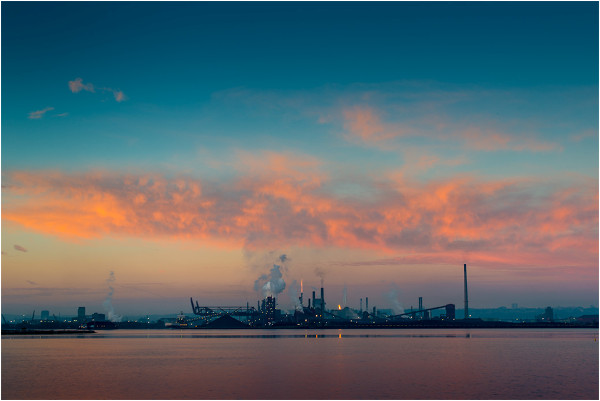 Hamilton's industrial waterfront
We Are Neighbours
As a resident of the central mountain, I never personally realized just how easily accessible the lower city and downtown actually are until I started looking for interesting trails to walk my dog.
Exploring the Bruce Trail at the top of the Claremont Access and the James Street, Dundurn and Wentworth Stairs, I kept finding myself wandering through some of the lower city's most interesting neighbourhoods while trying to make a loop, and then connecting with Dundurn, James Street South, the Chedoke Radial Trail and the Escarpment Rail Trail.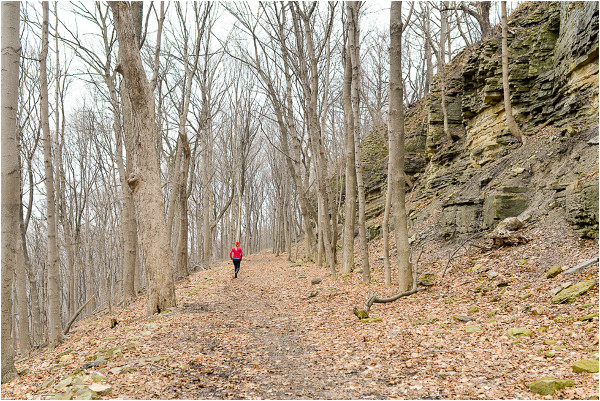 Bruce Trail through Hamilton's Escarpment
(On a side note, when I Google "Hamilton escarpment stairs locations" why is a random article from the Hamilton Public Library the top resource and not a nice detailed interactive map from the City of Hamilton?)
In fact, the lower city and the mountain are so close that my wife walked from our house on the north central mountain down the James Street stairs to St. Joeseph's Hospital (while in labour) for the birth of both our children (it's downhill at least).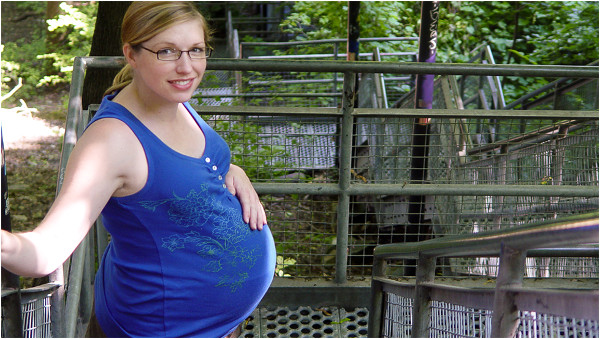 A labour of love on the James Street stairs
Claremont Could Be A Grand Pedestrian Boulevard Connecting the Upper to the Lower City
This brings us to the Claremont Access, which I described in a previous article as "A six-lane, 70 km/h (posted) urban expressway in all its glory."
With the tragic death of Jay Keddy on the Claremont Access in December (a man I knew personally, at a location I drive past twice daily), it seems that the City is finally acting on longstanding recommendations for a protected cycle track on the Claremont Access.
However, my personal feeling here is that we can do better than just installing bike lanes.
I think that the Claremont Access would be the perfect location for a grand pedestrian boulevard that would serve to link the upper and lower city together.
As a pedestrian boulevard, the Claremont Access would link Mohawk College, St. Joseph's Healthcare West 5th Campus, the Bruce Trail, Southam Park and Upper James Street North at the top of the escarpment to the Escarpment Rail Trail and the network of lower city neighbourhoods and commercial districts at the bottom.
This is not an entirely new idea and there have been proposals to repurpose a lane for a protected cycle track in the past.
However, in addition to two-way protected bike lanes, my vision would be for a pathway cross-section that might resemble something like the High Line linear park in New York City - landscaping, street trees, public sculpture, pathway lighting, decorative light standards, textured pavers, benches etc.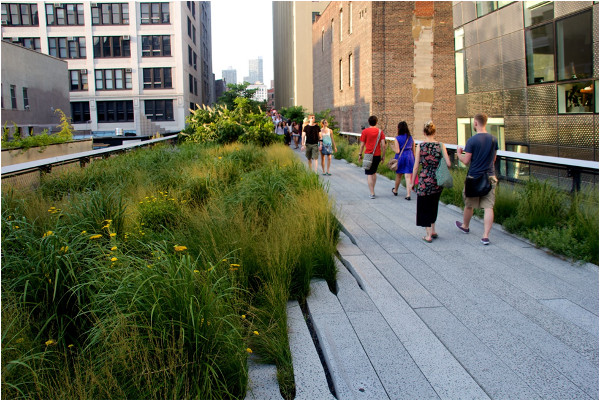 High Line linear park, New York City (Image Credit: Mike Peel/Wikimedia Commons. Licenced under Creative Commons Attribution-Share Alike 4.0 International)
The majority of the Claremont Access is six lanes wide (or more), so there is ample room to repurpose two lanes of traffic for pedestrian and cycle use while maintaining four lanes for vehicular use.
It is important to consider that Hamilton's mountain accesses are a transportation bottleneck and maintaining vehicular lane capacity is going to be a priority (like it or not). However, in this case four lanes is more than adequate to serve current traffic projections and in a worst case scenario, lanes could always be returned to vehicular use if required by future demand.
Extension to the Waterfront
Extending a grand pedestrian boulevard from the Claremont Access down Victoria Avenue would also link Hamilton General Hospital and ultimately the waterfront via Burlington Street.
Victoria Avenue is similarly oversized for its traffic volumes and Burlington Street would be a perfect candidate for a multi-purpose corridor similar to that proposed for the Gardiner Expressway in Toronto.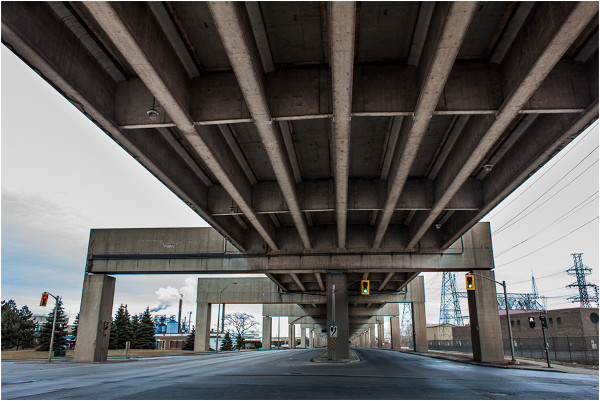 Burlington Street
Design Challenges
The existing design of the Claremont Access does present some design challenges.
The concrete center barrier, freeway style on and off ramps and the five lane bridge at the bottom make it difficult to reconfigure the roadway cross section. In essence we would be trying to fit human scale cycling and pedestrian infrastructure into a multilane divided highway.
However, there isn't any real reason why this section of roadway must be maintained in a 70 km/h expressway format. Reconfiguring the roadway to a more typical 50 km/h, four lane, two-way arterial roadway would open up a lot of design opportunities and also serve to slow traffic down on Upper James Street North (a common complaint from local residents and businesses).


Claremont Access (Image Credit: Google Street View)
Cost and Political Will
Ultimately a project like this comes down to two factors: cost and political will.
On the cost side of the equation, removing the center concrete barrier, building new barriers, repairing the failing escarpment retaining walls, reconfiguring the roadway cross section and landscaping would be the majority of the cost.
The total costs would certainly be less than that for new road construction, but likely more than Hamilton residents are used to seeing invested in human scale public infrastructure.
A detailed cost benefit analysis would be required, but I am optimistic that directly measurable benefits such as increased property and business tax revenue and externalities such as reduced healthcare costs and less vehicular trips elsewhere would prove this to be a cost effective investment in our public space.
On the political will side - this is the kind of project that needs 100% commitment to implement fully right from the beginning - not the kind of half measures and trial projects that we are used to seeing flounder in Hamilton.
To that end, I am not sure that the current iteration of City Council would be ready to implement a project this progressive, but this is still a perfect opportunity for mountain and lower city councillors to work together to achieve something special that will benefit both communities.
At the end of the day, if we are going to set goals, I prefer to set the bar as high as it will go.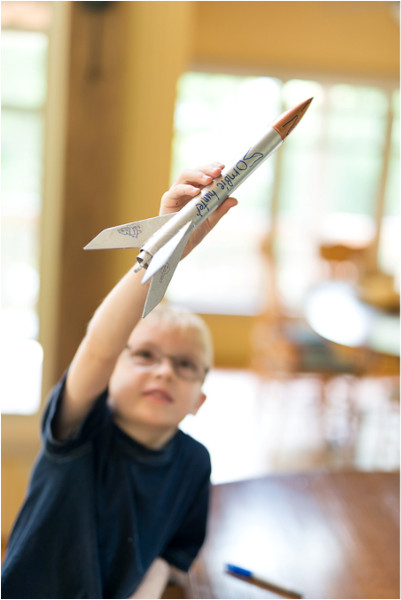 Aim high
Post a Comment
You must be logged in to comment.