No Sense of Urgency for Claremont Cycle Track
According to a new staff report, it will be close to two years before the City builds a protected cycling facility on the Claremont Access.
By Ryan McGreal
Published January 15, 2016
On Wednesday, December 2, 2015, Jay Keddy was killed while riding his bicycle up the Claremont Access after work. Keddy was a popular Kindergarten teacher at Prince of Wales School and his death, Hamilton's 16th traffic fatality of 2015, evoked an outpouring of grief and frustration that Hamilton streets remain among the most dangerous in the Province for people to walk or cycle while the City continues to fall behind in its already-modest plan to build a cycling network.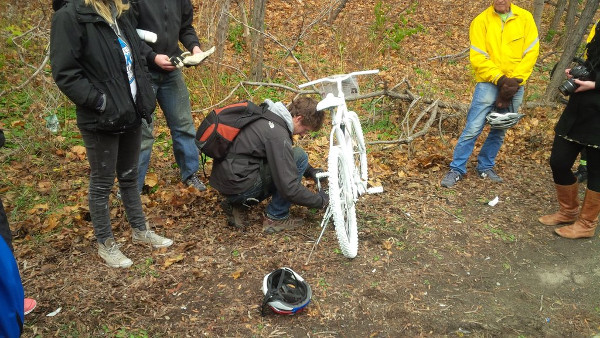 'Ghost bike' memorial placed where Jay Keddy was killed on the Claremont Access (RTH file photo)
Reacting to the tragedy, Ward 8 Councillor Terry Whitehead quickly introduced a motion to expedite the construction of a protected cycle track on the Claremont Access.
Unfortunately, a little over a month later, the sense of urgency that prompted Council to approve the motion already seems to have dissipated.
At the January 19, 2016 General Issues Committee meeting, Public Works staff will present a report to Councillors with a distressingly lackadaisical timeline for a project that could be designed and built very quickly.
We can't directly link to the report since the City's meeting website is an unusable quagmire, but it's item 4.1 and 4.2 on the linked agenda.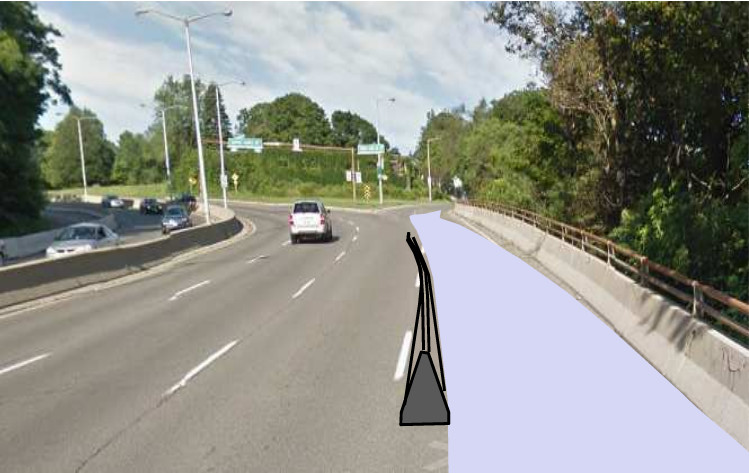 Claremont Cycle Track, initial design concept (City of Hamilton)
According to the update, staff will investigate the various design considerations and "report back in the 4th quarter of 2016 with recommendations and costing for approval as recommendations and costing for approval as part of the 2017 Capital Budget."
In other words, we shouldn't expect installation of a cycle track on Claremont for close to two years at least.
The report lists the design considerations that staff will need to make when designing the facility: public input; connectivity options; safety considerations at potential conflict points between cyclists, pedestrians and vehicles; collision data; current and future traffic capacity and routing; operations and maintenance; design options; review of potential funding sources; project co-ordination; and project priority in the context of already-approved cycling projects.
These are all important considerations, but there is no reason, aside from an utter lack of urgency, why we can't go through a good three-month consultation and design process and have a good plan ready to build this summer.
None of the technical challenges are particularly difficult, and the Claremont Access has the benefit of be grossly overbuilt for the traffic it carries. The easternmost downbound lane was closed permanently a few years ago after a rock slide, and that lost lane has had exactly zero impact on vehicle traffic flows.
The biggest capital cost will be the physical barriers - likely jersey barriers - which would cost something on the order of around $300,000 to run from Wellington and Jackson to Southam Park.
A city that is spending $45 million on a highway bypassing Waterdown cannot plausibly claim that this is an unaffordable investment in letting people cycle up and down the escarpment without risking death.
The report also includes a map of current and planned cycling connections around the Claremont Access.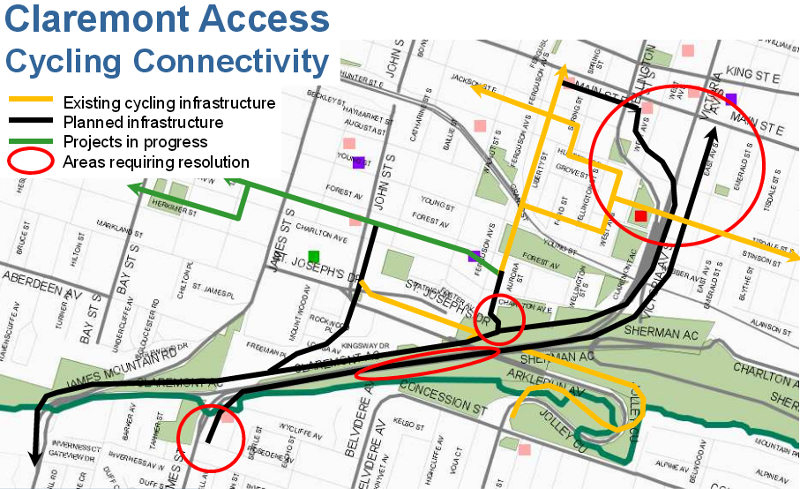 Claremont Access cycling connectivity map (City of Hamilton)
Incredibly, the map shows the Jolley Cut as an existing street with cycling infrastructure. That would be the skinny painted bike lane that a) only runs upbound and b) doesn't even start until one-third of the way up the route.
That fragmentary, dangerous partial bike lane is part of why we need a safe, protected escarpment access in the first place!
The Council vote for a Claremont bicycle access was an acknowledgment that the City is not doing enough to make its streets safer and more inclusive. We have not dedicated enough resources to designing new cycling infrastructure and building the network. We have set the bar too low in terms of both quality and timeliness, and we are falling farther and farther behind with each year.
This is not the fault of City staff: Council signs the budget and Council sets the agenda. If Council commits - really commits - to becoming a leader in making Hamilton a safer, more inclusive, more sustainable city, we will start to see the sense of urgency and dedication to high quality from staff that these projects demand.
Post a Comment
You must be logged in to comment.