Repurpose a Lane of Claremont Access for a Protected Two-Way Cycle Track
If we want to change the way people choose to get around, we need to change the way we design our streets.
By Ryan McGreal
Published December 02, 2014
At last Wednesday's packed-house Love Your Streets seminar, we learned that half of all driving trips in Hamilton are a distance of five kilometres or less. Even more amazing, more than half of all trips one kilometre or less are taken by car. (Citizens at City Hall has an excellent write-up on the event.)
Of course, this outcome is the predictable legacy of decades of automobile-dependent street design and land use planning. If we want to change the way people choose to get around, we need to change the way we design our streets.
On that note, the New York City Department of Transportation is building a protected two-way cycle track to connect Long Island City in Queens with Greenpoint in Brooklyn on the Pulaski Bridge over Newtown Creek. Here's a conceptual drawing of what it will look like, courtesy of Brownstoner Queens:

Conceptual illustration, Pulaski Bridge protected cycle track (Image Credit: Brownstoner Queens)
This would be perfect for a lane on the Claremont Access to connect Wellington Street/Victoria Avenue in the downtown core with West 5th and the mountain.
No-Brainer
Jason Leach first proposed this three years ago in an article on building a network of what he called "bicycle superhighways", but are generally referred to as protected cycle tracks.
At the start of this year, Jason reiterated his call to build a protected cycle track network from the waterfront right up the mountain, making better use of our excessive overbuilt arterial streets.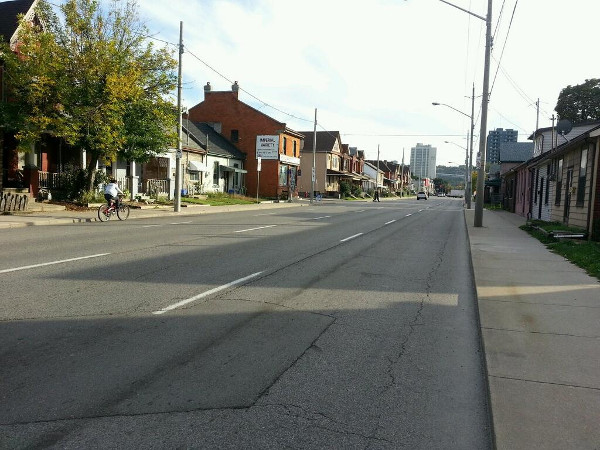 Wellington Street during afternoon rush hour (RTH file photo)
As he noted, this would connect the student population at Mohawk College to downtown Hamilton, connect downtown to the waterfront and could easily connect with the Escarpment Trail, which passes directly under the Claremont Overpass.
Repurposing a lane of the Claremont Access for cycling is a no-brainer. The freeway-style access is grossly overbuilt for the volume of automobile traffic it carries.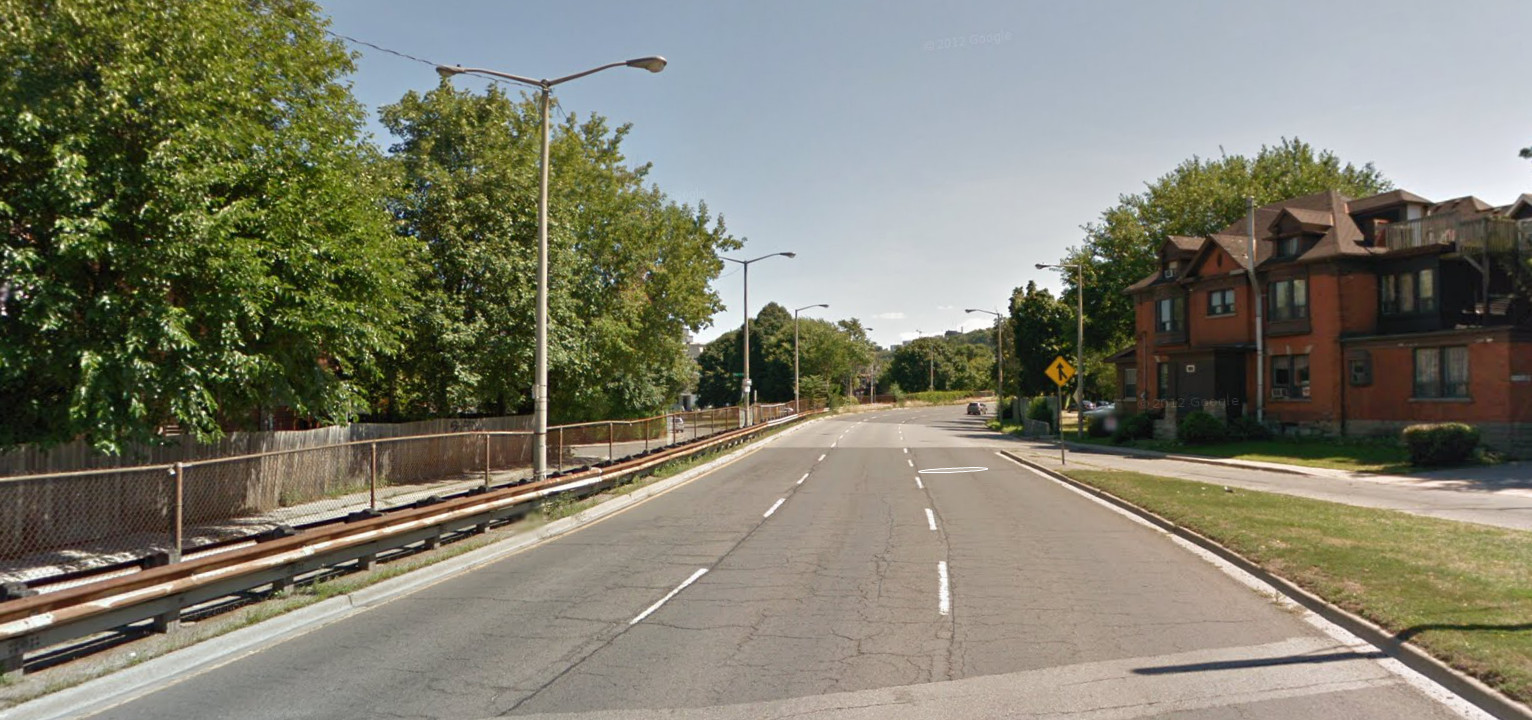 Claremont Access: a freeway running through an urban neighbourhood (Image Credit: Google Street View)
The easternmost downbound lane has been closed for two and a half years after a rock slide blocked it, and city staff have no plans to re-open it.
We could easily take an upbound lane and convert it to a protected cycle track with absolutely zero impact on automobile traffic.
Cannon Cycle Track
Since then, Hamilton has built its first protected cycle track along three kilometres of Cannon Street between Sherman and Hess. So now we have demonstrated that we are capable of building a good cycle track (even though we haven't applied that capability to other routes yet).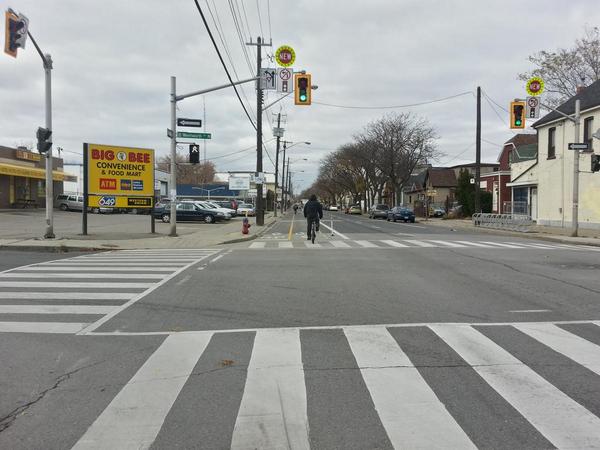 Cannon Cycle Track at Wentworth (RTH file photo)
A cycle track running up the Claremont Access and down Wentworth would cross the Cannon Cycle Track on its way to the waterfront, providing even more connectivity across different parts of the city.
And of course, the City's plan to develop the waterfront just begs for integrated, proactive investments in real, high-quality multi-modal transportation options so people choosing to live there don't have to drive for every trip.
As we keep saying on RTH, we get the city we plan for.
Bike Share
We are also about to launch a new bike share program that will provide 750 bikes at 100 stations across the lower city between downtown Dundas and Gage Avenue.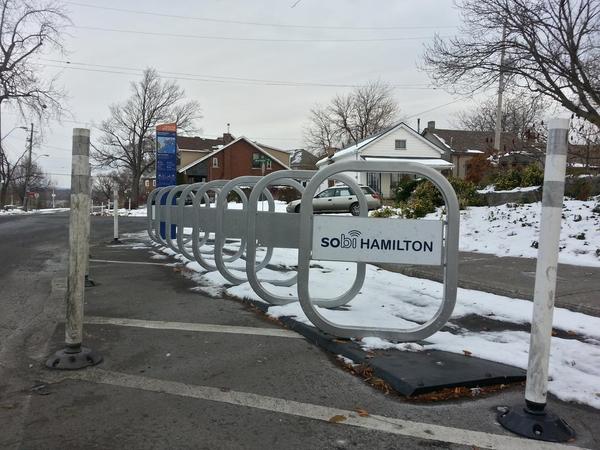 Bike share station, Bay and Macaulay
The bikes will be deployed in a "beta release" over the winter for people who are already members, with an official launch and ribbon-cutting scheduled for March 20, 2015. (In the meantime, you can still buy a one-year membership but the year won't start until after the launch.)
There are only a few stations on the mountain, but the plan is to expand the program to more stations and more bikes as demand grows. This is the perfect time for the City to support active transportation by building a high-quality connection between the mountain and the lower city.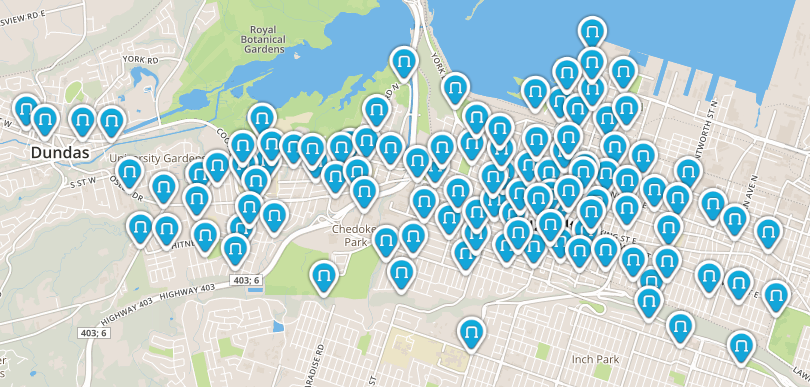 Map of Hamilton Bike Share Stations (Image Credit: Hamilton Bike Share)
Diversify for Resilience
In Hamilton, we have been putting far too many of our transportation eggs in just one very expensive basket.
The price we must pay includes unsustainable infrastructure lifecycle costs, worse air pollution, higher levels of obesity, heart disease and diabetes, economically depressed neighbourhoods, and vulnerability to service interruptions.
It's time to redesign our streets for a much wider variety of uses by making dedicated, safe space for walking, cycling and transit.
As we can already see with the Cannon Cycle Track, when you build high-quality infrastructure, people use it. Within weeks of opening in mid-September, Cannon Street was already attracting 250-400 cyclists a day, up from almost zero.
We get the city for which we plan. It's really that simple.
With files from Jason Leach
Post a Comment
You must be logged in to comment.