How to Let Upper Wellington Become a Local Commercial Centre
Modest changes initiated now could make a huge difference over the next decade.
By Ryan McGreal
Published November 24, 2015
The physical presence of the Niagara Escarpment is one of the most beautiful defining features of Hamilton. Unfortunately, it tends to serve as a dividing line between the lower city and the upper city and, by extension, a proxy for the division between urban and suburban mindsets and agendas.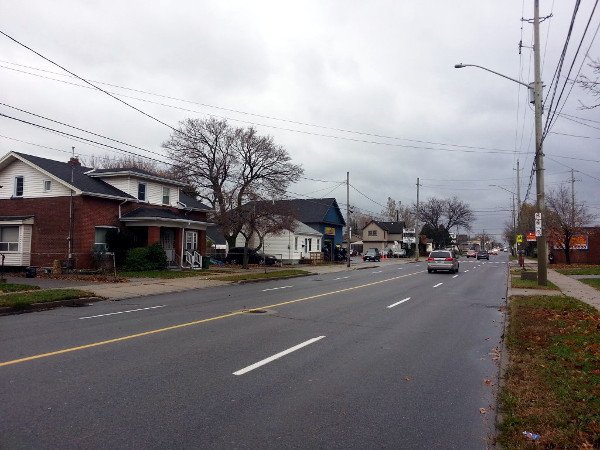 Upper Wellington Street
This plays out in odd ways in the three Mountain wards - 6, 7 and 8 - which span a variety of land use patterns as you move from north to south.
The north part of the Mountain is quite urban in its layout and building form. Streets are arranged in a grid with small houses set close to the street and apartment buildings on the arterials.
Yet the wards are governed in a one-size-fits-all suburban mindset based on the assumption that almost everyone will drive. This works against the natural layout of the north mountain and undermines its potential to be a more mixed, connected, walkable and bikeable community without sacrificing its suburban appeal.
For an excellent case in point, consider Upper Wellington Street. It connects to the top of the Jolley Cut escarpment access and is two wide lanes in each direction.
It also has a moderately urban streetwall that could serve as an effective local commercial centre, especially given its intersection with the east-west Concession Street.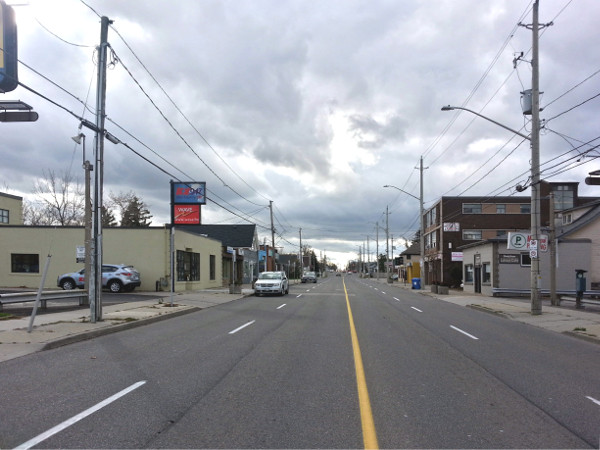 Generally urban building form on Upper Wellington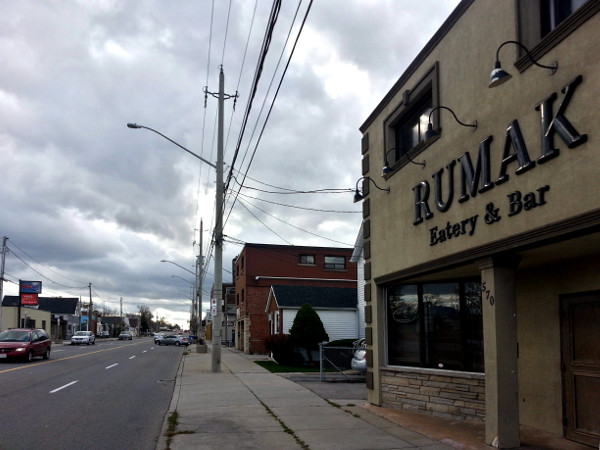 Restaurant on Upper Wellington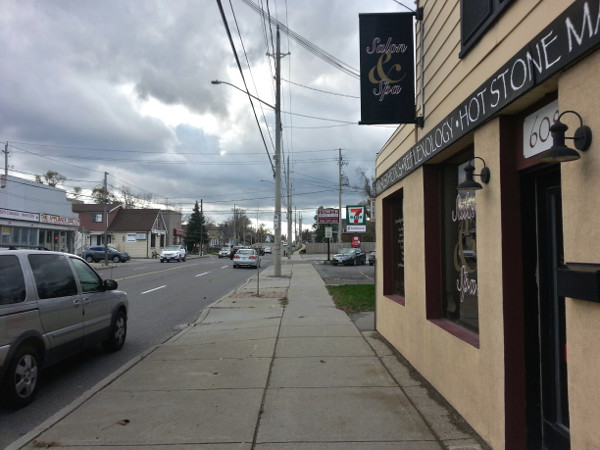 Commercial building fronting the sidewalk
As you can see, there are some businesses along Upper Wellington between Concession and Fennell, but there is no sense of local walkability. The sidewalks are actually moderately wide, but most of the stretch doesn't allow curbside parking so standing on the sidewalks is an unpleasant experience.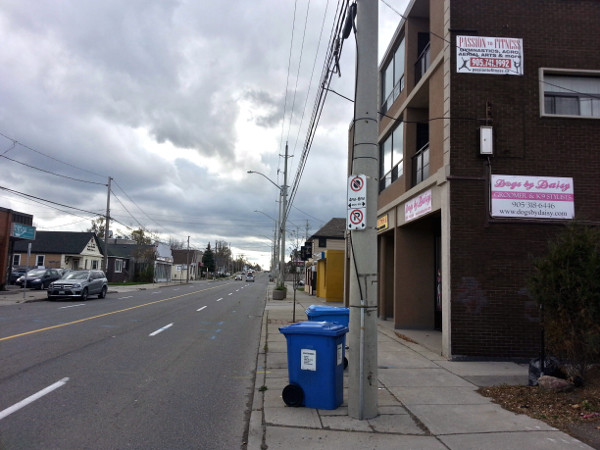 No curbside parking on west side of Wellington

Curbside parking is allowed on the east side off-peak hours
In addition, the street runs for a very long stretch with no controlled pedestrian crossings, aside from a painted crosswalk at Inverness that is controlled by a crossing guard before and after school.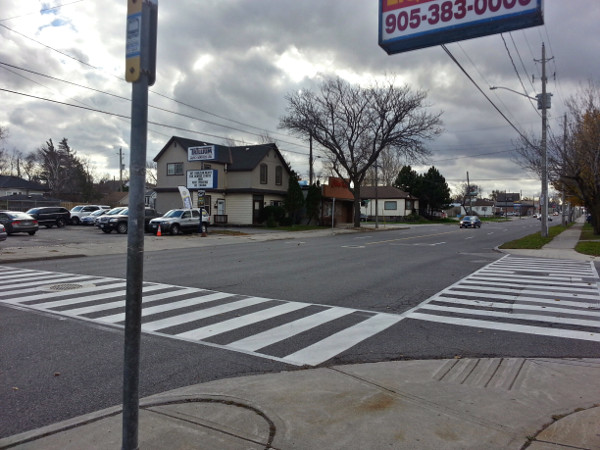 Crosswalk at Upper Wellington and Inverness
This combination of factors - the wide, four-lane street, the dearth of curbside parking, the lack of sidewalk protection and the lack of safe crosswalks - combine to undercut this stretch's potential to serve as a local neighbourhood commercial centre.
Lessons from Locke Street
Zoom out a little and you can see that there are a lot of people within easy walking distance of Upper Wellington - at least as many as there are around, say, the Locke Street South commercial district, which is thriving - but this stretch clearly draws a lot fewer local shoppers.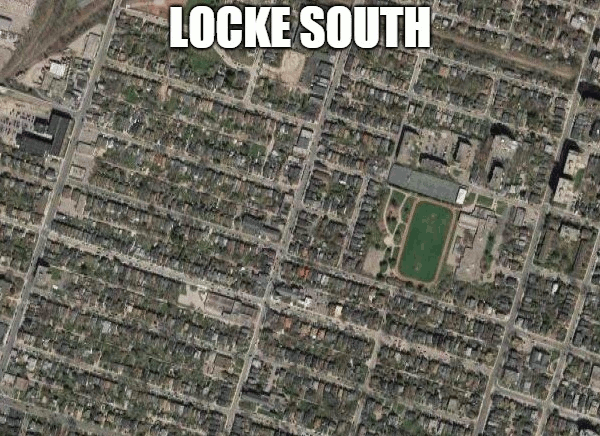 Animated GIF: Upper Wellington and Locke Street South satellite views (Image Credit: Google Maps)
Locke Street itself was similarly desolate as a commercial centre two decades ago, but its astonishing recovery since then provides an inspiring model to consider.
In the 1990s, Locke Street was a designated arterial with no curbside parking and very wide vehicle, uninterrupted traffic lanes that encouraged dangerous speeding.
Then-councillor Terry Cooke spent some political capital to get a stop sign installed at Locke and Charlton, dismissing claims by the traffic engineers that it would be a traffic disaster and cause collisions. A few years later, another stop sign was installed at Locke and Herkimer, and then a pedestrian-activated signalized crosswalk was installed at Locke and Tuckett.
At the same time, the rules were changed to allow all-day curbside parking on both sides of Locke. This provided physical protection for the sidewalk and made it easier for people to get in and out whether they were walking or driving.
The local business owners began to cooperate on a strategy to bring a more diverse, balanced mix of amenities and services to the street so that it could serve a broader customer base. Property owners invested in fixing up their buildings and soliciting tenants to open businesses that would help the mix.
As the street became more popular and it began to get difficult to find any parking, the City introduced parking meters priced to encourage circulation. Defying the doomsayers, the street has continued to thrive and develop and has become a major destination as well as a highly-travelled local commercial node for Kirkendall.
A More Complete Upper Wellington
These principles of urban revitalization are fairly universal, and with a bit of leadership and vision we can also apply them to the local context on Upper Wellington.
According to the City's Classification of Streets, Upper Wellington is a Minor Arterial, meaning a street that has a design speed of 70 km/h (!) and carries 5,000 - 20,000 vehicles a day. The City's designation does not specify how many lanes a minor arterial should be, but locally we have arterials with a variety of formats, including one lane in each direction and two lanes in each direction.
An obvious place to start with making Upper Wellington more pedestrian-friendly is to look at repurposing some of its excessive vehicle lane capacity to better uses.
According to an email response from Kelly Anderson, Communications Manager for the Public Works Department, Upper Wellington carries a total of 15,377 cars a day at Concession, based on a 2014 count. That volume drops to 14,701 cars a day north of the Lincoln M. Alexander Freeway, so we can assume the counts between those two points are roughly in the same range.
The good news is that a street can easily accommodate up to 20,000 cars a day with one lane in each direction and a centre turn lane.
Another way to recover some excess roadway is to move to narrower lanes. The City is in the habit of designing lanes to be 3.25 metres or wider, but traffic research clearly and abundantly finds that narrower lanes are actually safer than wide lanes.
Wide lanes encourage dangerous speeding whereas narrow lanes encourage people to slow down. Slower-moving vehicle traffic also sounds and feels less intimidating to people on the sidewalk, so this change convers both an actual reduction and a perceived reduction in risk.
The most obvious thing to do with that excess roadway is to establish all-day curbside parking on both sides of the street along the commercial stretch. That will make it easier for people to drive to these shops, while simultaneously protecting the sidewalks and hence also making it easier for people to walk there.
Another important change is to introduce more safe crossings. The crosswalk at Inverness is not signalized and the crossing guard is only there for short stretches before and after school.
An additional step is to encourage the property and business owners to get organized, come up with a shared vision for what the Upper Wellington commercial node can be and start working together in cooperation with the City to achieve that.
It won't happen right away, but even modest changes initiated now can make a huge difference over the next decade. However, at a minimum it requires the local Councillor to have a vision that reflects the unique opportunities and challenges of each part of the ward.
Post a Comment
You must be logged in to comment.