Time to Reject the Status Quo and Reimagine Our Public Space
The single biggest issue facing Hamilton is our collective tendency to settle for the status quo.
By John-Paul Danko
Published November 26, 2015
The recent article How to Let Upper Wellington Become a Local Commercial Centre really hit close to home for me - literally.
Despite living just a few blocks from the businesses described along Upper Wellington between Concession and Fennell - I had never given a second thought to this strip as a commercial centre.
Sure, I get my winter tires changed at Mountain Tire, order Chinese from China Kiki, buy flowers from Jean's Flower Shop, rent from U-Haul and get my eyes checked at Mountain Eye Care, but somehow I've never connected all of these businesses together as a commercial node.
I think that this is a perfect example of the single biggest issue I see facing Hamilton - our collective tendency to settle for the status quo.
Open Conversation Can Break the Status Quo
To be perfectly honest, from a traffic engineering standpoint I am not entirely convinced that it would be possible to reduce lane capacity on Upper Wellington right at the top of the Jolley Cut.
In many ways the north mountain is an island, cut off from the rest of the City by bottlenecks at the escarpment and at the Link, and the Jolley Cut is one of the City's most active mountain accesses.
And while current traffic volumes on Upper Wellington might be suitable for a single lane of traffic in each direction today, a detailed traffic study would be required to determine the levels of service projected for future traffic growth.
Of course, I am basing this assessment on nothing more than a gut reaction and a subliminal attachment to the status quo - which is exactly why it is so important for our community leaders to engage in honest and open conversations from as many sources as possible.
OK - maybe we can't permanently get rid of two lanes of traffic forever - so what!
Maybe we can get rid of two lanes for ten years. Maybe we can allow non-rush hour parking like on Kenilworth. Maybe all we need is narrower lanes, streetscaping and pedestrian crosswalks.
And why stop at just curbside parking and the occasional crosswalk - why not go for a complete streets redesign!
I have no idea what a final solution might look like, but as an engineer, I love complicated questions like this - because everything listed above can be quantified, analyzed and assigned costs and benefits (level of service, congestion, engineering, construction versus business tax revenue, livability, property values).
In the end, I think that the important part is a willingness to engage in an honest conversation and reject the status quo.
Open Conversations Lead to More Conversations
After reading the initial article, I was immediately inspired to go out for a walk in my own neighbourhood to look at a few other examples of where our collective acceptance of the status quo has stagnated the potential of our public spaces.
Inverness Avenue East Between Upper James and Upper Wellington
This short section of Inverness was resurfaced just a year or two ago. The current roadway cross section is ridiculous - nearly 12m wide.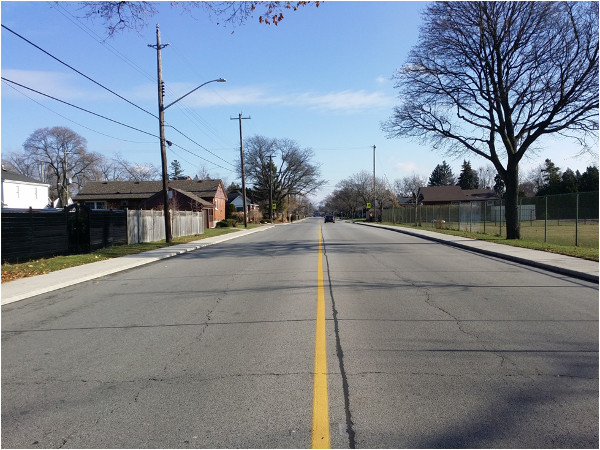 Inverness Avenue between Upper James and Upper Wellington
Why would a section of road like this simply be re-paved as-is without someone realizing that it would be so easy and cost effective to add grassed boulevards, street trees, bike lanes, and maybe a pickup and drop-off zone for the adjacent elementary school?
There are so many possibilities, yet here we are with the default "do nothing" option.
Upper James North of Fennell
The stretch of Upper James between Fennell and the Claremont Access is another struggling commercial district very similar to Upper Wellington north of Fennell. It is also a fascinating example of the status quo in Hamilton.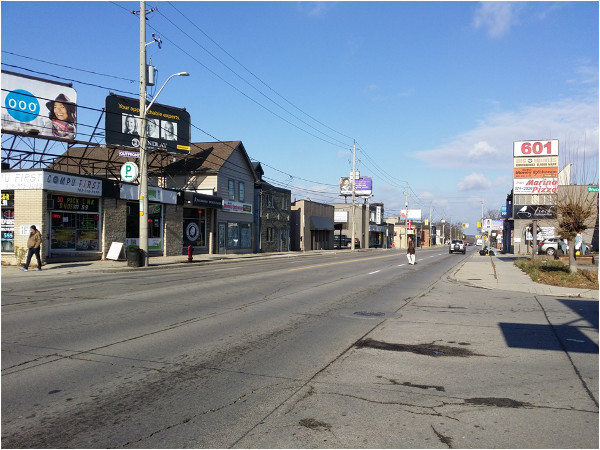 Upper James north of Fennell
This stretch of Upper James is extremely hostile to pedestrians, yet in the short time I was standing at the corner at Brucedale to take this photo, I saw three people run across the street.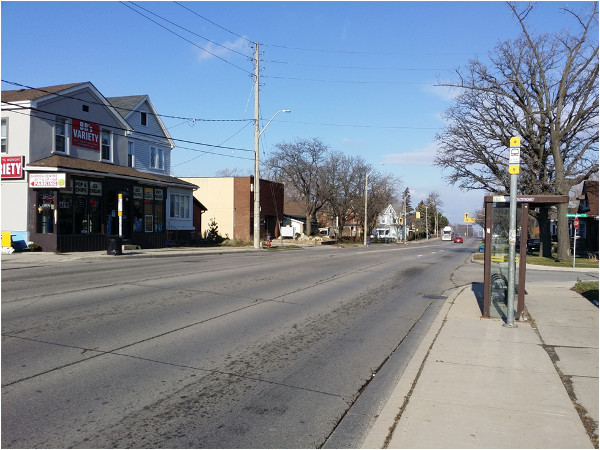 Bus shelter on Upper James north of Fennell
In a scene that will be familiar to residents of the lower city, how would you like to sit in that bus shelter with live traffic blowing by you at 70 km/h or faster?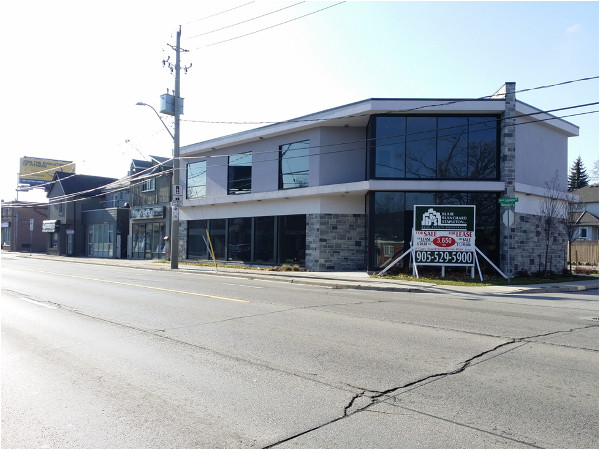 Commercial development, Upper James and Queensdale Avenue West
Here we have a new commercial development on Upper James at Queensdale Avenue West. Two stories, built to the street wall with parking in the back - sitting vacant for over a year.
In fact, this short stretch of road is full of vacant commercial space.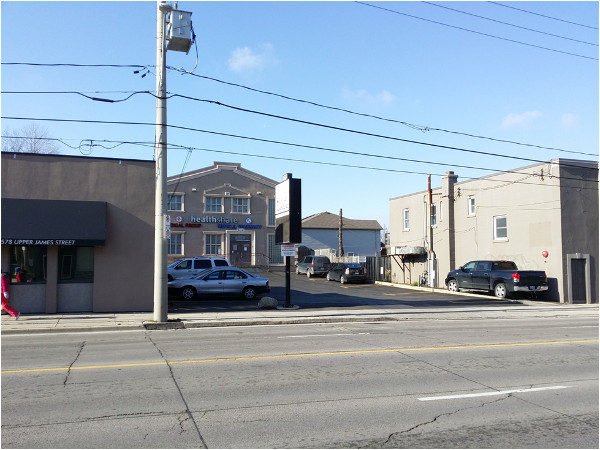 Vacant lot on Upper James
And just a block away we have this. I don't even know what to say here.
The Entire Claremont Access
Finally, we have the Claremont Access. A six lane, 70 km/h (posted) urban expressway in all its glory.
The Claremont Access was clearly originally designed for Upper James to carry one way traffic down and West 5th to carry one way traffic up. However, unlike Victoria and Wellington downtown, Upper James and West 5th were never converted to one way (thankfully) and we are left with a bizarre massive over capacity of roadway space on the Claremont Access.
There are so many possibilities for the Claremont access, yet right now we are rebuilding the bridge at the bottom to match the status quo lane configurations.


Claremont Access (Image Credit: Google Street View)
Your Vision For Our Public Spaces
All of these scenes are examples of conversations that are just waiting to happen - and I know that the Central Mountain is full of many more.
The amazing thing is that once you start to re-imagine what the public spaces around you could be, it's hard to stop.
So let's start that conversation - I'd really love to hear from others on the Central mountain that might have suggestions about how our public spaces could be re-repurposed.
What are your top priorities for the Central Mountain: business nodes, transit, bike lanes, landscaping, traffic calming, getting to work on time...?
Please leave a comment below or get in touch with me personally. My contact information is in my author profile below.
Post a Comment
You must be logged in to comment.