Easy to Turn Britannia and Cannon East into Bike Friendly Streets
Britannia would make an excellent neighbourhood greenway, and Cannon should extend the cycle track east past Sherman.
By Ryan McGreal
Published September 02, 2015
While on a bike ride to snap a few photos for Kevin Love's article on Barton Street, I rode out to Red Hill Valley and then came back west along Britannia Avenue. It struck me, and not for the first time, that Britannia would make a fantastic neighbourhood greenway.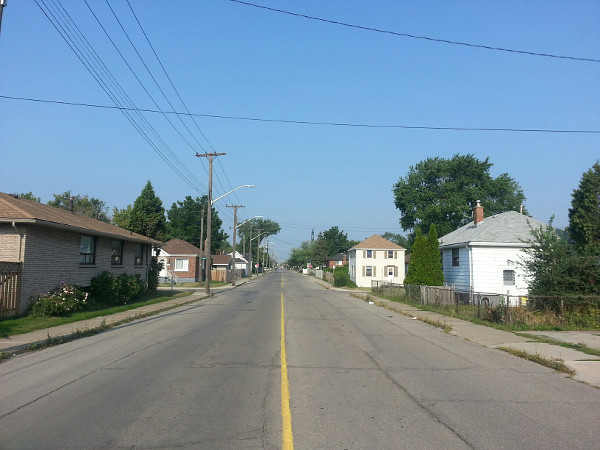 Britannia Avenue
A neighbourhood greenway is a mainly-residential street that has been designed to make it very safe and welcoming for people walking and cycling. It is possible to drive on a neighbourhood greenway, for example to get to your home, but you have to drive slowly and cut-through driving is strongly discouraged.
On a neighbourhood greenway, speed humps, speed tables, chicanes, bumpouts and other traffic-calming measures signal to people in cars that they need to slow down. Pavement markings and signs alert everyone that the street is intended for use by people on foot and on bike.
Cross-streets have diverters and other traffic buffers installed to redirect automobile traffic off the greenway while allowing walking and cycling traffic to proceed.
The City of Portland has been building neighbourhood greenways for years, but other cities, like Seattle, Vancouver and Chicago are also investing significant resources in building these successful cycling routes.
Britannia
Britannia looks like an excellent candidate for this treatment. It is a longish street, running a little over three kilometres through a heavily residential area and providing excellent cycling connections on both ends and along its length.
On the east, Britannia connects with a path to Heath Street, Hillcrest Park and the Red Hill Valley Trail. Heading west, it intersects the Pipeline Trail at Andrew Warburton Memorial Park, where Cannon Street East splits off.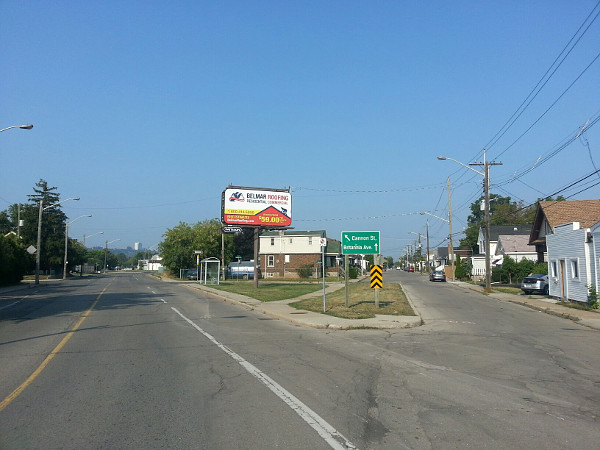 Cannon Street East (left) splitting off Britannia
Britannia is interrupted by a parkette at Park Row North, a structure that already acts as a diverter for automobile traffic while allowing walking and bicycle traffic to proceed.
Its western terminus stops at Ottawa Street, a lively commercial centre with lots of destinations in close walkable proximity.
Britannia is a wide street but has very little automobile traffic. I was riding on it in the middle of a weekday and there were almost no cars at all.
Of course, a few things will have to change to make Britannia a successful greenway.
The intersection at Parkdale is discontinuous, with the eastern leg crossing Parkdale slightly to the north of the western leg. Some kind of signalized intersection will be needed here.
Fortunately, the intersection at Kenilworth is already signalized. However, the street inexplicably becomes one-way westbound between Kenilworth and Park Row, even though it is wide enough for two-way traffic. This section will need to be converted back to two-way, at least for bicycles.
Cannon
Cannon Starts at Britannia four blocks east of Kenilworth, branching out in a Y and then proceeding along a parallel course all the way west through downtown to where it merges with York Boulevard at Hess Street.
The City has a three-kilometre protected two-way cycle track on Cannon between Hess and Sherman Avenue, but things get sketchy east of Sherman. I wrote last year about the fragmentary painted lanes on Cannon once you get east of Sherman - a huge, forehead-slapping missed opportunity to extend the protected cycle track on a street with extremely low automobile traffic volumes.
Astonishingly, the City did a lot of road work on Cannon during construction of the new stadium and had a perfect opportuntiy to extend the cycle track. Instead we got - literally nothing for the first few blocks immediately east of Sherman!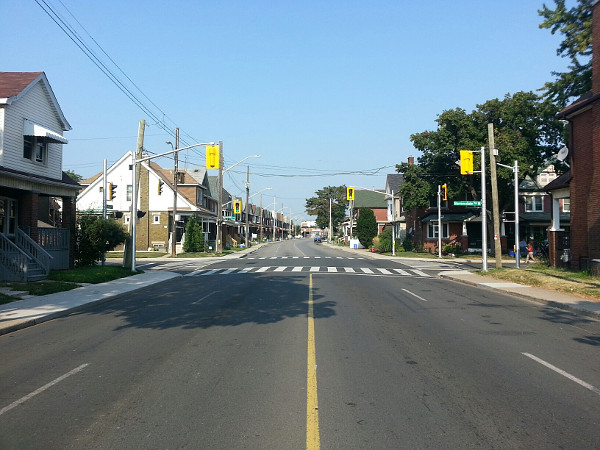 Cannon looking west at Barnesdale
Again, I was able to stand in the middle of the street in the middle of a weekday with my camera, and there were literally no cars.
The south curb lane (the one on the left in the above photo) would be a perfect space to extend the protected cycle track. Instead, it's painted as a designated right-turn lane. You can't even make this stuff up.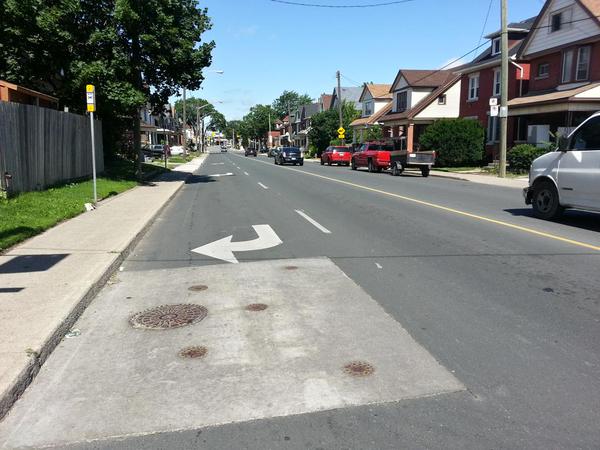 Dedicated right turn lane on Cannon west of Lottridge (RTH file photo)
Starting at Lottridge, we get bare-minimum painted lanes for a few blocks, and then the lanes disappear again at Gage. After that point, the City has been kind enough to paint bike sharrows, markings to remind drivers that cyclists are also allowed to ride in mixed traffic.
Of course, hardly anyone is actually willing to ride a bike in mixed traffic, especially on a street that is so wide and has such low traffic volumes that speeding is easy and comfortable. That's why we need cycling infrastructure in the first place!
There is apparently a plan in the works to extend painted bike lanes on Cannon from Gage to Britannia, but there is no reason why the entire run from Sherman to Britannia can't be upgraded from painted lanes to protected lanes.
It is laughable to suggest that this street somehow cannot afford to lose automobile lane capacity in order to dedicate a lane for a protected cycle track.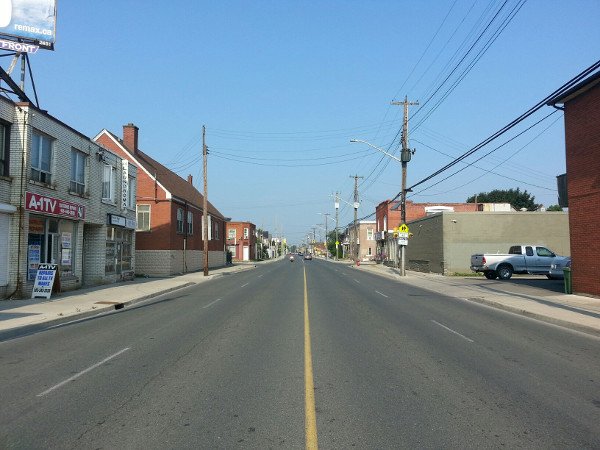 Cannon near Rosslyn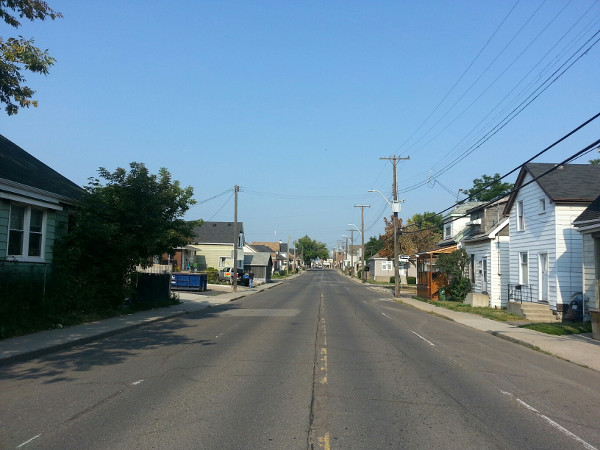 Cannon near Province
The cycle track on Cannon west of Sherman, where there actually is a moderate volume of automobile traffic, has had the effect of reducing the incidence of dangerously fast speeding while still allowing traffic to flow at a comfortable, reasonable speed.
But left to its own devices, the City has failed to be inspired by the cycle track, which was designed by an outside company after a huge citizen campaign motivated Council to approve it.
We should not have to run a huge campaign every time we want high-quality cycling infrastructure. That's not a sustainable model for citizen engagement and there is simply no reason why the City can't just do it right if they're doing it anyway.
Post a Comment
You must be logged in to comment.