Building the Network: The Pipeline Trail
Right now, we have a chance to build a Pipeline Trail to the best of Dutch standards so that we can be confident that it will be used for generations to come. Let's do it!
By Kevin Love
Published May 15, 2015
This is the fifth and final article in a five-part series entitled Building Hamilton's Protected Cycling Network.
On May 3, 2015, I participated in the Jane's Ride on the Pipeline Trail. It was a real eye-opening experience.
Once upon a time, Hamilton really was an ambitious city. We built things to last, with an eye toward benefitting future generations. Hamilton's waterworks infrastructure is an excellent example of this.
Consider the cast-iron pipe that was laid down in the Pipeline Trail from the Lake Ontario pumping station to the Barton Reservoir. It was designed and installed from 1857-1859 with capacity for a city of 100,000 people, even although Hamilton's population was then only 25,000.
The pipe design itself was deliberately over-engineered, with twice the usual pipe wall thickness. As a result, this 156-year-old pipe is still in daily use today providing clean water to the people of Hamilton.
The Pipeline Trail Jane's Ride was also about building the infrastructure to grow our city for the future. The City of Hamilton is currently conducting community consultations to develop a Master Plan for the Pipeline Trail. This is very important because the Pipeline Trail is a key link in Hamilton's Protected Cycling Network.
Both the City of Hamilton's Cycling Master Plan and the Yes we Cannon petition call for bike lanes on Cannon all the way to Kenilworth, where it can connect with the Pipeline Trail.
The Pipeline Trail is fairly good right now. It is a car-free linear transportation route from Main and London to Barton and Shelby.
However, fairly good is really not good enough to reach into the 60 percent "Interested but Concerned" demographic of potential cyclists.
Pipeline Trail: Improvements Needed
The most important improvements are needed at intersections where the Pipeline Trail crosses roads that permit automotive traffic. Intersections are dangerous! 63.5 percent of crashes in Ontario that result in personal injuries take place at intersections [PDF].
Right now, these intersections are uncontrolled, relying on the rule of "Vehicle on the right must yield right-of-way." However, this has been a fairly spectacular failure, with many incidents of car drivers failing to yield right of way to cyclists, even although the cyclist was approaching from the right.
Another serious concern is the current failure of the City of Hamilton to enforce its rule of not allowing car parking within six metres of an intersection.
This is particularly dangerous in the case of the Pipeline Trail because of the large number of children cycling on the Trail. For example, consider children cycling to school.
Suppose a child lives in the residential neighbourhood to the north-east of Andrew Warburton Memorial Park. In that neighbourhood, it is less than 1.5 km to Queen Mary Public School, 1292 Cannon Street East between Province and Frederick. This is a five-minute bicycle trip for a typical elementary school student.
It is also 2.5 km to Holy Name of Jesus Separate School, 181 Belmont Ave just north of Cannon. This is an eight-minute bicycle trip for a typical elementary school student.
I picked these examples because both these school trips will use the Pipeline Trail and the about-to-be-installed bike lanes on Cannon Street. This shows the importance of a continuous cycling route!
Of course, since the Cannon Street part of that route is currently planned as unprotected bike lanes, very few children will use them until they are upgraded.
But let's not forget about Memorial City Public School, 1175 Main Street East, just a block away from the south end of the Pipeline Trail. How do we make sure that these children get safely to school?
Safe Intersection Design for Children and Everyone Else
There is no need to reinvent the wheel, because this safe intersection design exists on pp 242-243 of the CROW Design Manual For Bicycle Traffic.

CROW Manual: Intersection with right of way for cycle route

CROW Manual: Illustration of intersection
Please note the following features:
The pavement on the bicycle route is coloured, and this colour extends across the intersection. This provides a clear visual indication to car drivers to expect cyclists on the coloured pavement.

Cyclists' right of way is clearly shown by yield signs and pavement markings.

Existing Hamilton bylaws forbid car parking within 6 metres of an intersection. The best way to do this is with concrete planters. Many good examples already exist in Hamilton, for example on Aberdeen Avenue.

The height of the Pipeline Trail is maintained across the intersection. This creates in the intersection that looks like a speed hump with bicycle traffic carried on top of it. This further reinforces the cyclist's right of way. As with all speed humps, a half sinusoidal shape is the best profile, per the dimensions on page 156 of the CROW manual.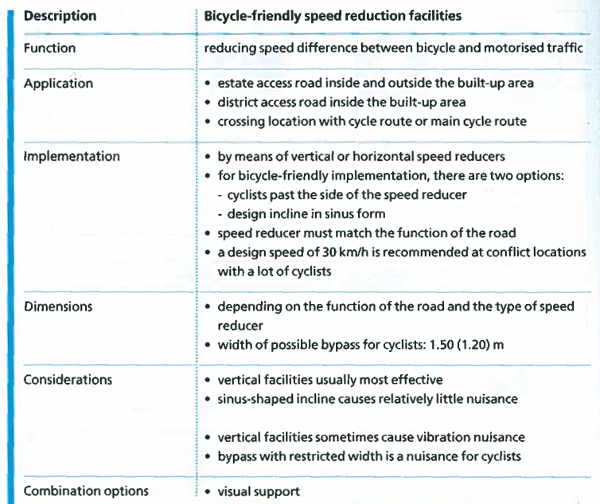 CROW Manual: Bicyle-friendly speed reduction facilities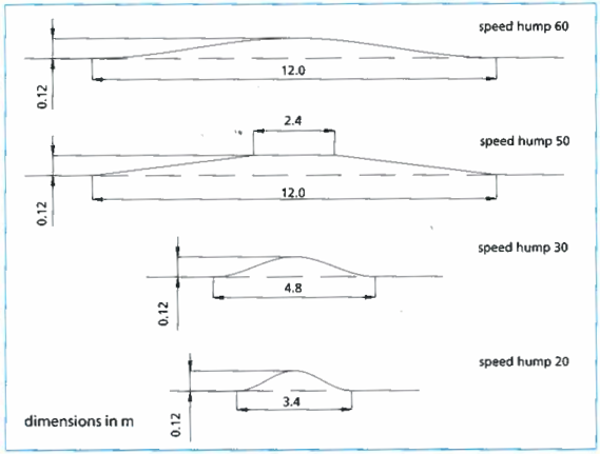 CROW Manual: speed hump cycling trail
Get Involved to Improve the Pipeline Trail
The next public meeting will be on June 25 at 6:30 PM at the Dr. John M. Perkins Centre, Room "A", 1429 Main Street East.
I would strongly encourage people to show up to help push for a safe intersection design for children and all other people using the Pipeline Trail.
156 years ago, forward-thinking citizens of Hamilton installed a water system whose original cast iron pipe is still carrying clean water to the people of Hamilton today.
Right now, we have a chance to build a Pipeline Trail to the best of Dutch standards so that we can be confident that it will be used for generations to come. Let's do it!
Post a Comment
You must be logged in to comment.