Easy Missed Opportunity to Improve Cycling on Bay South
It would take only a very minimal change to move the bollards at the start of the bumpout so there is room for a person on a bike to ride behind them.
By Ryan McGreal
Published August 26, 2015
Early yesterday morning, I noticed that the knockdown bollards on Bay Street South around Bold Street had been removed.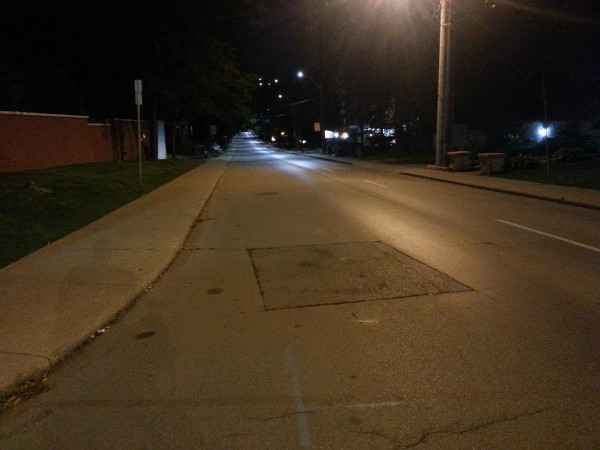 Bollards removed from Bay Street South
I contacted Kelly Anderson, communications manager for the Public Works Department, and quickly received a response: the knockdown sticks had been removed temporarily so that Horizon Utilities could replace a hydro pole on Bay Street.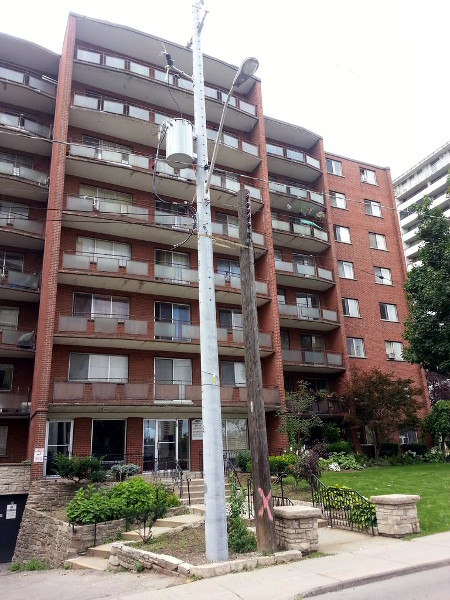 Hydro pole replaced on Bay Street near Bold
I asked if there was any chance that the City could reinstall the knockdown sticks in such a way as to make it easier for people on bicycles to ride behind them and enjoy some physical protection from automobile traffic. Anderson responded, "I've passed your suggestion/request on to Traffic staff for consideration."
So naturally, the knockdown sticks were reinstalled the same as before, making it difficult to navigate a bicycle behind them.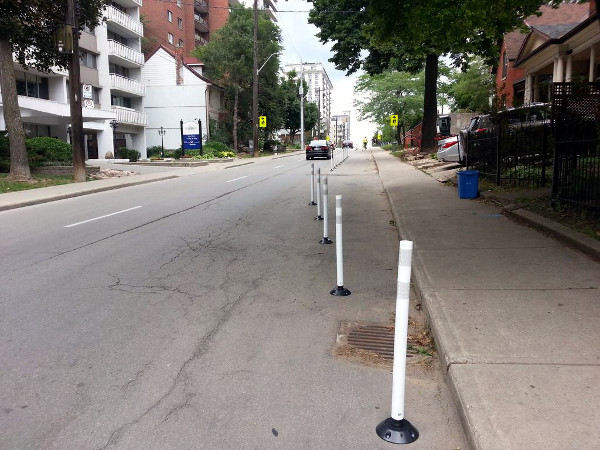 Knockdown bollards reinstalled south of Bay: no easy way for cyclists to ride behind them
Just as I was taking these photos, a man on a bicycle came up Bay. When he got to the start of the knockdown sticks, he had to pull out to the left and continue to ride in the mixed traffic lane before pulling behind the bollards farther up.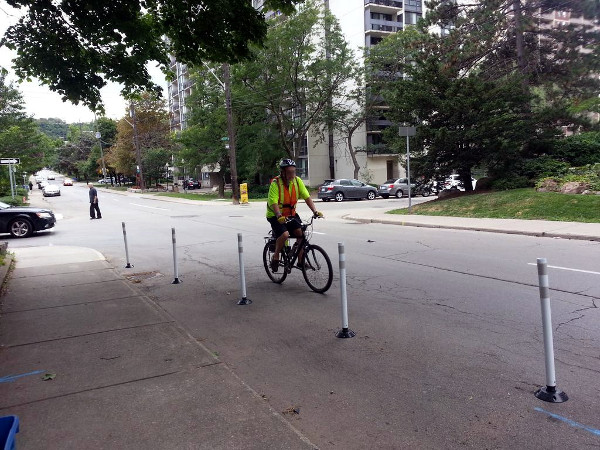 Cyclist riding in mixed traffic next to knockdown sticks
The same pattern is followed in the section of bollards just past the apartment building parking garage ramp: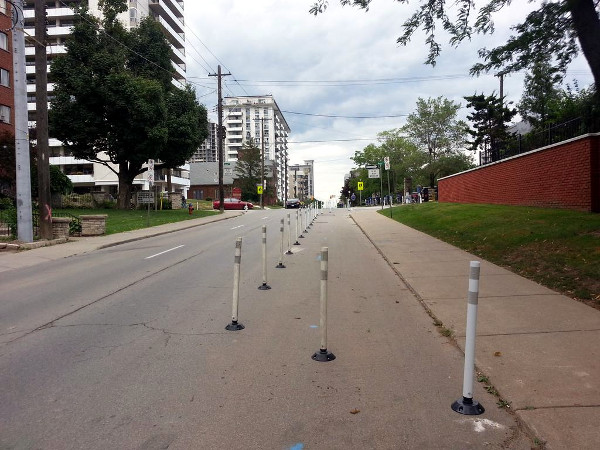 Bollards between the parking garage ramp and Bold Street
As Kevin Love argued in a recent RTH article, it is nice to see the City installing traffic calming measures on our dangerous, car-dominated streets, but it wouldn't take much to design these traffic calming measures to that they also support cycling.
It would take only a very minimal change to move the bollards at the start of the bumpout so there is room for a person on a bike to ride behind them. This is an easy missed opportunity to make a sliver of Bay Street more accessible by bicycle.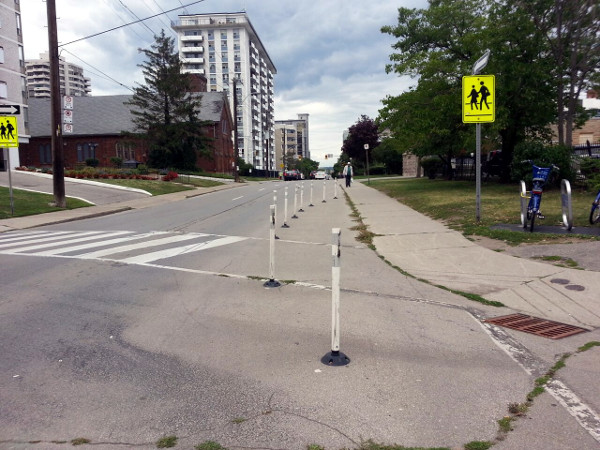 A couple of bollards north of Bay would also have to be moved
The knockdown sticks were originally installed in late 2013 as part of that year's new program to address the enormous backlog of long-neglected street and intersection safety improvements. A year later, the City's Cycling Committee sought feedback on making the bumpouts permanent, but it is not clear whether anything came of this.
Bay Street is a contender for the least essential one-way street in Hamilton: a wide, low-volume street with dangerously high vehicle speeds. The only reason it is one-way is that it is nominally "paired" with Queen Street, which is one-way southbound.
There is absolutely no reason why Bay can't be converted to two-way with a protected cycle track.
Immediately north of Main Street, Bay is so overbuilt that a lane has literally been painted away instead of being used to improve cycling access downtown: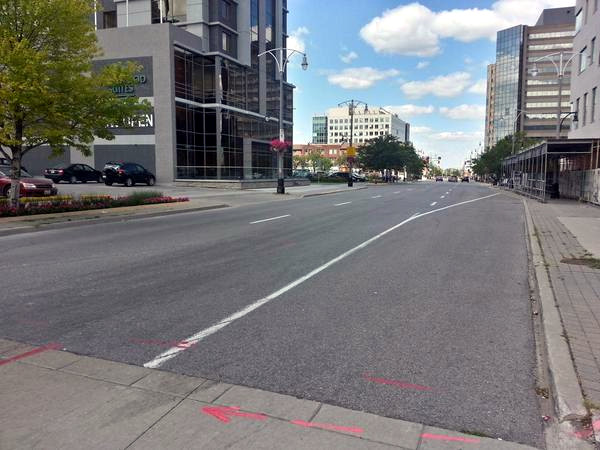 Bay Street north of Main Street
Bay continues as a three-lane, one-way northbound street, widening to four lanes before York Boulevard. It eventually switches to two-way north of Cannon Street.
Imagine the benefits and synergies if Bay was converted to two-way and given a protected cycle track:
It would finally be possible to ride a bike south from the North End and waterfront without breaking the law or going far out of the way on inhospitable streets.

It would connect to Bayfront Park and the Waterfront Trail.

It would connect to the new West Harbour GO Station.

It would connect to the Cannon Cycle Track.

It would connect to the Hunter Street Bike Lanes, which I still hope the City will eventually a) protect with bollards and b) extend so it actually goes to the Hunter Street GO Station.

It would connect to the parking-protected Herkimer and Charlton bike lanes, which are supposed to be installed this September.
This is very low-hanging fruit, folks. If Council and staff can't even see fit to design and implement something this easy on a street this accommodating, I really don't know how we're ever going to pull off more challenging projects!
Post a Comment
You must be logged in to comment.