Lessons From False Creek South for Hamilton's Waterfront Redevelopment
Politicians like things to be cheap, easy, and popular. Making our waterfront an accessible, complete community might be popular in the long-run, but it's unlikely to be cheap or easy.
By Rob Fiedler
Published August 07, 2015
Last month I wrote that real success on our waterfront would be "if we manage to create a complete community that endures beyond the glint of newness." At the time I was visiting family in the Vancouver area, and without saying so, I was thinking about False Creek South as an example of that "real success".
Shortly, after I wrote my piece, a regular contributor to RTH made favourable reference to False Creek South in response to a piece on achieving intensification targets around the new West Harbour GO Station. For a number of reasons, I concur that this particular slice of Vancouver's waterfront is worth talking about as we move forward on redeveloping the West Harbour waterfront.
Prior to writing this article, however, I knew relatively little about False Creek South's planning history or current situation beyond the basic details.
It was built in the 1970s and was viewed by planners and urban progressives as an alternative vision for community and city-building, and that it was a place deliberately and carefully planned around a social agenda that focused on ensuring that the eventual neighbourhood would be mixed-income and socially diverse.
None of this is readily apparent to the casual visitor strolling by on the seawall or relaxing in the area's many parks and public spaces. To my eye the area has always seemed pleasant in an unassuming, yet vital way. The lush vegetation, textured pathways, and humane-scale of the buildings work together to achieve this effect.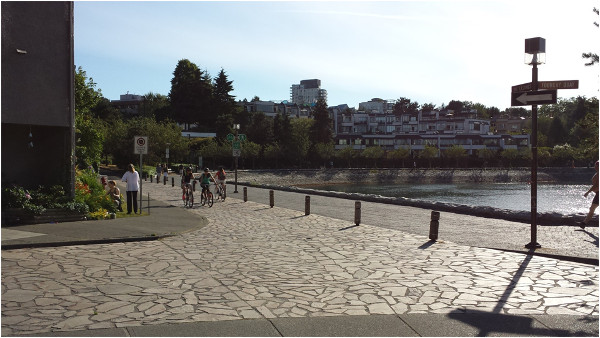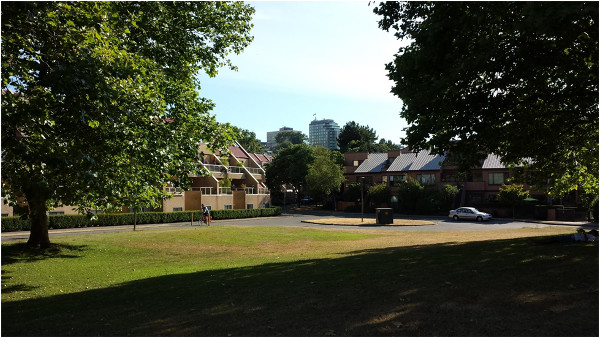 I would be remiss if I didn't point out that Charleston Park and the seawall through False Creek South offer some of the best vantage points for viewing Yaletown and the downtown skyline.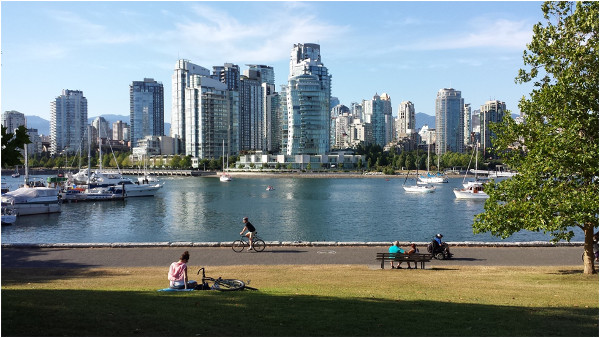 But False Creek South interests me for another reason. Like Vancouver's West End neighbourhood, it appears to have transitioned from newness to middle-age gracefully.
For these reasons, for a while I have promised myself that I would dig a little deeper into the False Creek South story and write something for RTH about it.
As it turns out, The Tyee, an excellent independent online magazine in BC, did a special series in 2014 called False Creek South: An Experiment in Community, which provides good overview of the neighbourhood, its history for those unfamiliar with it, and its uncertain future.
It is well worth reading through if you have the time and are interested. The first segment is the short video below:
I'm generally reticent to point to other places and suggest we emulate what they've done, but False Creek South can inspire us and suggest possibilities for our waterfront - as long as we also learn from their mistakes and shortcomings. For me, False Creek South represents a kind of utopian alternative.
Carefully Planned, Intentionally Mixed
There is much talk about rising housing costs and the need for affordable housing so that revitalization doesn't lead to displacement in the core and North End. But are we willing to do more than talk and hand-wring?
We can look to False Creek South and see a carefully planned, intentionally mixed-income community, built on reclaimed industrial waterfront with support from three levels of government, designed to be dense, walkable, and supportive of a range of household types.
But as the Tyee series reveals, False Creek South is a fragile utopia. The innovative mix of one-third co-operative housing, one-third rental housing (subsidized and market), and one-third market condominiums, though laudable, was made possible by a unique political alignment: a progressive municipal government, an NDP government in Victoria, and an interventionist Liberal government in Ottawa.
Simply trying to replicate the model in our present context is unrealistic. Central waterfronts are now primed by the public sector for private investment, while limited fiscal capacity at the municipal level and austerity at the provincial and federal level make it difficult to do much more than maintain existing non-market housing stock.
Renewal Challenge
Moreover, if we fast-forward to now, all is not well. False Creek South sits on land leased from the City of Vancouver for 50 years. The first leases will begin expiring in 2022, casting a pall over residents as they wait to learn whether the City wishes to renew the leases - and if so, on what terms.
Expiring leases create uncertainty, but other insights can be gleaned from the situation. Preparing to negotiate with the City has forced area residents to tackle a set of inter-connected problems that many communities face as they mature or experience structural changes.
For example, residents aging in place means falling household densities and fewer children attending local schools and daycare facilities. It also means changing housing needs. There is greater demand for smaller one and two bedroom units for those who wish to downsize and from young adults in the community.
The existing housing and physical infrastructure in the community will increasingly need to be renewed, the financing of which is complicated by the mix of co-operative housing and subsidized rental units, which were constructed with government support. Without that support, money will need to be raised via other means.
Not surprisingly, intensification is being looked upon as a potential solution to both problems. The land the community is sitting on is considerably more valuable than it was in the 1970s, and what was considered "dense" then is now quaint when compared to more recently developed areas such as Yaletown, Coal Harbour, and the Olympic Village (just to the east).
The question facing both residents and the City is how to intensify in a respectful and sensitive way - a delicate balancing act given the development pressure that exists.
It's Up To Us
To connect the dots and make this story more directly relevant to us in Hamilton, the proactive response of engaged False Creek South residents is worth noting. Through a working committee of their neighbourhood association, area residents are making proposals which look to use intensification to serve their social aims, including maintaining the diverse, mixed-income character of their community.
That, as a planner quoted in the series states, is intriguing and uncommon. It's something for us to ponder when debating intensification and waterfront development closer to home.
Planning and urban design, not to mention architecture, are certainly important. But what kind of community are we hoping to build on our waterfront?
New urbanism's claims to the contrary, there is no architecture of community. Physical design doesn't create affordable housing, or lead to socially just outcomes. Public support for inclusionary zoning and new models of tenure and governance are needed.
A precursor to political support is fleshing out for ourselves what inclusionary zoning means in practice, what we're willing to do to achieve it, and establishing new models of tenure and governance such as land trusts.
Politicians like things to be cheap, easy, and popular. Making our waterfront an accessible, complete community might be popular in the long-run, but it's unlikely to be cheap or easy.
It's up to us to do some of the heavy lifting: to both demand it and make it possible. There's no reason to think that the status quo will make it happen for us.
Post a Comment
You must be logged in to comment.