Stone Church Road East Inhospitable to Human Beings
These environments are not dangerous because of some immutable natural law. They're dangerous because we built them that way.
By Ryan McGreal
Published June 03, 2015
So, my son and I have started a thing where we go for bike rides to get burgers. Not exactly high-concept, but it includes two things we enjoy - bike rides and burgers - and that seems like enough of a narrative hook to justify a fun activity.
Last Friday, we decided to ride out to Five Guys Burgers and Fries in the Meadowlands East Power Centre at Paramount Drive and Upper Mount Albion Road. The trip really showcased the differences between how we used to design streets and how we design streets today.
Off to a Good Start
The first part of the trip, which ran through Kirkendall, Durand and Corktown neighbourhoods, was uneventful. The neighbourhoods' streets aren't particularly well-suited to cycling - the City's continued foot-dragging in implementing protected bike lanes on Charlton and Herkimer is pretty frustrating - but the narrow lanes and slow automobile speeds mean it's not too difficult for a determined cyclist to ride in mixed traffic.
At Corktown Park we jumped on the Escarpment Trail and the going got a lot nicer. Aside from the dangerous and unpleasant road crossing at Charlton/Wentworth, the Escarpment Trail is all kinds of enjoyable to ride on.
Between Charlton/Wentworth and the next road crossing at Limeridge Road East, the Trail runs a good 6.5 km of continuous off-road trail. It's the only reason we were willing to bike to Stoney Creek Mountain.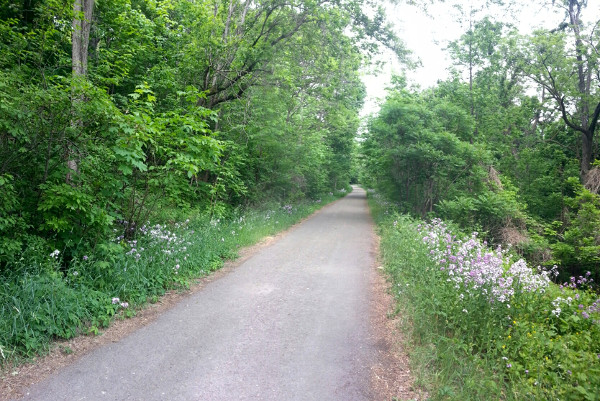 Escarpment Trail
Past Limeridge, the Escarpment Trail runs through a subdivision and then turns east, dropping downhill past the pond across Mountain Brow Boulevard from Albion Falls.
From there, a right turn on Arbour Road takes you back uphill and over the new multi-use bridge crossing the Lincoln M. Alexander Parkway just west of where it turns into the Red Hill Valley Parkway.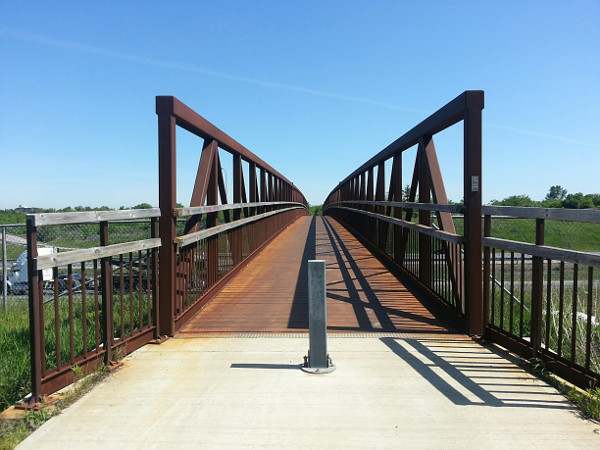 Multi-use bridge over Linc
Arbour Road continues south past the highway where it crosses Stone Church Road East, and it is here that things get really unpleasant.
I found myself wondering, really wondering, whether the people who designed the built environment had ever actually encountered a human being.
Stone Church
First of all, the good news: Stone Church does have painted bike lanes in both directions. That is indeed better than nothing. However, it is not much better.
Anyone intrepid enough to ride a bike on Stone Church has to contend with automobiles passing a few feet away at 60-70 km/h. The driving lanes are wide and intersections have dedicated turn lanes in which the bike lanes disappear, combined with extremely wide corner radii so drivers can make turns without slowing down.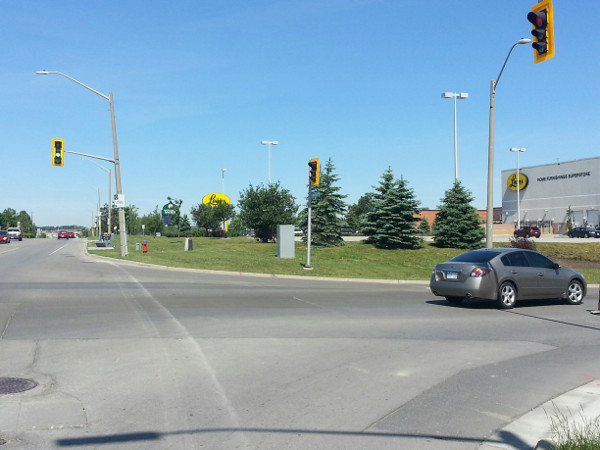 Large corner radii at Stone Church and Pritchard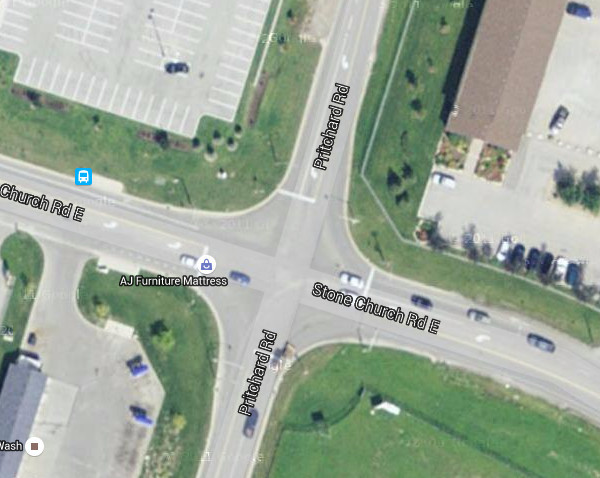 The size of the turning radii is really visible from satellite view (Image Credit: Google Maps)
In addition to allowing faster turns, these large corner radii also increase the distance that people need to walk to cross the street.
But it's even worse for anyone with the misfortune of being on foot. There are no sidewalks on either side of Stone Church until you reach the Power Centre.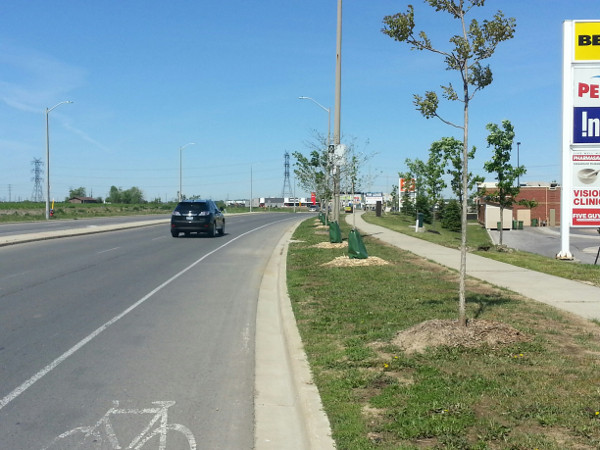 Sidewalk in front of Power Centre
Want to walk to the new McDonald's on the south side of Stone Church next to the route of the planned Upper Red Hill Valley Parkway highway extension? You will have to go off-roading on the dirt track beside the road.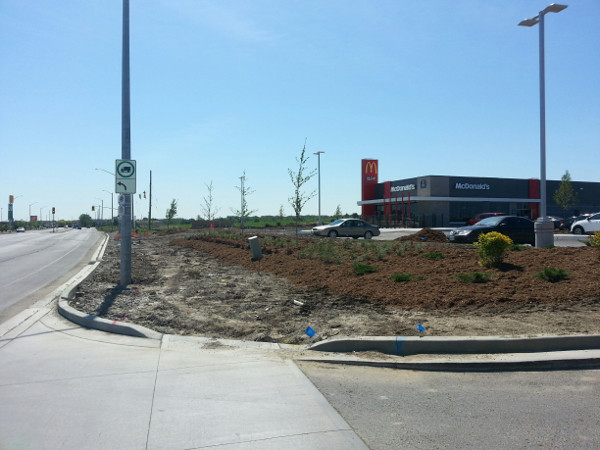 McDonald's on Stone Church Road East
If you want to take the bus, you are in luck: there are bus stops. However, you will presumably have to be airlifted to the bus stops themselves, since there are no sidewalks leading to them.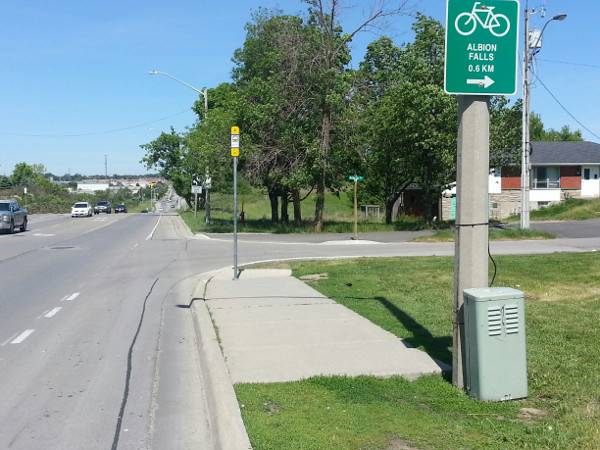 Bus stop island
You can't even make this up.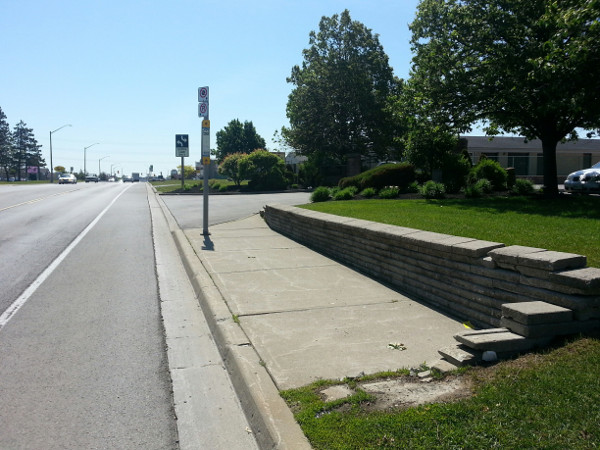 Another bus stop island
Desire Lines
On our way back, we passed a large group of congregants leaving the Hamilton Mosque after the weekly Friday afternoon Khutbah sermon. It was a stark illustration of just how ill-suited the built environment is for pedestrian movement, i.e. people walking.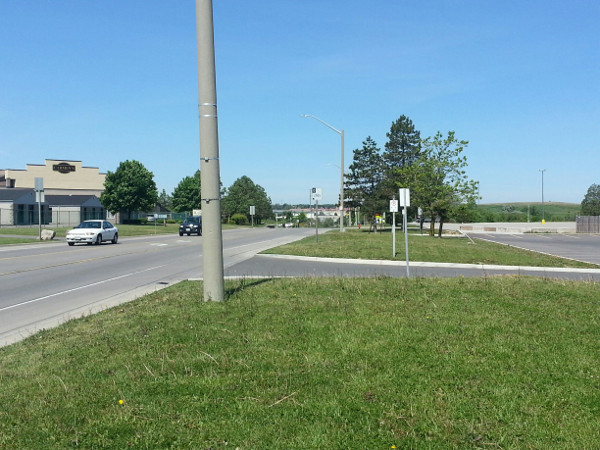 No sidewalk in front of Hamilton Mosque
There are no sidewalks, of course, so lots of people were walking along the bike lanes, having nowhere else to go.
But it's even worse than that: the properties themselves are designed to actively discourage people from walking from one store to the next.
In addition to being set far back from the street behind huge off-street parking lots, the buildings are physically separated from their neighbours by fences, concrete barriers and grade separations.
This goes beyond merely not accommodating walking - it actively gets in the way of walking. In the case of the Mosque, people were walking anyway but were forced to go out of their way to get around the obstructions that were deliberately placed in their way.
We watched as groups of people picked their way around the fences and walls, but the land itself bears the mark of many other such passages through desire lines, so called because they indicate through wear the path that people are trying to follow.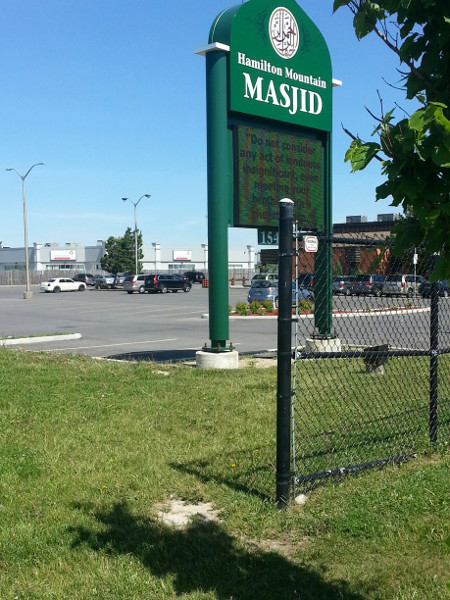 Desire line between Hamilton Mosque parking lot and neighbouring Leons Furniture parking lot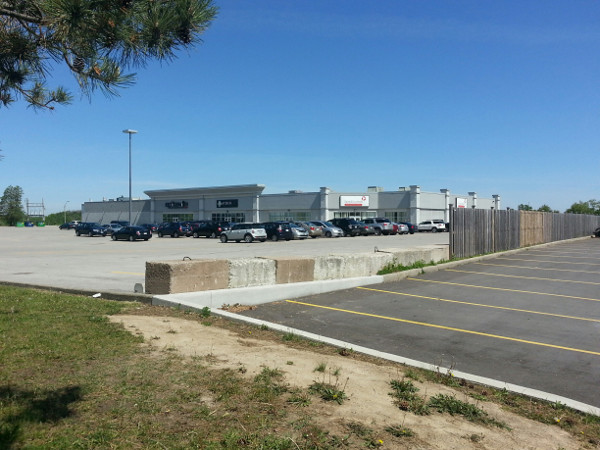 Desire line between Hamilton Mosque parking lot and neighbouring Splitsville parking lot
Double Standard
I'm sure that apologists for the city's demonstrated priorities will argue that the sidewalks will be coming eventually, only some of the lots on either side of the street have not yet been developed. Yet I can't help but note that the automobile infrastructure - by far the most expensive part of the street - was completed prior to those properties being developed.
We must also note that the Upper Red Hill Valley Parkway highway extension is going ahead, extending the parkway south to connect with Rymal Road East.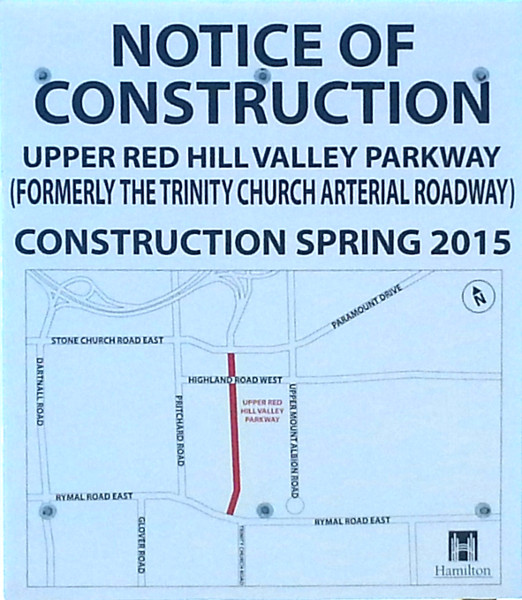 Notice of Construction
That project was approved by Council last year and will cost the City $18 million to complete. That $18 million is nearly half of the city's entire Cycling Master Plan budget, which was scheduled to be spent over 40 years, though at the current rate we will be nowhere near finished building it by then.
Again, no one is saying we should wait to develop the properties around the highway extension before building it, and I don't recall the City's fiscal scolds - on Council or elsewhere - making any noise about the huge outlay of money on a piece of infrastructure that saddles the City with decades of maintenance and lifecyle costs.
When You're in a Hole, Stop Digging
Remember that this has all been built in the past few years and that we are going to be stuck with it for the next two or three decades.
Given the huge increase in the visibility of urban land use and transportation issues over the past decade, no one can claim to be surprised at the notion that this is not a healthy or sustainable way to build our city.
We need to do a lot of things in this city to repair the damage from previous bad decisions. But we also need to stop re-making those same bad decisions over and over again.
This is not a downtown vs. suburbs issue: everyone in Hamilton deserves to live in a safe, inclusive, human-oriented built environment. It's no longer acceptable to dismiss the lack of suburban pedestrian infrastructure by claiming people don't want to walk.
At best that line of reasoning is a self-fulfilling prophecy that deters walking by assuming people won't walk. At worst, it forces people to walk and risk their health in inhospitable and dangerous environments.
There is a reason so many people are hit by cars when trying to walk on suburban de-facto highways like Stone Church, Rymal, Highway 8, Cootes Drive and Mohawk Road.
And remember: these environments are not dangerous because of some immutable natural law. They're dangerous because we built them that way.
Post a Comment
You must be logged in to comment.