Hamilton is Finally Ready to Embrace the Future
Quite simply, you get the city you plan for. Hamilton is about to join the ranks of those cities who are open to everyone, not just short-cutting car drivers.
By Jason Leach
Published May 27, 2015
What a historic day for the city of Hamilton: the Ontario Government announced a $1 billion commitment to build LRT and expand GO service in Hamilton.


Light Rail Transit rendering on King Street at Wellington
For a decade now, engaged citizens have been working with City Hall and the provincial government to invest in a landmark change in direction for Hamilton's future.
The first entry on Raise the Hammer that concerns light rail transit (LRT) goes all the way back to the start of 2005. That January, I suggested:
Build bus-only lanes from McMaster to Eastgate, with a future plan for light rail or streetcars running along this route. Despite twenty-five years of urban decay in Hamilton, there is still a compact population living in this east-west corridor. Many of these residents live less than a ten minute walk from Main and King Streets.
A month later, I wrote:
I can't think of a better storyline than to have Hamilton proclaimed as Canada's Greenest City someday. From smokestacks and car fumes to windmills and light rail lines.
Ironically, these are the same points worth reiterating today: LRT is about more than just transportation. It's about land-use and becoming a healthier, greener city.
As we all know, quality of life is at the top of the list for high-quality worldwide employers looking to locate their businesses, families and employees in a new city.
Perhaps the greatest achievement in landing this funding is finally breaking free of the do-nothing attitude that has plagued this city for too long.
Sure, a few folks still remain who would rather turn down this $1 billion investment into our city so it can justify their future complaining about 'Hogtown hogging everything'.
But Hamilton residents are finally ready to embrace the future.
At one time there was the grand subway plan from Cootes Drive to the East End that we bickered over until we passed it up, and the Disney style monorail proposal from Limeridge Mall through downtown and then out along Burlington Street.
They even proposed an extension all the way out to the Stelco Works in Nanticoke! Talk about an Ambitious City.
We turned down a gift opportunity in 1981 when we were offered the chance to be a host city for a brand new elevated transit technology.
Vancouver ended up taking the project on, and has literally re-built itself around the Skytrain network to become one of the most livable cities in the world with a rapidly growing population while seeing car use continue to decline.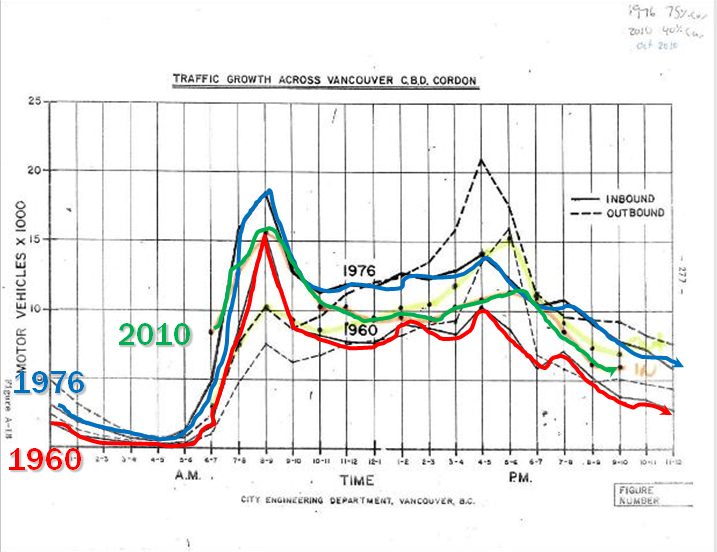 Chart: Traffic in and out of Central Vancouver, 1960, 1976 and 2010
Quite simply, you get the city you plan for. Hamilton is about to join the ranks of those cities who are open to everyone, not just short-cutting car drivers.
We've proven we can build elevated freeways, re-route entire nature creeks, carve freeways into the side of the rocky escarpment, restore water and nature habitat after previously polluting them almost to death.
We built one of the first skyscrapers in the British Commonwealth, had the first urban electric streetlights in Ontario and become a manufacturing powerhouse worthy of the Ambitious City moniker.
If steel really was our product all those years, today our strength truly is people. As our city reinvents itself one garden, one business and one home at a time, we are now poised to make a transformational investment that will open up opportunity for people in every neighbourhood from the leafy streets of Gage Park to the heart of Code Red.
We've suffered from our poor planning and saw the old urban core empty out like many American cities before us.
But the tide is already starting to turn and will only accelerate as we invest in the quality of life through the heart of the old city, and then into every surrounding community from Stoney Creek to Waterdown as future LRT lines connect us and our economy.
Kudos to all who believed in this great old city and didn't give up. We're a little more ambitious today because of you.
Post a Comment
You must be logged in to comment.