Vancouver's Extraordinary Transportation Statistics
Vancouver's traffic outcome is the predictable result of a deliberate policy to change the context in which people make transportation choices.
By Ryan McGreal
Published January 30, 2015
While Hamilton struggles and agonizes over the most minimal, fragmentary changes to its transportation system, Vancouver continues to roar ahead. A January 28, 2015 presentation [PPTX] by Gordon Price, Director of the Simon Fraser University City Program, puts some hard numbers on Vancouver's progress.
Here are a few of those numbers.
Automobile Traffic
Between 1996 and 2011, the population of Central Vancouver has increased by 75 percent and number of jobs has increased by 26 percent, but the number of automobiles entering Central Vancouver has dropped by 20 percent.
Automobile traffic in and out of downtown Vancouver is as low as it was in 1965.
In the 1970s, traffic was growing in Vancouver the same as it was growing in other cities, but Vancouver decided to do something about it instead of just assuming (and accepting) endless growth in traffic.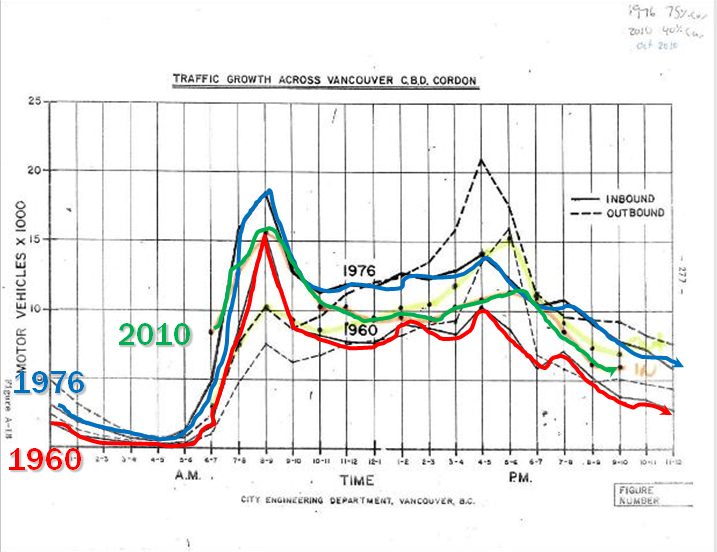 Traffic in and out of Central Vancouver, 1960, 1976 and 2010
Vancouver's traffic outcome is the predictable result of a deliberate policy to change the context in which people make transportation choices.
By reducing the number of automobiles on the street, Central Vancouver has been able to make cleaner, healthier and more convivial use of its scarce roadway: wider sidewalks, pedestrian plazas, new protected two-way cycle tracks, and more high-speed transit.
And the improvement isn't just in the downtown core, either. Between 1996 and 2011, the citywide population has gone up 18 percent, the number of jobs has gone up 16 percent and the number of cars entering the city has gone down five percent.
In Vancouver, achieving a healhier, cleaner, safer and more financially viable balance of transportation modes is a goal for the entire city.
Hamilton by Contrast
Like Vancouver, Hamilton also has a goal of shifting the modal split among driving, transit, cycling and walking trips. It was formalized in our Transportation Master Plan, which Council approved in 2001 and reviewed in 2007.
The Transportation Master Plan called for Hamilton to increase the transit mode share from 6 percent of trips in 2001 to 10 percent of trips in 2011 and 15 percent of trips in 2021.
Unlike Vancouver, Hamilton has generally failed to act on the changes Council approved in its strategic plan, or indeed to make any effort to make day-to-day policy decisions conform with the plan.
As a result, Hamilton has essentially the same modal split in 2014 as it had in 2001 when Council approved its transportation plan. We had a 6 percent transit share in 2001, and we have a 6 percnt transit share today.
The City has just embarked on yet another review of its Transportation Master Plan, a process that should bring an updated document to Council by 2016.
Several Councillors are now saying we shouldn't even bother trying to implement any transportation initiatives until we have a strategic plan to do it - notwithstanding the strategic plan Council approved in 2001 and renewed in 2007 but didn't bother to implement.
Maybe we'll finally start doing some of the things Council approved in 2001 after the plan is reviewed yet again in 2016.
Leaders Lead
Here are a few more tidbits from the presentation:
Since 2004, the rate of active driver's licences among Metro Vancouver residents has been falling steeply for 16-19-year-olds, for 20-24-year-olds, for 25-29-year-olds and even, albeit less steeply, for 30-34-year-olds.
More people move through the SkyTrain station at Commercial and Broadway than Vancouver Airport. The SkyTrain, you will recall, is the elevated light rail transit system that Hamilton turned down in 1981 after the Province offered to build it for us.
The Broadway transit corridor - ironically for us, called the B-Line - is the busiest bus route in the US and Canada with around 100,000 transit riders. The Central Business District wants to increase ridership further.
These are the sorts of things that happen when a city's leaders lead. In Hamilton, our leaders are content to tread water year after year, and the predictable outcome is that the city fails, year after year, to achieve meaningful gains.
(h/t to Hugh McLeod for sending along the presentation)
Post a Comment
You must be logged in to comment.