Mississauga-Brampton LRT Surges Past Hamilton to Funding Approval
Province announces full capital funding for $1.6 billion, 23-km Hurontario-Main Light Rail Transit line.
By Ryan McGreal
Published April 22, 2015
The folly and self-loathing at the heart of Hamilton's botched light rail transit plan are in sharp relief this week, as the Province announces full capital funding for the $1.6 billion Hurontario-Main LRT line across Mississauga and Brampton.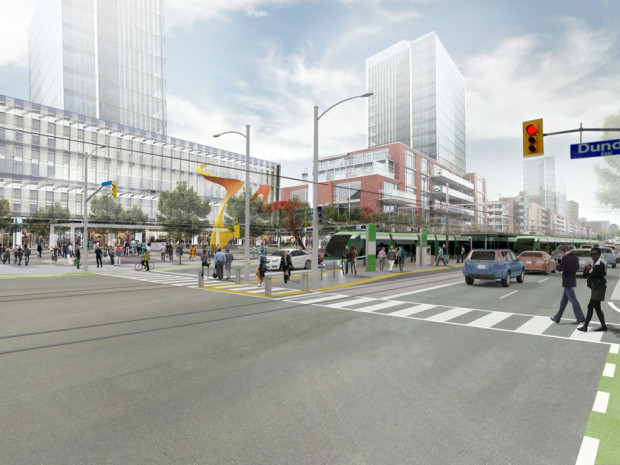 Rendering of Hurontario-Main LRT
The Province even announced that it will cover the total cost by itself if the Federal Government doesn't agree to provide some of the funding.
The Mississauga-Brampton LRT planning process started later than Hamilton, which began planning rapid transit at the beginning of 2008.
However, the Mississauga-Brampton process has accelerated quickly, driven by dedicated council leaders and planning staff who have been working hard to align their respective cities around LRT as the best investment to achieve their strategic growth goals.
Here are some things that civic leaders in Mississauga and Brampton didn't do:
They didn't suddenly suspend their rapid transit office in the middle of conducting a provincially-funded environmental assessment, throwing the project into disarray and inciting the project manager to resign.

They didn't finally approve an LRT plan and then start publicly claiming that it isn't really an LRT plan.

They didn't disband their rapid transit planning office, shut down public engagement and fall totally silent in the face of questions and concerns about the project, allowing misinformation to mount and undermine public support.

They didn't take the defeatist position that they shouldn't bother asking for the money because the Province probably won't keep its funding promise.

They didn't claim that they would have to choose between LRT and upgraded GO service. Mississauga and Brampton are getting both.

They didn't claim that they're not ready for a funding commitment because their plan is only partially designed. In fact, the route has not even been finalized through Brampton's heritage district yet.

They didn't claim that the capital cost was too expensive, even though it would be the Province paying for it. The Hurontario-Main line is double the cost of the Hamilton line.

They didn't play both sides of the classism fence, simultaneously claiming that LRT would be a 'Cadillac' for poor inner-city residents and an expensive toy for downtown elites.

They didn't ignore the file for two years and then suddenly demand that the Province fund an out-of-the-blue request for $300 million in local transit service over ten years before funding LRT.
Whereas Hamilton's leaders claim Hamilton isn't ready for LRT because our transit corridor is not already urbanized enough, Mississauga-Brampton recognizes that their LRT plan will achieve the urbanization they want:
The 23-kilometre light rail line will spur intensification along the Hurontario corridor and bring a decidedly urban flavour to the traditional 905-area bedroom communities.
Like Waterloo Region, which is also going ahead with LRT under a strategic growth plan that recognizes the need to intensify its urban corridors and limit sprawl, Peel Region is planning for a future in which more people will live in the urban core and use high-quality transit rather than driving everywhere.
The LRT riders will differ from the downtown Toronto commuters who ride GO, said McCuaig. The LRT, which will run from the Port Credit GO station in Mississauga to downtown Brampton, will offer an alternative to buses and cars for the low- and middle-income workers, who work within Peel Region.
The Province has allocated $16 billion to regional transit projects in the Greater Toronto and Hamilton Area.
So far, $13.5 billion has been dedicated to Regional Express Rail (RER) through expansion of GO Transit services, and now $1.6 billion has been dedicated to the Hurontario-Main LRT line.
That leaves less than a billion dollars for all the other identified "next wave" priority projects in the Regional Transportation Plan. Hamilton's capital request, including both the LRT and the ten-year local transit strategy, is $1.2 billion.
According to Transport Minister Steven Del Duca, the Province is still committed to rapid transit in Hamilton - but a funding commitment won't be announced this Thursday when the Province unveils its 2015 budget.
Our commitment to full capital funding for rapid transit in Hamilton is steadfast and unwavering, and in the coming weeks, I look forward to being in a position to share more details about how our plan will help build all of Ontario - including Hamilton - up.
I guess we'll have to see what that means, but one thing seems clear: the shovels won't be going into the ground any time soon.
Eight years after the Ontario Liberals promised "two light rail lines across Hamilton" as part of their 2007 re-election campaign, the deadly combination of mixed signals and politicking from the Province and a staggering lack of strategic vision from the City have sabotaged what should have been an exciting, transformative investment in Hamilton's future.
It wasn't so long ago that we were seriously talking about having LRT ready in time for the 2015 Pan Am Games. Now we won't even have regular all-day GO Train service by then.
Indeed, Hamilton won't be getting the all-day GO train service we were promised until 2025. So it turns out we didn't have to choose between LRT and all-day GO after all: for the forseeable future, we're not getting either.
Post a Comment
You must be logged in to comment.