Make Your Voice Heard: Support Hamilton Transit and the Bus Lane
None of the claims of bus lane opponents stand up to scrutiny.
By Ryan McGreal
Published January 21, 2015
Hamilton City Council meets today at 5:00 PM to make a final decision on the fate of the beleaguered transit-only lane on King between Mary and Dundurn.
Ward 5 Councillor Chad Collins has been assembling a coalition of Councillors to kill the lane. Collins has made it clear that he believes killing the bus lane will also effectively kill Hamilton's light rail transit (LRT) plan.
Bus lane opponents claim that the lane creates intolerable delays for motorists, hurts retail businesses along King Street, causes more traffic collisions, is widely opposed by Hamiltons and does not benefit transit users.
None of these claims stand up to scrutiny.
Traffic Delays
According to the staff report on the bus lane, the average automobile delay during the busiest period - afternoon rush hour - is five minutes.
In addition, staff recommend making some changes to improve traffic flow for motorists, including advanced left signal for buses turning into the MacNab terminal and signal timing adjustments through International Village.
The money to pay for this is available in the Metrolinx Quick Wins capital budget provided by the Province to create the bus lane.
Retail Business
It's true that business response to the bus lane has been mixed, with some business owners supporting it and others opposed.
However, much of the opposition stems from the removal of north curbside parking on King west of Bay. As one owner put it, "I have customers who tried parking across the street and then risked their lives to cross the road and just said, 'we aren't coming back.'"
Again, staff recommend restoring north curbside parking and can also pay for this change with money left in the Metrolinx Quick Wins capital fund.
At the same time, the City has issued 30 licences for new businesses along the bus lane route, plus an additional 14 new business licences inside Jackson Square. Since not every business needs a licence to operate, these counts may understate the total number of new businesses.
The Hamilton Spectator just reported that Frisina Group plans to build a $50 million condo development on the site of the old Kresge building at King and Hughson.
Clearly the bus lane is not killing business downtown.
Collisions
Traffic collision counts on King were higher in 2014 than the average over the past seven years. Staff noted that this is not enough data to indict the bus lane, but Collins still blamed it in his motion.
Yet when you compare collision totals on Main over the same period, you see the same spike in collisions in 2014.
Total Collisions from Victoria to Dundurn by Year, King and Main

| Street | 2008 | 2009 | 2010 | 2011 | 2012 | 2013 | 2014 | Average |
| --- | --- | --- | --- | --- | --- | --- | --- | --- |
| King | 102 | 104 | 105 | 124 | 118 | 115 | 132 | 114 |
| Main | 99 | 108 | 119 | 117 | 100 | 115 | 125 | 112 |
The Hamilton For Transit community organization plotted the collision totals in a chart for their bus lane fact sheet: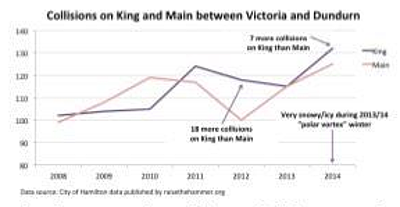 Collisions on King and Main between Victoria and Dundurn, 2008-2014
Since the two streets are one-way in opposing directions, overflow traffic from one street will not spill onto the other, meaning the increased total on Main is not likely to be a secondary effect of the bus lane on King.
Opposition
Ward 8 Councillor Terry Whitehead commissioned a city-wide telephone survey on the bus lane and referred to it during last Wednesday's General Issues Committee meeting to claim the bus lane is widely opposed by most Hamiltonians.
But the survey results themselves support no such claim.
In one question, 49.1 percent of respondents are in favour of scrapping the bus lane, 33.7 percent support keeping the bus lane and 17.3 percent are undecided. In another question on the same survey, 45.1 percent support keeping the bus lane in operation while 43.5 percent support suspending it.
In addition, the survey is poorly designed with leading questions, no demographic information and a sample set that is biased toward older residents.
Benefits
Whitehead and Collins argue that we don't need the bus lane because Hamilton is not yet at a "crisis point" for traffic and transit congestion.
Whitehead insisted that "technically", Hamilton doesn't need a dedicated bus lane because the lane currently carries less than 2000 passengers an hour.
Transit Director David Dixon argued that Council has a choice to lead growth in transit by building the capacity that will grow ridership, but the bus lane opponents were unconvinced.
But as Jason Nason calculated in a recent post on Hamilton Today, when you include Burlington Transit, GO Transit, Coach Canada and Greyhound buses, as well as HSR buses that use the bus lane between John and James, there are actually 83 buses using the bus lane during afternoon rush hour from 4-5pm.
Conservatively (assuming half-capacity at the low end and full capacity but no standing at the high end), that means between 1,484 and 3,045 people travel by bus on the bus lane during rush hour.
So even by the narrowest technical criteria, the corridor at least approaches and likely far exceeds the ridership threshold to warrant a dedicated lane. And as Dixon told Councillors last Wednesday:
It really depends on where you as a city want to be. You can lead people to become a more progressive, transit-oriented city, or you can choose to let that evolve naturally. And so really it becomes your decision.
We have been following the "natural" approach for years, and the result is stagnating ridership and a succession of missed transit growth targets.
Make Your Voice Heard
Last Saturday, a group of 60 residents joined a meeting to plan a new organization to advocate for transit riders. An immediate outcome of the meeting was an online campaign for people to tell Council they support the bus lane.
The campaign has only been running for a few days and it already has 890 supporters (as of this writing). Please take a moment and add your voice of support so Council gets your message before tonight's meeting.
Post a Comment
You must be logged in to comment.