A Downtown Merchant Supports the Bus Lane
Our one-way road network diverts hundreds if not thousands of cars every day onto King for no good reason. This is the problem, not the bus lane.
By Sean Burak
Published December 09, 2014
I'm a downtown merchant. What I'd like for Christmas from Council is for them to support the bus lane so that we can keep moving toward being a real city that people want to live in - people who will shop at our stores.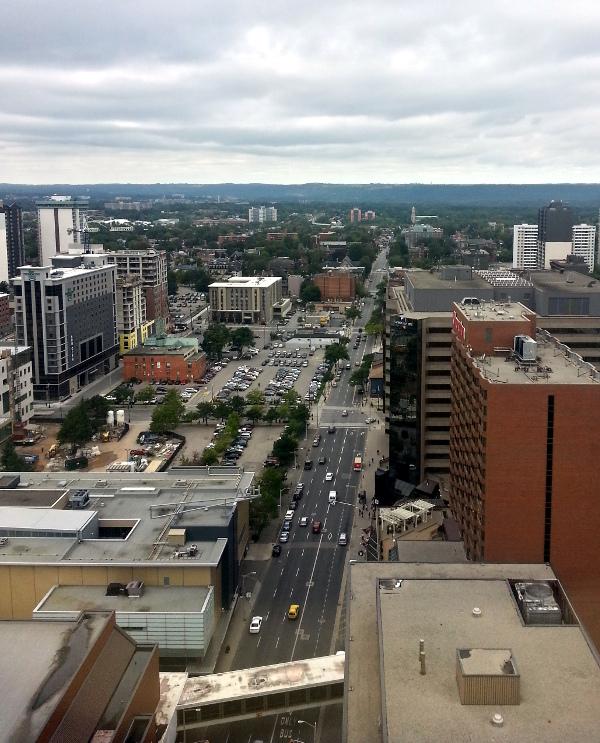 King Street West with bus-only lane (RTH file photo)
It is absolutely normal to have slower vehicular movements during rush hour in a city. The last thing we need as downtown merchants is faster cars.
If Council wants to help the merchants, they should ask staff for a transit-only signal to allow buses to turn left onto James and MacNab instead of merging through the other lanes. This one simple change will improve the situation for thousands of people daily.
Two-Way Reversion
Better yet - Support two way reversions so that visitors don't have to round the block over and over to reach a destination (and then swear never to return).
The one-way north/south streets are a major congestion generator during rush hour, and they make wayfinding near impossible.
Example: I'm westbound on King, approaching the downtown arch at Wellington. I can't turn right on Wellington to get to Cannon, which could take me to Highway 403. I'm forced to stay on King.
Example: I want to head from the south end of town to the Food Basics in the north end. I can't take Catharine - it's one way southbound. I have to take Walnut to King, and drive on King to get to Mary, adding to the King traffic.
Example: I'm moving to the new Connaught condos. I can't turn left on Catharine to reach the front door. I have to round the block at Walnut and drive several blocks on King.
Example: I'm at a business on King William and I want to go to James. King William doesn't allow me to continue west, so I have to detour up to King.
We are diverting hundreds if not thousands of cars every day onto King for no good reason. This is the problem. Not the bus lane.
My success is on the line and I need the city to be livable or else I will not have a business. Transit is part of a livable city.
Our downtown will not survive if we keep treating it as nothing more than a through street.
Post a Comment
You must be logged in to comment.