Bus Lane Foes Double Down on Decline
Collins and Whitehead want to sacrifice the enormous promise of high-quality rapid transit just so that drivers can roar through a ghostly downtown core a few minutes faster.
By Ryan McGreal
Published January 08, 2015
City staff have released a report on the one-year bus lane pilot project running on King Street between Mary Street and Dundurn.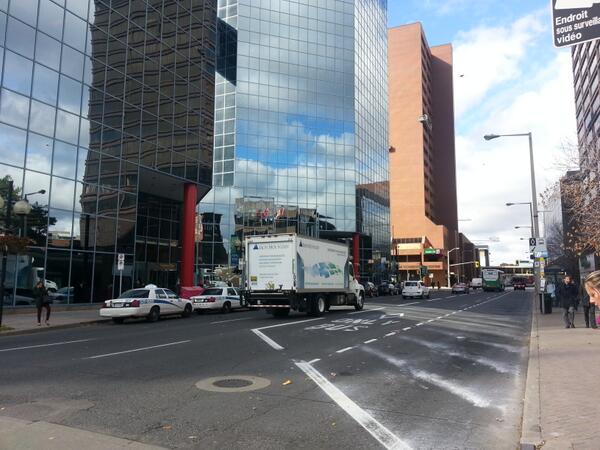 King Street bus lane (RTH file photo)
The report concludes that the bus lane has had a significant positive impact on bus times and is widely supported by transit riders. Staff recommend keeping the bus lane and making a few modifications - like restoring north curbside parking on King west of Bay and incorporating advance signal priority and advance turn signals for buses - to address the concerns that have been raised.
That's not good enough for Ward 5 Councillor Chad Collins, who sent an email to fellow council members and local media announcing his intent to present a motion at the January 14 General Issues Committee to kill the bus lane.
The text of Councillor Collins' motion is as follows:
Whereas the number of vehicular accidents has significantly increased along the Bus Lane Pilot route, and

Whereas many commercial operators have been adversely affected by the implementation and operation of the Bus Lane Pilot project, and

Whereas there are no documented transit benefits listed in the Bus Lane Pilot report, and

Whereas the Bus Lane Pilot project has created unnecessary traffic congestion, causing lengthy delays for downtown shoppers, residents, workers and merchants,

Therefore be it resolved that the bus lane pilot project be discontinued and staff be directed to make the necessary arrangements to return the bus lane to a fully functional lane for all vehicles.
Collins already had his mind made up about the bus lane before seeing the staff report. He wanted to pull the plug on the pilot project in December, before the report was even completed.
Instead of revising his opinion in the light of the report's conclusions, he has doubled down on his opposition, ignoring most of the report's conclusions and misrepresenting the section on vehicle collisions.
Vehicle Collisions
Appendix F of the staff report provides a table of collision data by year for each segment of King between Victoria and Dundurn:
Collision Data by Year and Segment

| Segment | 2008 | 2009 | 2010 | 2011 | 2012 | 2013 | 2014 | Average |
| --- | --- | --- | --- | --- | --- | --- | --- | --- |
| Victoria-Wellington | 9 | 7 | 5 | 6 | 5 | 2 | 7 | 6 |
| Wellington-Mary | 7 | 12 | 6 | 17 | 7 | 10 | 13 | 10 |
| Mary-James | 14 | 18 | 21 | 23 | 17 | 21 | 23 | 20 |
| James-Bay | 10 | 10 | 8 | 17 | 17 | 6 | 7 | 11 |
| Bay-Queen | 12 | 16 | 14 | 13 | 18 | 12 | 20 | 15 |
| Queen-Locke | 5 | 4 | 4 | 4 | 11 | 5 | 8 | 6 |
| Locke-Dundurn | 11 | 14 | 22 | 16 | 18 | 17 | 18 | 17 |
| Total | 68 | 81 | 80 | 96 | 93 | 73 | 96 | 84 |
The collision totals for 2014 were higher than the seven-year average but equal to the 2011 totals and only slightly higher than the 2012 totals. It is by no means a significant outlier compared to the other years.
Quite simply, the data do not indicate whether the bus lane is responsible for a higher number of collisions or 2014 just happened to be on the higher end of the historical range of annual collision counts. The staff report makes this point:
While some increase can be observed for 2014, this data is a small sample size and it is difficult to identify or correlate collision data specifically to the operation of the TOL.
Again, if the 2014 totals were significantly higher than other years in the study, that would clearly indicate something in the street context has changed.
If the bus lane continues to operate and annual collision totals continue to be higher than the average, that would strengthen the case for the bus lane causing higher rates of collisions. As it is, there is not enough information to draw such a conclusion.
Issues Addressed
Likewise, Collins ignores the fact that the staff report recommends changes to the bus lane to address the concerns that commercial operators have raised about the loss of curbside parking on the north side of King Street west of Bay. Specifically, staff recommend restoring north curbside parking and moving the bus lane out to the second lane.
This would directly address the concerns raised by business owners, who report that their customers are afraid to park on the south side of King and then cross four lanes of traffic to get to the shops on the north side. What this clearly indicates is that the real problem with King Street is the multiple lanes of speeding traffic, not the bus lane.
Staff also want to incorporate signal timing changes, transit signal priority and advanced left turns for buses to further smooth the flow of traffic and alleviate congestion.
And the cost to implement all these changes would be covered by the money remaining in the Bus Lane capital fund, which was supplied by Metrolins through its Quick Wins fund. So there would be no impact on Hamilton ratepayers.
Documented Transit Benefits
Perhaps worst of all, Collins' motion then claims there are "no documented transit benefits" in the report, which is just false.
The report concludes that bus schedule adherence has increased across the Queenston-King-Main corridor and that a large majority HSR operators said the bus lane made their transit operations easier. In addition, most HSR operators report that the prevailing feedback from transit passengers is positive.
What has been astounding throughout the public and political debate over the bus lane is that the experiences and opinions of actual transit riders have been almost universally ignored.
The only people who seem to matter are those people who feel entitled to drive through the downtown core at high speed, even though a huge body of worldwide evidence tells us high-speed arterial traffic is devastating for a street's vitality - especially an urban mixed-use street with commercial retail fronting the sidewalk.
The report indicates that the bus lane carries as many people on HSR vehicles as the other three lanes combined carry in automobiles. That doesn't appear to include transit passengers on other services, like GO, which also use the bus lane.
That is an amazingly efficient use of scarce urban right-of-way: the bus lane is three times as effective at moving people as an automobile lane. Yet we vastly privilege the speed and convenience of drivers over the speed and convenience of transit riders.
Insulting Comments
Collins is not the only council member who opposes the bus lane, no matter the facts.
Ward 10 Councillor Maria Pearson was quoted in a CBC Hamilton article saying that it's harder to drive through the downtown on her way to work at City Hall:
If I can't drive through downtown to go to work, what's that say to business owners and their patrons?
What good could it possibly do to business owners and their patrons to have high-speed automobile traffic going though the downtown? The fact that multiple lanes of high-speed traffic are still roaring through the downtown core remains one of the biggest obstacles to its revitalization.
Meanwhile, Ward 8 Councillor Terry Whitehead was quoted in a CHCH report accusing staff of twisting the facts to support the bus lane.
I've never believed for a moment that the individuals that have been involved in developing this report have been objective. I think they went with the mindset that this is the best thing to do and they try to justify it.
Aside from being an unprofessional way for a Councillor to speak about City staff, it does not reflect reality. The staff report cites actual data in support of its conclusions.
If anyone went into this with a fixed mindset, it was those councillors who had their minds made up long before they saw any evidence. Their opposition to this modest investment in making transit in Hamilton more viable is pandering, pure and simple.
Status Quo Does Not Work
The City has been systematically under-investing in transit for the past 25 years. Now some councillors are using the past lack of action as an excuse not to do anything to make up for lost time.
The public cost of universal driving is enormous. Everything we do to get more people to choose walking, cycling and transit over driving for some trips helps improve the City's ability to cover its infrastructure costs.
When we do invest in transit along busy corridors, the results are clear. Transit ridership along the east-west B-Line corridor has increased by 20 percent over the past five years while HSR ridership as a whole has increased by only four percent. Buses are operating at crush capacity while crowds of would-be riders are left standing at the curb as multiple overstuffed buses pass them by.
Can you imagine how high ridership would be along the Queenston-King-Main corridor if we actually provided a service with speed, capacity and headway befitting a modern city?
Yet Collins and Whitehead want to sacrifice the enormous promise of high-quality rapid transit just so that drivers can roar through a ghostly downtown core a few minutes faster. Hamilton deserves better from our civic leaders.
Post a Comment
You must be logged in to comment.