Mayoral Candidates on Two-Way Complete Streets, Cycling, Traffic Fatalities
Municipal candidates respond to RTH policy questions related to the city's street infrastructure.
By Ryan McGreal
Published October 21, 2014
Raise the Hammer sent a list of policy questions to all the candidates for Mayor and City Council. This week, Raise the Hammer reviews the mayoral candidates' positions on the policy issues in advance of the municipal election on Monday, October 27.
Background
Over a single night in October 1956, on the advice of American traffic engineer Wilbur Smith, the City of Hamilton converted a great swath of downtown streets from two-way traffic to paired one-way traffic.

Original One-Way Street Plan for Hamilton prepared by Wilbur Smith and Associates
The goal was to move more cars through the Victorian street grid at a higher speed, and the plan succeeded fantastically at that narrow objective. Unfortunately, that success came at a steep cost: Hamilton streets became more unpleasant and inhospitable to pedestrians, street retail businesses suffered and property values began to decline.
Within months, downtown business owners were already begging to convert the streets back to two-way. As one King Street proprieter lamented, "Our windows are no good nowadays, people have no time to stop and look. Nobody comes from the west end of the city any more. We would like to see King Street two-way once more."
By the 1960s, the City was already wringing its hands over the blight and decline that had taken hold across the lower city. Large, misguided capital projects in the 1970s and 1980s demolished whole city blocks of Victorian buildings and replaced them with flashy anchor institutions and suburban-style malls. Many other buildings and blocks were demolished and simply left vacant.

Whole blocks with nothing but surface parking (RTH file photo)
As employment in Hamilton's heavy industry sector has declined steadily over the past few decades, the volume of cars on lower city streets has been declining as well. Between 2000 and 2010, daily traffic volumes on our one-way arterials dropped significantly, further eroding whatever justification there once was to sacrifice the vitality of the lower city for fast automobile traffic.
Daily Traffic Volumes, 2000 and 2010

| Location | 2000 Volume | 2010 Volume | Change | % Change |
| --- | --- | --- | --- | --- |
| Cannon E of Sherman | 16,000 | 10,800 | -5,200 | -32.50% |
| Cannon W of Sherman | 11,000 | 9,100 | -1,900 | -17.27% |
| Cannon near James | 18,000 | 16,700 | -1,300 | -7.22% |
| Bay N of Main | 15,700 | 12,400 | -3,300 | -21.02% |
| James S of Herkimer | 30,000 | 18,700 | -11,300 | -37.67% |
| Main at Dundurn | 41,100 | 37,300 | -3,800 | -9.25% |
| Main E of Bay | 31,000 | 28,400 | -2,600 | -8.39% |
| Main near Kenilworth | 32,000 | 20,300 | -11,700 | -36.56% |
| Queen S of Charlton | 13,000 | 12,200 | -800 | -6.15% |
| Hunter W of John | 11,000 | 7,500 | -3,500 | -31.82% |
The trend all across North America points strongly to a long-term decline in overall driving as Baby Boomers continue to age and young Millennials turn en masse away from the automotive lifestyle.
In Hamilton, we are left with a legacy of expensive, overbuilt streets that we don't need and can't afford to maintain.

Five mostly-empty one-way lanes on Main Street running right across the city through the downtown core (RTH file photo)

wellington Street North during afternoon rush hour (RTH file photo)

Birch Avenue, overbuilt legacy of an undustrial past (RTH file photo)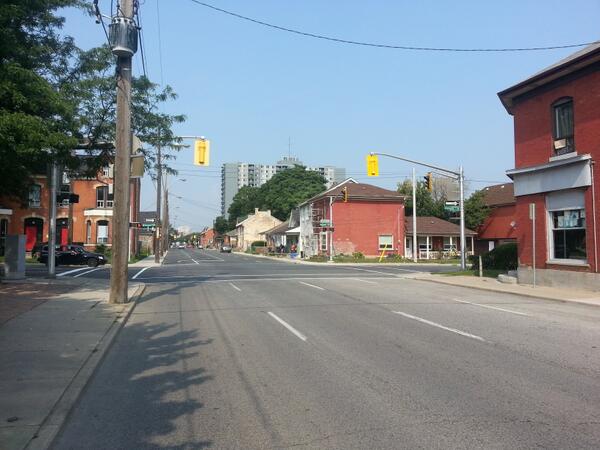 Wilson Street at Victoria (RTH file photo)
Hamilton streets are engineered for illegal speeding, which predictably results in dangerously fast speeding and horrific high-speed collisions.

Illegal speeding on a residential street past a public park and playground (RTH file photo)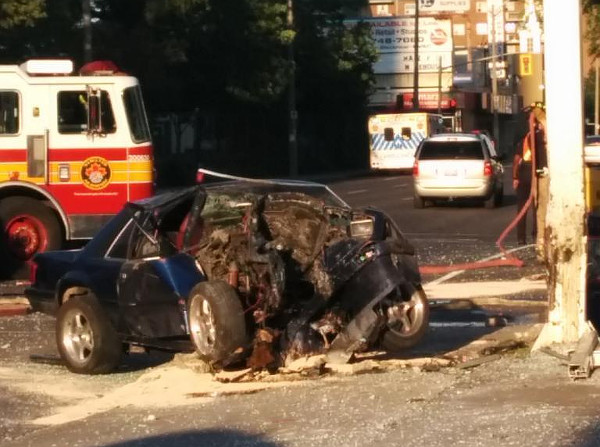 Smashed car after a July 2014 single-vehicle crash on Main Street near Victoria (Image Credit: Joey Coleman)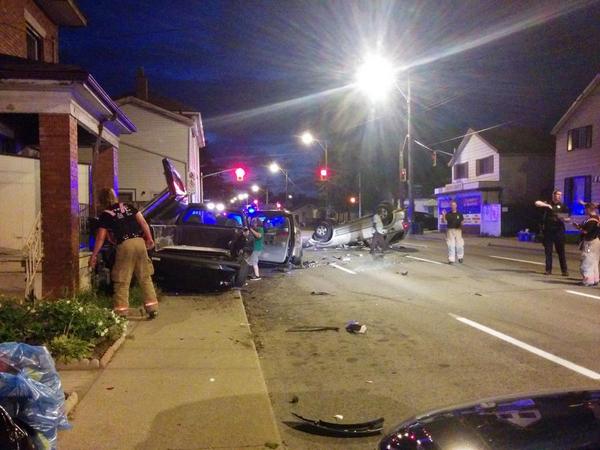 September 2014 collision on Wilson Steet near Steven Street (Image Credit: Joey Coleman)
Meanwhile, cities around the world are committing to the principle that streets should serve a variety of public needs instead of overwhelmingly catering to automobile traffic. The term "complete streets" has come to refer to street designs that accommodate a variety of users, including people on foot, on bicycles and on transit as well as people in cars.
Many cities are embracing the "Vision Zero" commitment to eliminating traffic deaths that originated in Sweden. It starts with the principles "No loss of life is acceptable" and "We are human and we make mistakes". It employs street design to protect people against predictable mistakes so that a simple error in judgment does not result in death.

Traffic volumes and deaths in Sweden, 1950-2008 (Image Credit: Vision Zero Initiative)
Two-way, complete streets are better for business, better for local residents safer for all road users - including drivers - and support better neighbourhood equity.
One-way streets in particular have been found to be more dangerous for children, despite the intuitive - but false - assumption that it's safer when you only have to look in one direction for traffic.
Likewise, high-quality continuous, physically protected cycling infrastructure more than pays for itself in various economic, health and safety benefits while reducing the city's infrastructure lifecycle obligations.
A new three-kilometre protected cycle track on Cannon Street just opened in mid-September, and almost immediately attracted as many as 400 bike trips a day - a huge increase over the very low level of cycling on that street before the cycle track was installed.
However, that cycle track was designed by an outside consultant, IBI Group, after the Yes We Cannon citizen initiative inspired Council with a broad-based campaign involving thousands of residents. Otherwise, cycling projects designed by the City under the 2009 Shifting Gears Cycle Plan have been decidedly underwhelming.

Guy wires obstructing a multi-use path off Longwood Road South (RTH file photo)

Cars are encouraged to use the York Boulevard bike lane as a right-turning lane (RTH file photo)
A plan to add painted bike lanes on Herkimer and Charlton right inside the dangerous "dooring zone" of curbside parked cars and without bike boxes at intersections was put on hold after the Durand Neighbourhood Association objected to their unsafe design.
Council approved a Transportation Master Plan in 2001 that included a number of two-way conversions of Hamilton's one-way thoroughfares. Despite impressive results on the James and John Street conversions and the total absence of chaos and doom as a result of allowing cars to drive in both directions on a lower city street, the City has stalled in converting more streets to two-way. Council recently balked a modest proposal to complete the easy, inexpensive two-way conversions that were approved 13 years ago.
Candidate Responses
We asked the candidates three specific questions related to the city's street infrastructure:
You can click through each question to see how all the candidates for Mayor and for every City Council ward responded to the question.
Brian McHattie
Among the "big three" mayoral candidates, only Brian McHattie responded to our policy questions. McHattie has long supported converting more of Hamilton's one-way arterials into complete, two-way streets that encourage walking and cycling.
On two-way, complete streets:
Yes I support fully the implementation of our existing plan to convert many streets to two-way. The delays in implantation need to be addressed immediately.
On the city's cycling plan:
Yes I support a full review of our Cycling Master Plan. I support where the plan is going, but I think cycling has evolved since the original plan was developed. In other words it need to be supported and updated. We need to ensure not only that we have bike lanes, but that we make it a stated priority to make them separated and of the calibre of the Cannon cycle track wherever possible.
On Vision Zero:
I support this idea strongly. We need to increase the safety all of our residents as they walk within and beyond their own neighbourhoods. Specifically, I think the North End Neighbours have taken a very active role in making their neighbourhood safer for all. I support the work they have done and hope other neighbourhoods adopt these methods.
Michael Baldasaro
Baldasaro takes a more middling approach to our street infrastructure. He is reluctant to implement two-way conversions and bike lanes and prefers to control pedestrians and cyclists through enforcement and licencing rather than street design.
On two-way complete streets:
Only where logical and it makes sense. Remember, people with money to spend, tend to drive automobiles and poor access like the Bus Lane downtown is keeping those people away from the Core.
On the city's cycling plan:
Again, only where logical and it makes sense. First and foremost, we must repair pot holes or fend off lawsuits over damaged vehicles and perhaps accidents pot holes and sink holes, common around faulty water mains, occur.
On Vision Zero:
Yes. I would stringently enforce jay walking by-laws, especially on the corner of King and James. All cyclists and bicycles must be licensed if on main streets and all riders must adhere to the rules all motorists abide by and/or face the loss of their ride, depending on the infraction and history of the rider and condition of the bicycle. All electric bicycles as well as sidewalk scooters must be insured.
Crystal Lavigne
Crystal Lavigne prefers to maintain the status quo of streets designed mainly for cars. She says she supports the goal of eliminating traffic fatalities but offers no suggestion on how to achieve this.
On two-way complete streets:
In short, no, I do not.
On the city's cycling plan:
At this time, absolutely not. I am not against properly designed bike lanes, nor am I against cyclists, however, at this time, I do believe that we have many more needs that need to be addressed before we work on any more expensive new projects. First and foremost, how can we even begin to think of wanting to increase our cycling infrastructure on roadways, when those roadways are falling apart? I think we all need to bring common sense back to the table here and realize that we have to work on fixing what we have first, before beginning to make any "improvements".
On Vision Zero:
Of course I would love to be able to eliminate all pedestrian and cyclist death on our streets. I would also love to eliminate death due to motor vehicle accidents on our streets as well.
Michael A. Pattison
Michael Pattison supports two-way conversions and complete streets on non-arterial roads while maintaining arterial roads for truck traffic.
On two-way complete streets:
I commend RTH on these questions because if each candidate answers truthfully you will know where we stand. I endorse complete streets that support walking, cycling and transit. I want to see traffic calming reach a safety standard that is second to none. That said. identifying Direct routes through our neighbourhoods including existing alleyways improves the safety and well-being of our citizens.

Two-way street conversions seem logical on non-arterial roads. I realize the value of having consumers being able to identify business on arterial roads but we must also look at our shipping and logistic needs for all industry in Hamilton. I don't want heavy trucks and machinery moving at turtle speeds through our city spewing diesel exhaust at exorbitant rates. The more direct we can make these routes at safe speeds with little interruption,the better our air quality will be.

Can we create east-west and north-south shipping routes that would handle all logistics traffic? Can we create perimeter warehouse districts that act as efficiency models for delivery of everything within our municipality? I ask these questions because I am trying to look forward and plan strategies with the budget in mind.

I look at life like a wheel: when you are addressing a spoke that is part of the rim always remember that the other side of the rim must be balanced with another spoke. Careful even tension creates the most efficient ride that is balanced, strong and ready to move forward.
On the city's cycling plan:
I absolutely support improving the plan. Do we broach the thought now or later in regards to licensing bicycles though. Would cyclists accept an annual fee of approximately $120 to license their bicycle in the city with 80-90% of all capital raised going towards future bike and transportation initiatives? I am not saying that this is happening but I must address the shortfalls of our city's budget.

While aiming to fix our aging infrastructure and embarking on fantastic initiatives like protected cycle tracks, our city needs revenue. All new construction decisions, have to have, at their core, an understanding of future needs.

Small per square foot fees should be added to building permits to pay for, and encourage, the arts, culture and health initiatives. Until we further figure out a way to diminish or make much more efficient our culture of cars, new ideas cannot be left out. There is a way to pay for today while raising future funds for tomorrow. Your health, and the planet's health, are in need of a serious culture overhaul. :)
On Vision Zero:
I do support Vision Zero as safe streets are a priority when establishing family friendly neighbourhoods. As far as implementation of this policy we would have to data collect the primary reasons for all deaths and injury. We would also have to look at known trouble locations and what makes them more dangerous than the rest of our city. If visibility is the issue, is it buildings too close to corners? Is it parked cars in the vicinity that create the ensuing chaos? Once we mitigate the most common factors that lead to pedestrian deaths in our city, then we can make the best decision in order to fix these ongoing problems.
Other Candidates
We have not received responses from Ejaz Butt, Mike Clancy, Brad Clark, Fred Eisenberger, Warrand Francis, Phil Ryerson or Ricky Tavares. Nick Iamonico has no contact information and so we were not able to send him the questions.
Post a Comment
You must be logged in to comment.