Vancouver Commits to Zero Traffic Fatalities While Hamilton Stonewalls Even Modest Safety Improvements
Vancouver's impressive pedestrian safety statistics are not some random effect, but the result of several deliberate policies sustained since 1997 and continued to this day.
By Nicholas Kevlahan
Published September 30, 2014
The Globe and Mail has a great essay on the dangers of walking in Toronto.
Last week, a woman was killed as she attempted to cross the street at a crosswalk. An elderly man was killed by a streetcar a few days before that. On Labour Day weekend, three people were hit, one fatally, two seriously wounded. The number of pedestrians killed by vehicles in Toronto in 2014 now stands at 19; last year the number was 40, the highest it has been a decade.

Meanwhile, Vancouver has just reported its lowest rate of pedestrian fatalities in 80 years; only one person killed this year (the city has an official goal of zero fatalities per year). I'm a Torontonian born and bred, so I'm loath to acknowledge Vancouver's superiority in any way, but I'd be willing to put on a hair shirt - or perhaps Gore-Tex so I'll fit in - and find out what that city is doing right.
Vancouver's impressive pedestrian safety statistics are not some random effect, but the result of several deliberate policies sustained since 1997 and continued to this day.
Goal: Zero Traffic Fatalities
In October 2012, Vancouver Council approved their Transportation Plan 2040, a long-term strategic vision with some impressive targets. They want to boost the share of walking, biking and transit from the current 44 percent of all trips to two-thirds by 2040.
They also want to eliminate traffic fatalities: "Our goal is to move toward zero traffic-related fatalities." The plan notes that pedestrians are involved in only one percent of traffic collisions but represent 45 percent of traffic fatalities.
Their strategy to do that involves a number of steps that will be familiar to RTH readers: reducing speed limits to 30 km/h, widening sidewalks, adding bumpouts at intersections, elevating crosswalks, adjusting signals for longer pedestrian crossing times and so on.
Why in Hamilton (and Toronto) do we continue to think that traffic deaths and injuries are some sort of fact of nature? Why is the most common remedy to simply exhort everyone to "be more careful"?
Cities like Vancouver have shown that traffic deaths are not inevitable and have demonstrated how to bring them down by a combination of good urban design, improved street design and changed attitudes toward walking as valued form of getting around.
Streets Designed for Dangerous Speeding
Here in Hamilton, we have designed many of our streets in ways that are proven to be dangerous: multi-lane one-way streets engineered for speeds much higher than the legal limit, wide turning radii, few crosswalks, timed lights and freeway-style roadway designs.

Five one-way lanes on Main Street running right across the city through the downtown core (RTH file photo)

Wellington Street North during afternoon rush hour (RTH file photo)

Birch Avenue, overbuilt legacy of an industrial past (RTH file photo)

Vehicle clocked going 56 km/h on Herkimer past Dundurn Park (RTH file photo)
The predictable result is that we have the second-worst pedestrian safety record in Ontario.
Streets that are designed for dangerously high speeds will generate dangerously high speeds, as we keep seeing over and over again.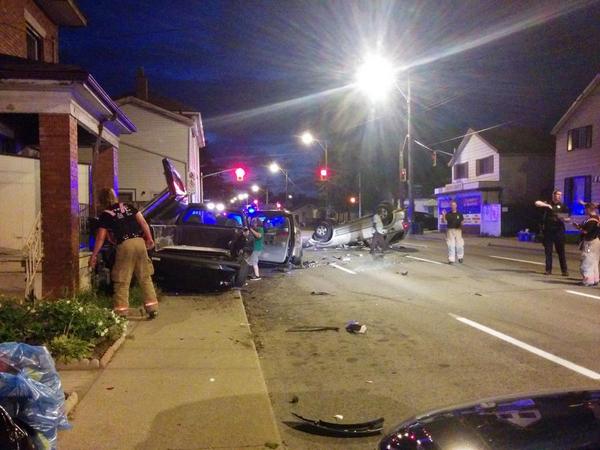 September 2014 collision on Wilson Steet near Steven Street (Image Credit: Joey Coleman)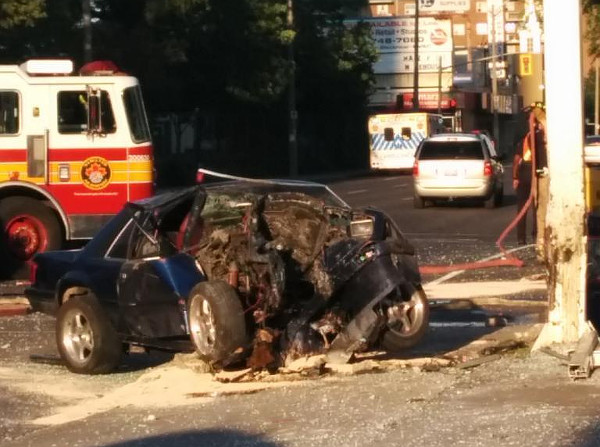 Smashed car after a July 2014 crash on Main Street near Victoria (Image Credit: Joey Coleman)
I have urged us to "recall our streets" in the same way that automakers are forced to recall dangerous vehicles. Vancouver has been gradually and consistently recalling its streets since the 1990s while we have merely tinkered around the edges of our dangerous streets.
Decades of Stonewalling
Residents' demands for change are met with stonewalling, parochial excuses and passive-aggressive installations.
For years, staff would not install a crosswalk on Hunter at MacNab, as requested over many years by the Durand Neighbourhood Association and other residents.
When residents were finally able to organize and vote to allocate scarce money to install the crosswalk, it was deliberately mis-programmed to act as a synchronized traffic light instead of the requested pedestrian activated light.
The justification was a desire not to confuse Hamilton motorists who are not used to stopping for pedestrians or at "unexpected" red lights.
In Hamilton, pedestrians are still too often treated as annoyances to motorists, who cannot really be blamed for ignoring traffic signals or driving dangerously since the streets encourage free flowing high speed traffic and minimize "distractions".
Unlike in Vancouver, our traffic engineers do not regard changing behaviour through improved design as a viable option.
Vancouver's Transportation Plan states: "One fatality is one too many." How many fatalities in Hamilton are too many?
Post a Comment
You must be logged in to comment.