Open Streets: People Enjoying Public Space
Open Street is different from events like Supercrawl: it's not a highly organized festival, it's a public space that everyone can enjoy.
By Ryan McGreal
Published July 15, 2014
A couple of weeks ago, I called the Open Streets movement "a chance to experience a city made for people", and sure enough, last Sunday's event on James Street North was just that.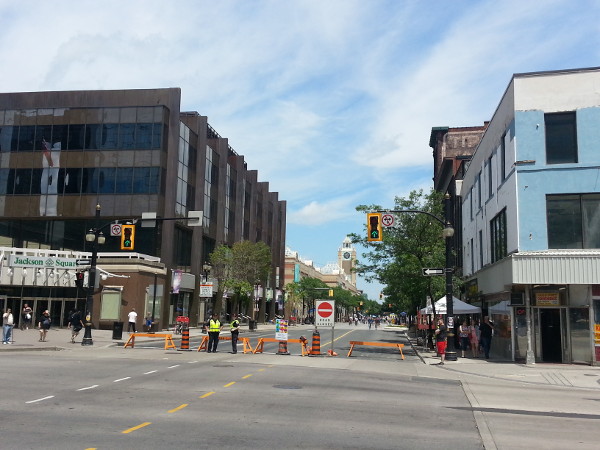 James Street North closed to automobile traffic at King
We call it a street "closure", but in reality the street is being opened up to a much wider variety of uses than are possible when most of the right-of-way is dedicated to automobile traffic.
Open Street is different from events like Supercrawl: it's not a highly organized festival, it's a public space that everyone can enjoy.
All week, weather reports said it was going to pour rain all day on Sunday, but after some light spitting and ominous-looking clouds early in the day, things cleared up nicely in the afternoon. Attendance started pretty light but more people showed up as the weather cleared.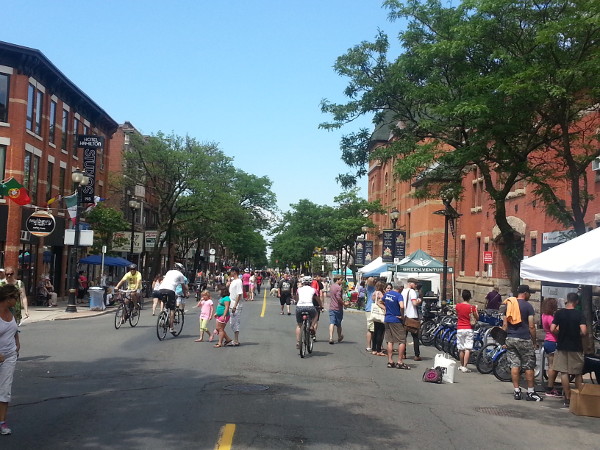 More and more people came as the weather got more confident
That said, the danger of being rained out highlighted just how important it is not to put all our public-space-reclaiming eggs in one basket.
Open Streets should ideally be a weekly event on summer Sundays, and it should cover a much wider circuit of the city than just one street. That way, bad weather won't make it a washout.
In addition, if it becomes normalized it won't need to be as organized - the events and activities on it will be more self-organizing.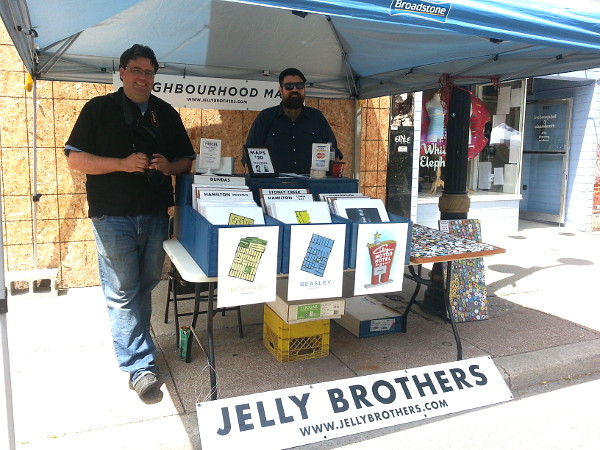 The Jelly Brothers, Matt and Dan, had a booth set up
The section of James near King was pretty sparsely populated, mainly because the surroundings - especially the Jackson Square fortress - are not especially conducive to people being around.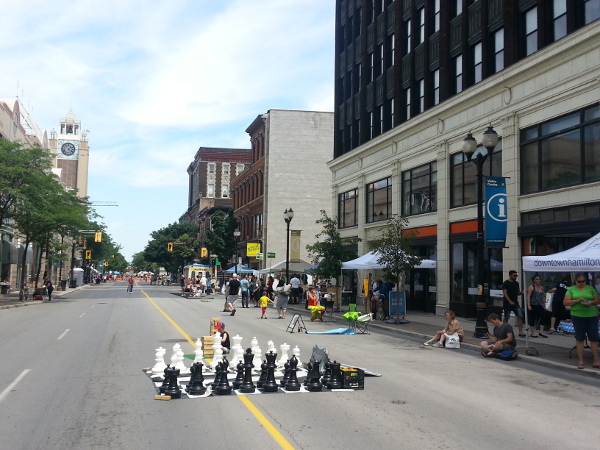 A large chess board was set up on the street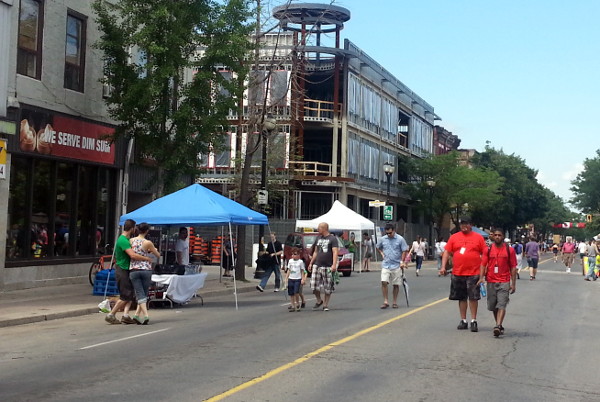 A couple danced to Latin music outside Mex-I-Can
However, the street got progressively busier going north, with a very lively stretch between Vine and Barton.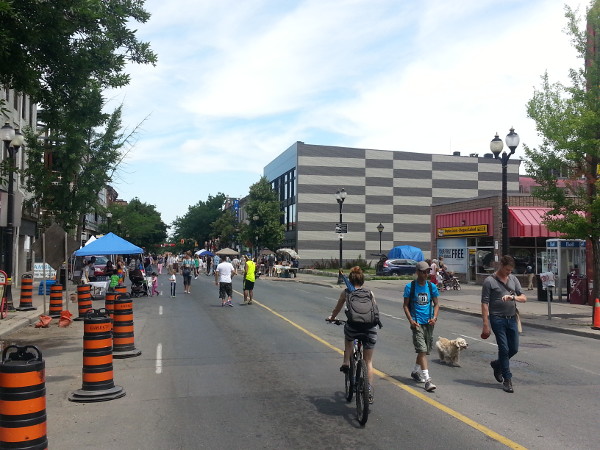 Lots of people at James and Vine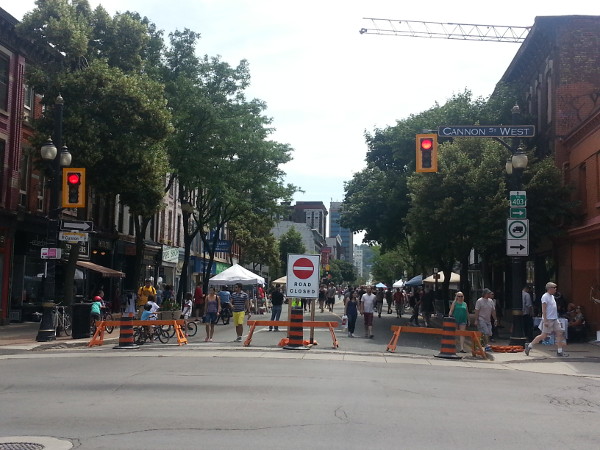 More roadblocks at Cannon Street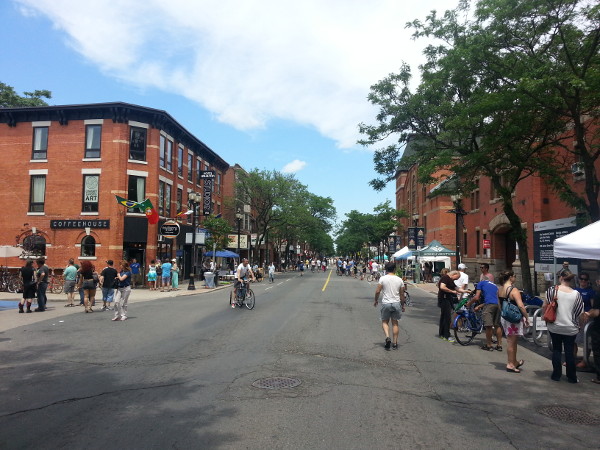 The street was busy with people at James and Mulberry
A particular highlight was the Hamilton Bike Share demonstration. The local bike share organization had two stations set up, one near Mulberry and one at Pier 8 near the Countdown to Pan Am Games event.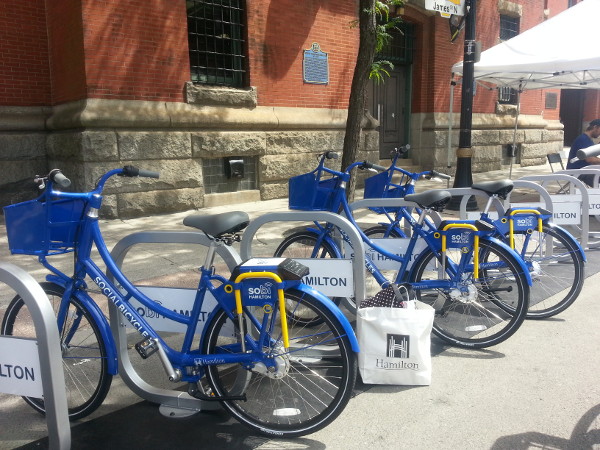 Hamilton Bike Share set up a couple of stations where people could try out the bikes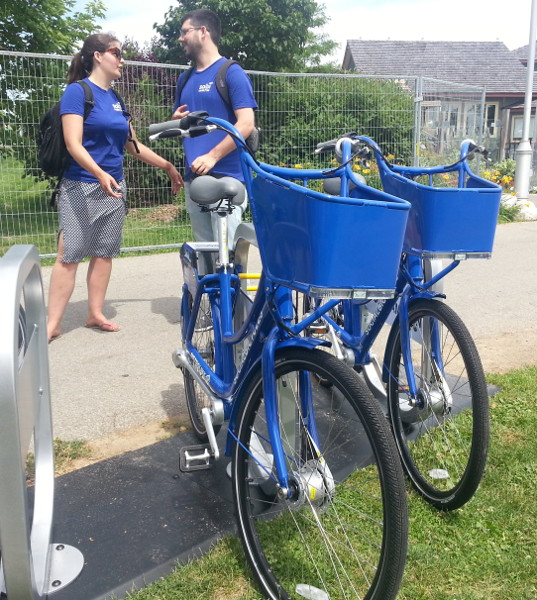 Chelsea Cox and Justin Wiley of Social Bicycles at the bike share station down by the waterfront
I got to try one of the bikes, which are being provided by Social Bicycles with full capital funding from the Metrolinx Quick Wins fund.
The bike was a delight to ride, with an upright Dutch-style design and low crossbar, a soft, comfy seat, easy shifting (it's a three-speed) and a basket to hold the bike helmet I didn't need.
The bikes are built for comfort, not speed. You can easily ride it wearing street clothes rather than dedicated cycling gear, and the sealed drivetrain means the chain won't get gummed up or rusty in inclement weather. Combined with the splash guards, it means you won't get gummed up either.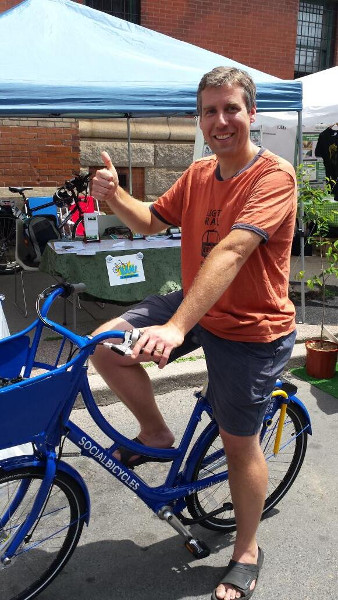 I got to try a bike share bike (Image Credit: Peter Topalovic/Twitter)
Post a Comment
You must be logged in to comment.