Open Streets Hamilton a Chance to Experience a City Made for People
Let's celebrate our community on Sunday, July 13, and then let's get to work on making Open Streets a weekly celebration of our shared humanity.
By Ryan McGreal
Published June 27, 2014
The Open Streets Project is a worldwide campaign to reclaim city streets from automobile traffic temporarily so that people can enjoy "walking, cycling, dancing playing and socializing". With over 100 events in North America alone, Open Streets is an important and popular event that is reconnecting people with their own public spaces and their own communities.
Many cities follow the Ciclovia model started in Bogota, Colombia and close a network of streets to traffic every Sunday and public holiday. This allows the event to become normalized. Participation grows organically and performers/vendors are willing to commit more fully to it because they know it will be a weekly occurrence.

Ciclovia in Providencia District, Santiago, Chile. (Image Credit: quiltro/Flickr, Licenced under CC BY-NC-ND 2.0)

'CicLAvia' in Los Angeles, California (Image Credit: waltarrrrr/Flickr, Licenced under CC BY-NC-ND 2.0)

Ciclovia in Jakarta, Indonesia (Image Credit: killerturnip/Flickr, Licenced under CC BY-NC-ND 2.0
Open Streets in Hamilton
In Hamilton, we close James Street North for just one or two Sundays during the summer. This year's Open Streets Hamilton will take place on Sunday, July 13, 2014 from 10:00 AM to 5:00 PM on James North between King Street and Guise Street.
It promises to be a big event. Timed to coincide with both the one-year countdown for the Pan American Games and the FIFA World Cup final, Open Streets will celebrate both with festivities and live screening of the World Cup final game on two big screens.
This won't be the first time James North celebrated the World Cup. Celebrants thronged out onto the street in 2006 when Italy won that year's World Cup.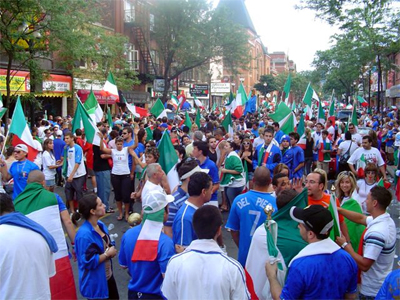 Celebrants thronged the street after Italy won the 2006 World Cup (RTH file photo)
In addition, Hamilton Bike Share plans a limited launch of their new program, which will roll out fully in August.

'Future Bike Share Hub' stencil on Hess near Hunter
History
Hamilton held its first Open Streets event in 2010, when James North was closed between Cannon Street and Burlington Street for five hours on June 6. According to Hamilton Police, close to 5,000 people attended the event. A second Open Streets was held on September 26 of that year.
At the time I expressed the hope that it would become a weekly event, helping transform Hamilton into a city built for people, not cars. Four years later, we're still not there, but it's at least encouraging that the length and duration have been extended from earlier years.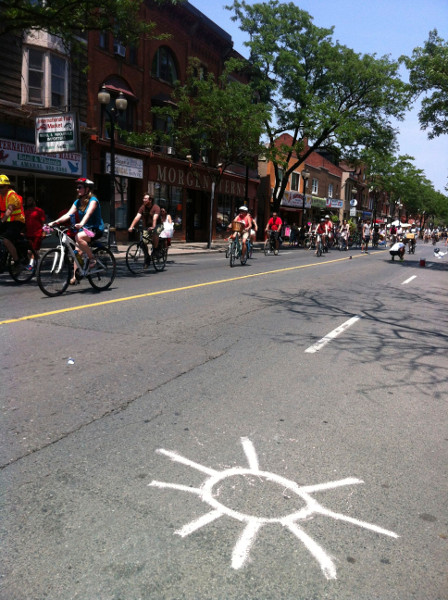 Open Streets 2013 (Image Credit: Lindsey Jacobs)
Recently, Nicholas Kevlahan noted that the Durand Neighbourhood Association's call for two-way streets, traffic calming and pedestrian/cycling improvements for its neighbourhood streets dates back nearly four decades to the 1970s. A few years ago, Matt Jelly made a similar discovery: the Open Streets concept in Hamilton dates back to 1970, when a pair of McMaster students closed King Street East to reacquaint people with their city. As organizer Peeter Globensky put it 44 years ago:
The idea will provide people with a downtown business area that will make them feel for once in their lives that as individuals they are more important than cars. It will add immeasurably to the downtown area, that has come to resemble a super ghetto where people want to work but don't want to shop and don't want to live. It will be a relaxing experience, a psychological break in the whole concept of the rat race.
Like the Ciclovias of so many other cities, Open Streets has the potential to realize more fully the promise from that exercise of civic engagement back in 1970 - a city whose streets are calibrated to celebrate people and human interactions, not to set us against each other in rolling private compounds.
Let's celebrate our community on Sunday, July 13, and then let's get to work on making Open Streets a weekly celebration of our shared humanity.
Post a Comment
You must be logged in to comment.