Cyclists Do Not Get a Free Ride
It's wrong-headed to claim that investing in high quality cycling infrastructure is some nice-to-have luxury that we can't afford.
By Ryan McGreal
Published July 03, 2014
The 'cyclists get a free ride' meme is alive and well in today's story by Spectator columnist Joan Little, in which she laments all the money Burlington council is considering spending to provide physically separated bike lanes on New Street between Martha and Guelph Line, with a possible future extension all the way to Burloak.
Little starts by referring to Burlington's 2009 Cycling Master Plan, which calls for on-street painted bike lanes to be added where possible when a street is resurfaced. (That already makes it better than Hamilton's Cycling Master Plan, which is limited to a specific subset of streets, any of which can be overruled by the ward councillor's veto.)
The preferred staff option for the Martha to Guelph Line stretch is to narrow the two current driving lanes from 3.8 m to 3.1 m (the centre turn lane would be reduced from 3.2 m) and use the space to add a 1.5 m westbound cycling lane with bike sharrows (shared lane markings) on the eastbound lane.
There is a large body of evidence that cycling infrastructure is most successful at attracting new users and reducing injury when it is continuous and physically separated from automobiles. Painted lanes are better than nothing, but not much better.
This is a case in which a transformative change in people's travel choices requires a transformative change in infrastructure design. The Burlington cycling committee asked the City to consider physically separated bike lanes, even though they would cost more to implement.
Joey Coleman, who was at yesterday's meeting, reports that Burlington Council supports the enhanced bike lanes with physical separation, noting the proven economic development benefits.
Little protests the added cost, but it seems clear that what she really doesn't like is spending money on cyclists. Early in her piece, she notes, "On average 58 to 128 cyclists ride that stretch daily, though cyclists say those numbers would increase substantially with proper bike lanes. But how many cycle in winter?"
Cycling in Winter
The answer to that question depends in large part on the availability of safe, protected cycling routes. Cold, wintery cities like Denver, Minneapolis and Montreal have some of the highest cycling modal shares in North America.
Denver doubled its bicycle commute modal share from 1.6% to 2.9% between 2007 and 2012. That increase exactly matches the increase in cycling infrastructure over the same period: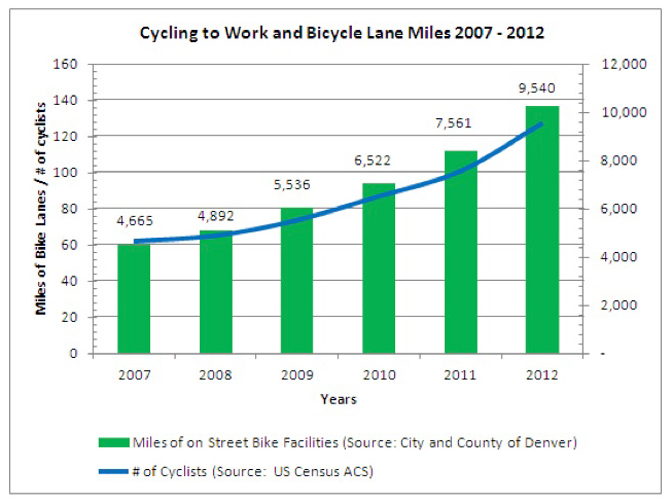 Denver Cycling to Work and Bicycle Lane Miles 2007-2012 (Image Credit: Denver Urbanism)
In Minneapolis, cycling accountd for 4.5 percent of commutes in 2012, representing a steady increase since 2005.
Again, the reason for a healthy level of cycling - even during winter - is the presence of a connected network of high-quality cycle tracks that link people with meaningful destinations.

Cycle track in Minneapolis (Image Credit: Bicycle Times)
Some 'Free Ride'
But getting back to today's column, Little doesn't just stop with the dodge that we shouldn't invest too much in bike lanes because winter. She goes on to suggest that we shouldn't invest too much in bike lanes because "cyclists get a free ride".
A driver's licence costs $80, and a licence plate $90. Drivers pay tax on gas, and provincial gas tax rebates to municipalities are intended for transit and roads. Bikes don't need licences today, but legislation allowing licensing could be explored. This would help cash-strapped municipalities to provide bike lanes faster.

Bikes are better environmentally, but cyclists get a free ride. If there was a way they could contribute, that would ease the tax burden. Public transit and recreation have user-pay components. Why not cycling? Staff support bike lanes, just not Cadillac ones.
There is so much wrong with these two paragraphs that I almost don't know where to start.
People do not pay for roads through driving fees or fines or taxes or levies. People pay for roads through property tax (municipal) and income tax (provincial). This has been studied extensively, and the most comprehensive research indicates that even if you were to add up the total amount that drivers contribute and apply it directly to roads, it would fall billions of dollars short of what our road network costs to build and maintain.

Bikes aren't just better environmentally, although that is certainly true. I'm not sure of Burlington's numbers, but in Hamilton, air pollution is responsible for 700 hospital visits and 100 premature deaths a year - and more than half of our air pollution comes from automobiles. Every trip taken by bike instead of car reduces the amount of air pollution, improving everyone's health.

Riding a bike instead of driving also improves the fitness of the person cycling, significantly reducing the risk of cardiovascular disease and diabetes. Even after taking into account the risk of injury, commuting by bicycle raises life expectancy by several life-years on average.

In addition to reduced air pollution and improved health, protected bike lanes also reduce the risk of collisions and injuries. The evidence indicates that a "complete streets" design that accommodates a variety of modes is safer for all road users - including drivers.

A huge part of the cost of our road network is maintaining roads against wear and tear. The damage a vehicle does to the road is an exponential function of its weight, so a vehicle twice as heavy does four times as much damage. A small car causes 1,000 times as much damage to a road as a bicycle, and an SUV causes 8,000 times as much damage. In other words, replacing car trips with bicycle trips actually extends the life of the street.

We do not licence drivers to extract road operating costs from them. We licence drivers because driving is dangerous. Drivers operate large, heavy, powerful vehicles that can injure and kill other people and destroy property. The reason we don't licence cyclists is that cycling presents only a negligible risk of harm to others.

On top of all this, a growing body of evidence finds that protected bike lanes produce a real net boost to local retail business and increase property values.
It's wrong-headed to claim that drivers pay for roads. It's wrong-headed to claim that cyclists get a free ride. It's wrong-headed to claim that investing in high quality cycling infrastructure is some nice-to-have luxury that we can't afford.
There is no excuse, in this age of widely-available information, for the same discredited arguments and bogus claims to keep turning up again and again in our public discourse. What we can't afford is to keep making decisions based on untested assumptions and knee-jerk reactions.
Related:
Post a Comment
You must be logged in to comment.