Hamilton Deserves Better than Knee-Jerk Populism
This is not just some "culture war" drama but a life-and-death struggle to make this city safe for its own citizens - and particularly its most vulnerable residents.
By Ryan McGreal
Published April 02, 2014
March was a rough month for pedestrians in Hamilton. Last Friday, I wrote about two separate collisions on Queen Street: at Queen and Herkimer on March 7, and at Queen and Main on March 26. In response, city staff are undertaking a traffic safety review on Queen.
But there were also at least four other vehicle collisions with pedestrians last month.
On March 6 at 12:50 PM, a driver going north on Sherman Avenue turned left (westbound) onto Barton Street East and struck a woman crossing at the crosswalk. She was taken to hospital with a serious leg injury.

On March 19 at 8:30 AM, a driver turning left from Parkdale Avenue North onto Main Street East struck a 14-year-old girl who was crossing at the crosswalk. The girl said she was fine and the driver left the scene. When she arrived at school, the school contacted the police and the girl was taken to hospital with minor injuries.

On March 28 at 8:00 PM, a driver turning from Main Street West onto Thorndale Street South struck a 20-year-old woman crossing the street. She was taken to hospital with a possible skull fracture.

On March 30 at 12:15 AM, a driver turning at Young Street and John Street South struck a 20-year-old man who was crossing Young Street. The man was taken to hospital with head injuries and the driver was charged with failing to yield to a pedestrian.
Pattern of Pedestrian Injuries
These anecdotes are instances of a very troubling pattern of events: according to a report by the Social Planning and Research Council, Hamilton is the second most dangerous city in Ontario for pedestrians. Pedestrians in Hamilton are almost one and a half times as likely to be injured as the provincial average.
For decades, Hamilton's streets have been designed chiefly to facilitate high-speed, high-volume automobile traffic, and every other use of the street has been marginalized. Residential streets next to neighbourhood playgrounds are configured as multi-lane one-way thoroughfares with dangerously high speeds.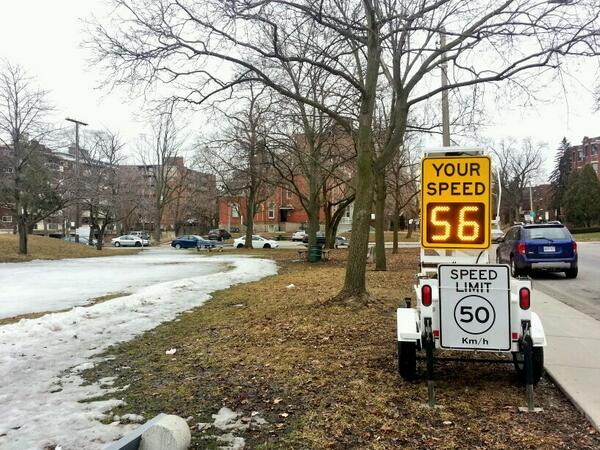 Vehicle measured at 56 km/h on Herkimer Street next to Durand Park on Saturday, March 29, 2014
Even today, more than 20 years after the citizen-led Vision 2020 planning process imagined a sustainable city in which people have a real choice to walk, cycle and take transit in addition to driving, the City has done little more than nibble around the edges of the problem.
And even those modest steps are greeted with outrage by defenders of the status quo.
Disinformation and Dog Whistles
Yesterday, talk radio host Scott Thompson demanded that cyclists pay for bike lanes with licencing fees.
Despite communicating directly with Justin Jones and me on this very issue over the past two weeks, Thompson completely ignored the facts: everyone already pays for roads through property tax (municipal) and income tax (provincial), the total amount that drivers pay in taxes and fees falls billions of dollars short of what our roads cost, 90 percent of cyclists are also drivers, and every time someone rides a bike instead of driving, it actually reduces wear and tear on the road.
But in a city where cyclists are almost twice as likely to be injured in a collision with an automobile as the provincial average, the online commentary on that article was thick with denunciations of "entitled" cyclists.
This morning, Andrew Dreschel brought a more nuanced approach to the question of what to do with our streets, but a hyperbolic, inflammatory headline - "Is Hamilton at war with cars?" - mars what is otherwise a pretty reasonable column. (I'm told Spectator columnists don't write their own headlines.)
The web edition of the article originally carried this headline too, but it was changed some time this morning to the less inflammatory "Car still king, but sharing is key".
Citing the modest steps the city has begun taking to address Hamilton's dangerous streets, Dreschel asks, "Does this represent a war on cars, as some maintain?" He answers with a qualified "no", but not before blowing the dog whistle of driver outrage that streets should do anything other than carry automobile traffic as fast as possible.
The Evidence is Clear
The evidence is abundantly clear, and we have been repeating and adding to it for years. Complete, two-way streets are much safer than one-way thoroughfares for all road users, including drivers.
They are safer for children, who are among the most vulnerable road users and the most susceptible to high-speed collisions. They are safer for senior citizens, who are disproportionately represented among pedestrian casualties.
Hamilton's lower-city streets have lots of excess capacity that can be repurposed for bike lanes, wider sidewalks, patios, curbside parking, street canopies and so on without causing any significant congestion.
In addition, repurposing public space will significantly reduce the city's infrastructure lifecycle costs. The Waterloo Region government calculated that each one-percent modal shift from driving to active transportation will save $30 million in infrastructure costs. Hamilton City staff have not done a similar analysis and, last time I asked, have no plans to change that.
Converting traffic flow to two-way and slowing traffic is better for business than having traffic blast by at high speed on one-way streets. It attracts new investment, generates new business and raises property values.
People feel more connected to their community when they live on safer streets with slower traffic. They have more friends and acquaintances and feel more safe and comfortable.
Two-way streets are more usable and user-friendly - even for drivers. After all, a two-way street serves drivers going in both directions! In contrast, one-way streets are harder for wayfinding, making a mental model of a place and navigating within it.
Complete, two-way streets also support neighbourhood equity - especially since Hamilton's one-way thoroughfares disproportionately run through the most vulnerable neighbourhoods in the city. (That is not a coincidence.)
We Deserve Better
Hamiltonians deserve better than the divisive, inflammatory, information-poor commentary we receive on this issue. Too many people in positions of influence default to cynical populism, knee-jerk opposition to change, emotional appeals, fear-based rationalization and misinformation.
We need less heat and more light. This is not just some "culture war" drama but a life-and-death struggle to make this city safe for its own citizens - and particularly its most vulnerable residents.
It's not about downtown vs. the suburbs. It's not about Millennials vs. Boomers. It's not about drivers vs. cyclists. These are all false dichotomies that drive a wedge into everyone's common interest in a city that is safe, healthy and prosperous.
Politicians, community and business leaders, commentators and regular citizens alike have a duty to get informed with good information and make sound, evidence-based policy decisions rather than provoking contempt and squelching the necessary steps we know we need to take.
People's lives depend on our collective ability to understand and do what needs to be done.
Post a Comment
You must be logged in to comment.