Usability and Usefulness of One-Way Streets
In the design of a city street - the most fundamental piece of public infrastructure - it makes more sense to target the broadest possible use, i.e. everyone.
By Ryan McGreal
Published May 23, 2012
Last Thursday around lunchtime, I was walking along the east side of James Street North near Barton Street when a woman in a car pulled up and rolled down her passenger-side window.
I walked over and leaned down. She said, "Can you help me? I'm trying to find my way back to Main Street."
Knowing from experience that Hamilton's paired one-way thoroughfares often confound visitors, I asked for clarification. "Where are you trying to get to?"
She said, "I'm trying to get back to the 403."
"Okay," I answered, "you actually want to find King Street." Then I proceeded to give her the directions.
Now, I spend a fair bit of time walking around downtown. As the woman did a U-turn and headed back up James, I mused on the fact that I go through a variation of this exchange on roughly a weekly basis.
It occurred to me, not for the first time, that there's something fundamentally wrong with Hamilton's network of one-way streets.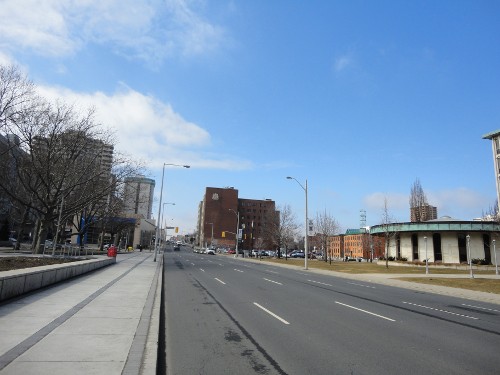 Main Street: five lanes of traffic, and none of them westbound (RTH file photo)
Usability
In design, usability refers to how easy it is for someone to learn and use an object - be it an appliance, a software application, a machine, a process or any other designed system.
A basic test of usability is how easily someone who is inexperienced with the system can figure out how to use it. A usable system will anticipate and leverage the user's own assumptions about how things work - for example, the assumption that a street goes both ways.
A usable system follows conventions that most users can recognize, and in which most users can successfully predict what a given action will do. At the same time, novel features are easily discoverable and the interface gives clear hints as to what they do and how to access them.
By such measures, Hamilton's one-way street system seems a failure. Anecdotally, an alarming proportion of people who drive into Hamilton from someplace else get lost and can't find their way out without help.
Certainly the first time I drove to Hamilton (as a teenager to see a concert at Copp's), I got hopelessly lost and ended up in the east end. I got lost again the first two times I drove to Hamilton as part of the process of moving here, and it was several months before I really got the hang of the place.
Empirical, Not Normative
I'm sure someone will argue that our one-way streets ought to be easy to figure out and navigate. After all, the streets follow a grid and if there's an eastbound street, it stands to reason that there must also be an adjacent westbound street.
However, usability is based on what we actually observe in users. It's not based on a set of assumptions that sound reasonable but haven't been tested. Without applying evidence-based best practices to the design phase and employing user testing as early as possible to check assumptions against reality, any design is at best a crapshoot.
No matter how normatively sensible Hamilton's street network is, it is evidently not easy for people to figure out how to use it when they first encounter it.
Yet every attempt over the past decade to convert a one-way street to broader usability has been met with dire predictions of chaos and failure, based entirely on reasoning from a set of assumptions rather than observation and evidence. In the James/John South conversion, City staff tweaked the design over the next few months in response to some observed problems right after the cutover: that's classic iterative design for usability, and it flies in the face of the fearful letters to the editor that preceded it.

James Street North is a people-friendly place with streets that allow for diverse uses (RTH file photo)
Usefulness
Usability by itself isn't enough. To be successful, a street must also be useful to a variety of people.
When James Street was still one-way southbound, it was completely useless to anybody who wanted to drive northbound - including, crucially, anyone who wanted to drive northbound to a destination on James Street. (To do so, you needed to go north on a different street and then double back, which is a non-trivial aggravation given all the other destinations you could choose instead.)
By converting James Street from one-way southbound to two-way north- and southbound, the City immediately doubled the number of people for whom the street is useful.
Over time it's actually more than double. Because it's twice as easy to get to a destination on a two-way street as it is on a one-way street, destinations themselves tend to favour two-way streets over one-way streets.
As a result, converting a one-way street to two-way will tend to increase the number of destinations that choose to locate on it. Those destinations, in turn, will increase the street's overall usefulness by offering something to a broader sweep of people (who can approach a given destination from twice as many directions).
Expert Users vs. Everyone
Now, an argument can be made that Hamilton's streets are optimized for expert users. After all, people who live here and drive across the city every day tend to appreciate them.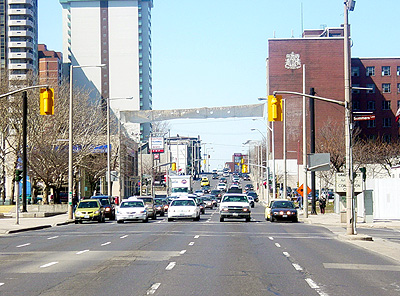 Main Street is an expressway in all but name (RTH file photo)
However, it seems to me that on a city street - the most fundamental piece of public infrastructure - it makes a lot more sense to target the broadest possible use: i.e. everyone.
A street designed for everyone will accommodate everyone: people who want to drive in either direction; people who want to drive to a local destination as well as a through destination; people who want (or need) to walk instead of driving; people who want (or need) to bicycle instead of driving; people who want (or need) to live and/or work on the street; people who don't want to travel at all but merely want to enjoy being in a public space; and so on.
Again, Hamilton's one-way thoroughfares fail this test, trading fast flow for through traffic against every other potential use.
Limited Usefulness
Right now, Main Street is only useful to people who want to go quickly from the west end to the east end; whereas King and Cannon are only useful to people who want to go quickly from the east end to the west end.
So immediately, these streets are less appealing sites for driving destinations than they would be if they were two-way, since only half of the people who are driving to a destination can get to one on those streets.
But it's worse than that: because these streets feature multiple lanes of fast automobile traffic, they are also less appealing to pedestrians than streets with slower traffic would be. Most people who have a choice about where to walk will choose to walk on a different street.
So these streets suffer a double whammy, deterring almost half the drivers and most of the pedestrians who might otherwise choose destinations there.
Only One Benefit to One-Way
King Street something of a special case in that it is restricted by design to just two westbound lanes between Wellington and Catharine, where it opens up again.
That relative bottleneck makes it less useful to westbound drivers, but more useful to people walking in the area because they're not walking next to multiple lanes of high speed traffic. It's no coincidence that this stretch is one of the few highlights of an otherwise dismal urban artery: the increase in usefulness to pedestrians more than offsets the decrease in usefulness to through drivers.
However, that is not an argument to maintain Main and King as one-way streets with slowed traffic. The only reason for these streets to be one-way is to increase their usefulness for fast through traffic, which is fundamentally incompatible with other uses.
If we're going to decide that broad usefulness is more important than the narrow goal of fast traffic flow, there's simply no other lingering benefit to keeping them one-way. It's not as if they're too narrow for two-way traffic: we're talking about four or five lanes of roadway on each street!
Also, as other commentators have pointed out, these streets have so much excess traffic capacity that we can cut the number of lanes down by half without impacting traffic speeds.
That means there's no reason we couldn't transform each of these streets to have one lane of traffic in each direction with left turn lanes and curbside parking on both sides. We would even have enough left over room for bike lanes.
---
Editor's note: This essay is part of a series on the future role and design of our downtown streets. We encourage Hamiltonians to submit well-written, thoughtful and evidence-based essays that move the discussion forward. Please send submissions to editor@raisethehammer.org.
Post a Comment
You must be logged in to comment.