More Details on Bike Share Proposal
Social Bicycles provides more detail on how the bike system works and what they are doing to protect the security and privacy of user data.
By Ryan McGreal
Published December 04, 2013
At Monday's Public Works Committee meeting, councillors unanimously approved the plan to establish a new bike share in Hamilton. Assuming the plan is also approved by Council, it could be up and running by Spring 2014.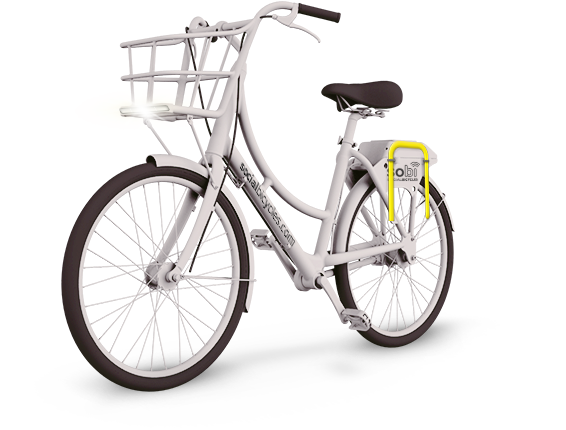 Social Bicycles bike (Image Credit: Social Bicycles)
You can watch a livestream of the meeting, provided courtesy of Joey Coleman.
The committee expressed lots of concern about the capital cost of the program, which is being covered entirely by Metrolinx through its Quick Wins program, and the matter of financial liability in the operation of the program, which the contract places entirely on the successful proponent, Social Bicycles (SoBi).
Peter Topalovic, the public works manager who has shepherded the bike share through its development, confirmed and reconfirmed that the capital costs are fully covered and the operating costs are entirely the responsibility of SoBi, which will operate the program through a local not-for-profit organization under the five-year contract.
In the case that the operator cannot sustain the business, the City has an opportunity to find another operator to take it over, or alternately to shut down the program and sell the bicycles.
About the Bike Share
Each bike includes an integrated U-lock connected to a GPS-enabled on-board computer to track the bike's location, who has signed it out and when/where it is locked and released.
The system also tracks bike locations in real-time. From a web browser or mobile device, you will be able to see where the nearest bike is located, how many bikes are available in each station, and so on, and even make a reservation.
After reserving a bike, you can unlock it with your PIN code and ride to your destination. Once you arrive, just lock your bike at the nearest bike corral and the bike is released from your account.
According to Patrick T. Hoffman, Business Development and Project Manager at SoBi, "Our bicycles' on-board computers are recharged by a solar panel as well as by a front-hub dynamo. Each bike comes with capacitors to store excess power in reserve as well as back-up batteries."
According to the plan, 650 bicycles will be established at 65 stations across a service area that includes wards 1-4 (lower city), 7, 8 (mountain) and 13 (Dundas). (City Staff have said they will try to provide a map of proposed station locations. RTH will update this article if and when we receive a copy.)
The city will have an option to purchase additional bikes at a fixed price for the five-year duration of the contract. That price has yet to be finalized once Council gives the final approval of the bike plan. Council will consider the plan next Wednesday, December 11.
Seasonal Availability
Under the proposed plan, SoBi will operate the bike share for 8-9 months of the year, similar to Buffalo NY and Minneapolis MN.
Hoffman added, "That said, we understand the desire for systems to operate year round and we will make every effort to operate the system for as many months as our operating entity deems feasible.
"Given recent trends within the industry (Divvy and CoGo for instance) we are strong proponents of year round operations while recognizing that not all markets warrant the additional operational costs they may experience."
Role of Stations
Because the technology is self-contained in the bikes, the stations will be cheaper and simpler than Bixi stations. However, the assumption is that bikes will be returned to one of the stations after use.
Hoffman explained, "Our bikes make use of both RFID and GPS technology to know when they are locked at these locations."
He added, "All of our programs allow for their members to lock bickes at public spots beyond these specific locations for a minimal rebalancing fee determined by each program. We typically advise this fee for out-of-hub locking (different than putting the bike on hold) be between $2 and $3."
However, if another member signs a bike out from an out-of-hub location and returns it to a station, their account is credited with the rebalancing fee.
Membership and use pricing for the program has not yet been finalized, and once again will be confirmed once Council approves the bike plan.
Data Privacy and Security
One question that has been raised is the matter of information privacy: who will have access to the realtime location data of SoBi users, and what is being done to ensure that the data is secure from malicious hackers?
Hoffman explained that data is encrypted before transmission, and access to the SoBi database is restricted "to SoBi employees, contractors, and agents who need to know that information in order to process it for us, and who are subject to strict contractual confidentiality obligations".
According to City staff, the SoBi data infrastructure has been audited by a reputable computer security firm to ensure it is following best practices for data storage and security.
Members' usage activity is kept private, though members have the option "to share this information graphically with "friends" within our app or externally via Twitter and Facebook." In addition, members can download their own usage data for their personal use. However, the default setting is for this data to be private.
In 2014, SoBi plans to launch a public API, or a web-based service in which third parties can access SoBi data. However, "None of this data will include our members' personal information."
Post a Comment
You must be logged in to comment.