Transportation Plan Must Be Inclusive: Whitehead
Councillor Whitehead argues that changes to lower city streets to make them more community-friendly must balance the ability of other city residents to access the downtown.
By Terry Whitehead
Published October 08, 2013
At a recent Planning and Economic Development meeting, the neighbourhood secondary plan was presented for the Strathcona Transportation Management Plan near the downtown core. The secondary plan engaged the broader neighbourhood, as it identified a strategic plan that included a wish list of options for consideration.
Many of the options provided were localized in nature and have merit. However, included on this wish list was the closing of a lane on Main Street.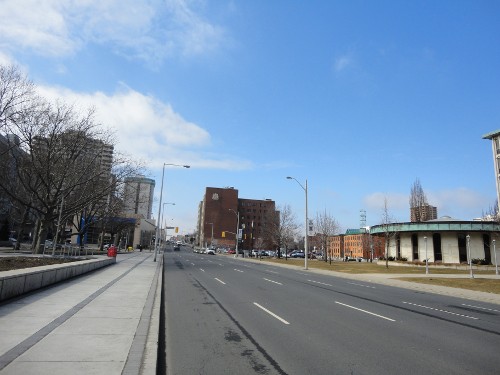 Main Street West near City Hall (RTH file photo)
This option may also have merit, but there are broader implications. The decision should be part of the city-wide Transportation Master Plan and include all citizens of Hamilton who may be impacted by such a decision.
It is clear that there is currently a greater capacity on some of the major arterial roads downtown than traffic warrants. Some argue that the City should close off lanes to make more complete streets, which may have benefits.
Decisions of this nature should include Mountain residents in a city-wide discussion to understand the overall benefits and implications of such decisions.
The form and function of our downtown - the heart of our city - is to provide employment and healthy neighbourhoods. Currently, the downtown is the centre of arts and entertainment, hospitality, office space and health care, and the seat of Government and Commerce.
Our strategic plan is to create a greater residential and employment density in the downtown. Many of these functions will rely on easy and accessible transportation for employees to attend work from outside of the downtown core. I do not see this function changing in the future.
So whatever implementation plans we put forward for our downtown transportation networks, we must ensure that a balance is struck with the concerns of the local neighbourhoods.
Consider: there are currently over 20,000 cars a day that utilize the Queen Street Hill, and the number utilizing the West 5th Access is comparable. Due to the unique geography of Hamilton, we have limited access between the mountain and the lower city.
It is clear that traffic volumes on Upper James, Mohawk Road, Garth Street, West 5th and so on that go through neighbourhoods are a concern for mountain residents, but I believe any changes would need to involve residents city-wide, not just the localized neighbourhoods.
To function as a City, we must ensure that any significant changes to the current transportation network looks at the broad upside and downside before implementing lane closures and conversions of arterial roads.
We expect a higher density of population and employment in downtown and throughout the City. Any changes to our transportation network need to contemplate these objectives.
There are many businesses downtown that rely on attracting people from far and wide and we need to ensure that we are not discouraging their continued patronage of these businesses.
The city-wide Transportation Master Plan must be an inclusive process that engages the overall population of the City of Hamilton.
Post a Comment
You must be logged in to comment.