Live and Don't Learn, Downtown Parking Edition
We have not absorbed any of the lessons about how choices about parking supply and management affect behaviour, land use and the economy - especially in downtowns.
By Nicholas Kevlahan
Published September 16, 2013
It seems the City of Hamilton is living in some parallel parking universe (sorry about the bad pun) with its new Downtown Parking study. The City of Hamilton, or at least the MMM Group, seems not to have absorbed any of the lessons we have learned about how choices about parking supply and management affect behaviour, land use and the economy - especially in downtowns.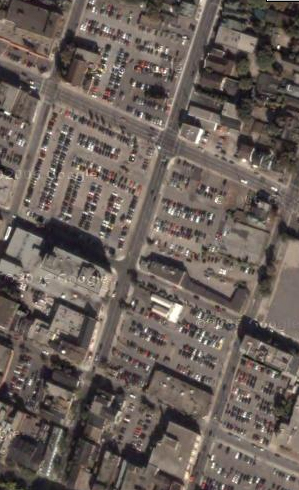 Surface parking in downtown Hamilton
Parking rates should be set to ensure about 15 percent vacancy (or one free spot per block for street parking). Right now, the report's own data says that the overall vacancy rate has increased to 32 percent (peak occupancy of 68 percent), which is far too high even at the comparatively low parking prices that lots are charging.
This shows there is a glut of parking on the market.
On the other hand, there is a small area downtown that may have a vacancy rates close to the optimal 15 percent in five years. If the vacancy rate ever drops significantly below 15 percent, the obvious solution is to raise the charges from the insanely low current values (e.g. $4 all day on the lot east of Hess Village).
Large supplies of cheap parking encourage people to drive, which raises costs because of the need to build and maintain the parking supply.
Using valuable downtown land for surface parking or multi-storey parking garages harms the economy, since this land cannot be used for productive purposes like housing, shops and other businesses. At the same time, the parking structures themselves are unfriendly to pedestrians.
The study predicts that parking demand will grow inexorably and that it makes sense to plan now for a major increase in parking supply, even though the demand is not "urgent". However, vehicle traffic is actually dropping around North American downtowns (e.g. in Vancouver), and even in downtown Hamilton, parking occupancy has fallen since 2005.
Less Parking, Not More
There is no need to encourage the development of even more parking in Hamilton. Indeed, we should be doing the opposite. We should be favouring the development of destinations, and those building these destinations (e.g. shops, restaurants and offices) can decide for themselves how much parking they need to be successful.
The worst part of this recommendation is that it runs exactly counter to Hamilton's stated goal of doubling transit use. The Metrolinx Benefits Case Analysis on Hamilton's LRT plan found that the oversupply of cheap parking downtown (apparently the cheapest in Canada) would make it more difficult for LRT to compete and to encourage dense urban development.
Coincidentally, I just listened to a podcast of the CBC Ideas program on parking. One of the interesting points of the program is that surface parking essentially acts as a land bank and encourages property speculation by making it economically attractive for landowners to hold onto property for years (or decades) without developing it.
The recommendations in this downtown parking study will make the problem of property speculation in downtown Hamilton worse, as the City is now actively encouraging more ground-level parking in both surface lots and parking structures.
Planning for Failure
Maybe the MMM Group needs to get up to speed with contemporary approaches to managing parking needs. Their report sounds like something from the 1970s, and indeed one of their own specialties is "the planning, design and contract administration of multi-level, complex parking structures."
Then again, consultants rarely recommend something that they know their clients don't want. Once again, Hamilton is planning for failure. We were never serious about doubling transit use or encouraging a dense walkable downtown.
How anyone in their right mind could look at downtown Hamilton, with parking rates of $55 a month or $4 per day and entire city blocks devoted to half-empty parking lots, and conclude we need more parking is beyond me.
Post a Comment
You must be logged in to comment.