City to Install Permanent Bumpouts at Herkimer and Locke
City staff do an about-face and embrace tactical urbanism as a way to make short-term, low-cost changes that help pave the way for a larger culture shift.
By Graham McNally
Published May 23, 2013
On Tuesday, Phil Toms and I met with Councillor Brian McHattie and John Mater, Director of Corporate Assets and Strategic Planning from the City of Hamilton, to review the recent pylon installation that occurred at Herkimer and Locke.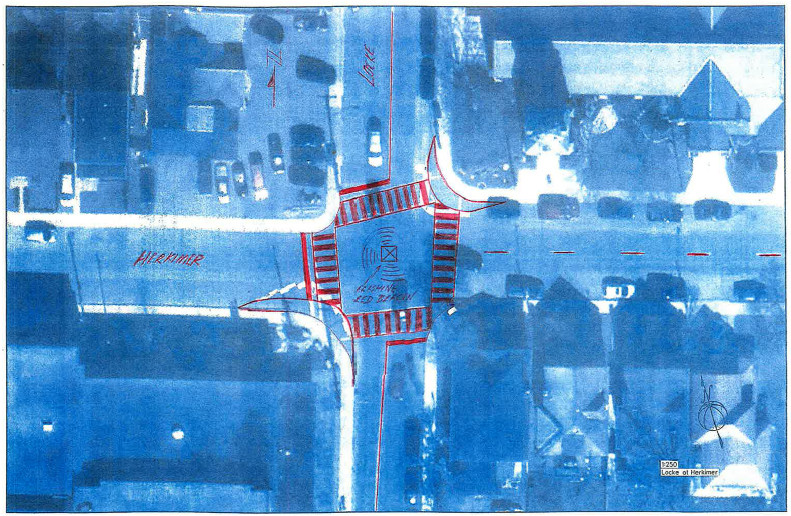 Image of plan as proposed by the City
For those unfamiliar with the installation, at the end of April, the Hamilton-Burlington Society of Architects invited Mike Lydon of the Street Plans Collaborative in Brooklyn, New York, to come to Hamilton to introduce Tactical Urbanism and lead a day of thinking, imagining and designing.
Pylon Bumpouts at Herkimer and Locke
In the weeks between the Charrette and the subsequent public talk on the subject of Tactical Urbanism, pylons were placed at the intersection of Locke and Herkimer, cited by many pedestrians as a threatening intersection.
The pylons provided 'bumpouts' (additional space for pedestrians) which have the effect of shortening the crossing distance, placing pedestrians in a more visible location at the corner and reducing the turning radius available to cars which reduces the speed at which the corner can be navigated.

Bumpout at southwest corner of Herkimer and Locke
Through the course of our meeting, we learned that the City will be making the short term action a permanent installation complete with bump-outs on Herkimer on both sides of Locke and 'ladder' style crosswalks.
The project will be a kind of pilot project for the Traffic Calming Master Plan that City staff are currently working on and intend to take to council in the next few months.
Could this be the start of something?
Encouraging Installation
This installation is an about-face on the City's part from the position taken in the memo circulated to senior staff, and it is encouraging for a number of reasons.
First, there have been tireless efforts by many residents of this City to try to get our streets made more pedestrian-friendly. Hours of volunteer work have gone into their research, writing and activism. For years, I would argue, their efforts have been acknowledged but little has been done.
During our discussion at Herkimer and Locke, we raised the idea of building on this first pilot project by selecting intersections throughout the City to become test cases for the City's new policy on Traffic Calming. We talked about new installations occurring bi-weekly as a "rendering in real time" of the City's new strategy.
The idea of very small pilot projects is new to the City in this context, but the benefits with regard to building momentum and educating citizens to what the City's plans are is attractive to the City and I think they will move in this direction.
Next - and perhaps we shouldn't have surprised to find this - we found that John Mater, whose responsibilities include traffic and road design, 'gets it'.
That is, he took no issue with the proposition and actually wanted to extend the project down Locke and do work at additional intersections, in particular, Locke and Hunter.
Engaging Citizens
We had a great discussion about how the ideas of Tactical Urbanism (short-term, low-cost) can be used to engage residents and demonstrate that the City is working to improve the pedestrian realm and create complete streets even while policy and planning documents are being worked on for months and years.
Finally, we talked about the 'culture shift' in City Hall that City Manager Chris Murray talked about recently in The Spectator. Based on our conversation Tuesday and the way that the City is now embracing Tactical Urbanism and looking to it to find ways of engaging citizens, it definitely appears that we may start to see a different approach to our streets.
How all this plays out in the end, I'm not sure. But considering that the HBSA invited Mike Lydon up in early May and not even a month later we're talking about the City installing bumpouts in response to concerned citizens is encouraging.
Maybe even more encouraging is they intend to develop policy and programs to propagate similar installations across the City. I'm excited to see what happens in the next few months.
Post a Comment
You must be logged in to comment.