A Crucial Turning Point for Hamilton
Hamilton's future can become the envy of cities across Canada and even the world. Will we take a bold step forward at this crucial moment in our history?
By Jason Leach
Published September 23, 2011
It's been over five years since I first wrote about light rail transit here on RTH.
I must be honest. Never in my wildest dreams did I imagine that this short time later we'd be completing design studies, intensification plans and have such broad based support for a Hamilton LRT system.
For all of Hamilton's notoriety when it comes to advancing and moving forward, we have seen the future, and have rapidly worked towards seizing an opportunity that will forever change our city.
I don't want to rehash all of the gaudy return-on-investment numbers or statistics from other cities who have reaped massive urban development along their LRT lines. We've done that many times at RTH.
Instead, I want to take a moment and discuss the critical point that we find ourselves at today as a city.
A Crucial Moment
In life, politics, business, city-building or personal relationships, we all come across crucial moments where we take a bold step forward, or we shrink back and maintain the status quo.
We've all experienced the nervousness that comes when we decide to step out of our comfort zone and advance. It's not always easy, fun or simple, but it's absolutely necessary in order to move forward.
If we want to change our reality as a city and give ourselves a new direction and new future, we must do exactly that - change our reality.
Cities all over the world are rapidly changing and looking to keep ahead of their counterparts as we all fight for our share of the pie here in globalized 21st Century.
Hamilton now faces an historic opportunity that will radically change how we function, grow and prosper as a city. Don't think we're alone. Every city comes to this critical crossroads in its history.
Toronto's Crucial Moment
Toronto faced a crucial moment in the 1970's when it decided to cancel five new freeways and instead increase streetcar funding.
That city has grown around its streetcars and subway lines in the decades since to become Canada's largest and arguably most prosperous urban city.
Hamilton faced a similar choice in the 1940s and '50s and chose to tear up our streetcar tracks that once criss-crossed the lower city. Five years after the last streetcar was shut down, we converted our lower city streets to wide, one-way, de facto freeways.
The downward movement of the city since that time compared to Toronto has been almost surreal.
A Model to Learn From
Portland, Oregon is a fascinating model for Hamilton to learn from. Like other cities, it encountered its own critical time in history that would forever alter that city's economy, growth and future.

Driving and parking in downtown Portland, 1955 (Image Credit: Vintage Portland Files)

The same site today (Image Credit: Cityprofile.com)
Robert Moses developed a grand plan of freeways that were to criss-cross Portland. Old neighbourhoods would be wiped out in several spots to make room for the new expressways.
Local citizen groups sprung up and began to fight for their neighbourhoods and against the expressway plans.
The result is a huge network of un-built freeways in Portland. The cancellation of the Mt Hood Freeway in 1974 is considered the tipping point that led to the modern, vibrant Portland of today.
Some of the funds set aside for that project were instead re-directed to Portlands first LRT line. The rest, as they say, is history.
One of the great things about being just one of many cities in the world is our ability to learn from the mistakes - and successes - of others.
Building on Success
Had Portland found their first LRT system to be too expensive, intrusive and with not enough spinoff development, and chose to revert back to their massive freeway network, we would probably not be seeing this public campaign to build LRT in Hamilton.
But the fact that they have continued to expand [PDF] the system, have built new lines in the past 30 years, and enjoy the many benefits of a bustling downtown, a growing economy and a world-wide reputation as a safe, wonderful, livable city in a nation not known for safe or livable cities, should be a strong signal to Hamilton that we are on the right track.

NW 10th, Portland, in 1921 (Image Credit: Vintage Portland Files)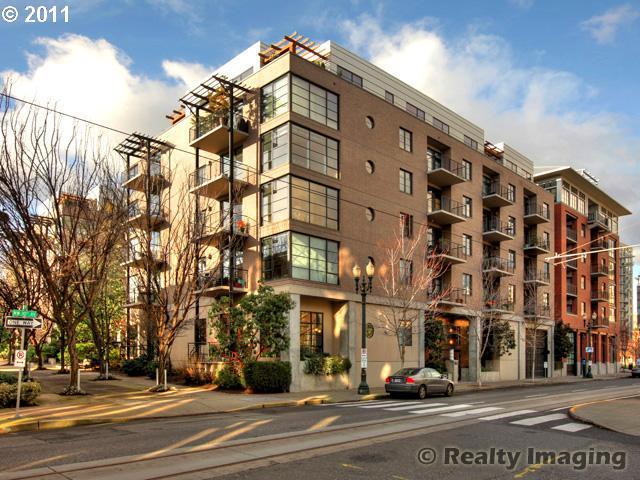 NW 10th, Portland, in 2011 (Image Credit: Redfin.com)
A large number of North American cities are now proceeding with new LRT systems, not to mention the countless international cities who enjoy fantastic rail networks.
More than Just Transit
It is imperative that Hamiltonians understand we are talking about much more than just a transit system. We are talking about a whole new way of building and developing our great city.
Imagine a place where you are excited and proud to bring your out-of-town guests. Imagine a city of growing economic opportunities for the next generation of skilled workers and thinkers being trained at Mac and Mohawk.
Where we now see empty parking lots and deserted multi-lane, high-speed streets can be replaced with spectacular public spaces, new buildings and sidewalks full of people, commerce and vibrancy.
Hamilton's future can become the envy of cities across Canada and even the world. Will we take a bold step forward at this crucial moment in our history? Based on the constant buzz I'm hearing around town and in the community, I think we're ready. This is our time.
Join us at hamiltonlightrail.ca and help re-shape the future of Hamilton.
Post a Comment
You must be logged in to comment.