We Need Better Oil Price Journalism
The public must confront and understand the forces that drive global oil markets if we are to move beyond nonsensical and counterproductive reactions to higher pump prices.
By Ryan McGreal
Published February 28, 2011
I have read the mainstream media coverage of the past week's run-up in oil prices with steadily mounting frustration.
The price per barrel of oil drifted around the $80 mark for a year, but spiked last week to over $100 and triggered the usual litany of media reports about pump prices and irate motorists.
A Spectator editorial on Saturday made some noises about Libya and concluded, "there is no logical reason for the Libyan crisis to have the impact it has. This is about fear and speculation."
Noting that Libya only produces 2% of the world's oil and that production hasn't stopped during the recent civil uprising, the Spec blames investors "betting on worst case scenarios" in the Middle East for the oil price spike.
Left unasked are any questions about why the mere possibility of a 2% drop in global oil production would trigger such a panic. It's eay to blame speculators, but why are these investors so willing to bet on volatility in the first place?
Why, for that matter, was oil trading as high as $80 a barrel througout last year, a year the world was supposed to be just crawling out of a sharp recession?
The attempt to answer these questions leads to deeper questions about the forces that have been driving oil markets over the past several years - questions the public must confront and understand if we are to move beyond nonsensical and counterproductive reactions to higher pump prices for our gasoline.
No Spare Capacity
It may seem unlikely that a modest drop in output - or even the threat of such a drop - could translate into a sharp increase in prices. However, economics can help us come to terms with this seeming non-sequitur.
A few months ago, I wrote an article on the relationship between oil production, consumption and price - specifically the concept of price elasticity of supply. I plotted oil production (supply) against prices for the period between 2000 and 2010 and got this graph:

Elasticity of Global Oil Supply (Source: EIA)
This chart plots production (in mbpd) across the X axis against the price at that production level along the Y axis. This tells us the price elasticity of supply for oil.
In economics, price elasticity is a measure of the extent to which production can increase to meet rising demand. If the supply is elastic, increased production is associated with a very modest increase in price.

Elastic supply(Image Credit: Investopedia)
If the supply is inelastic, that means increases in production are accompanied by sharper increases in price.

Inelastic supply (Image Credit: Investopedia)
Now look again at the supply elasticity graph for global oil production. As you can see, supply is elastic up to around 83 million barrels per day. It's a classic elastic supply curve.
From 84 mbpd on upward, supply becomes decidedly inelastic, following a classic inelastic supply curve.
This is precisely what peak oil theory predicts: once the production rate peaks, the marginal cost to produce an additional barrel of oil starts racing toward prohibitive.
Price Spike
Last week's oil price spike may appear to have come out of nowhere, but if we take a step back and look at oil production, consumption and price movement over the past few years, we see a pattern emerge.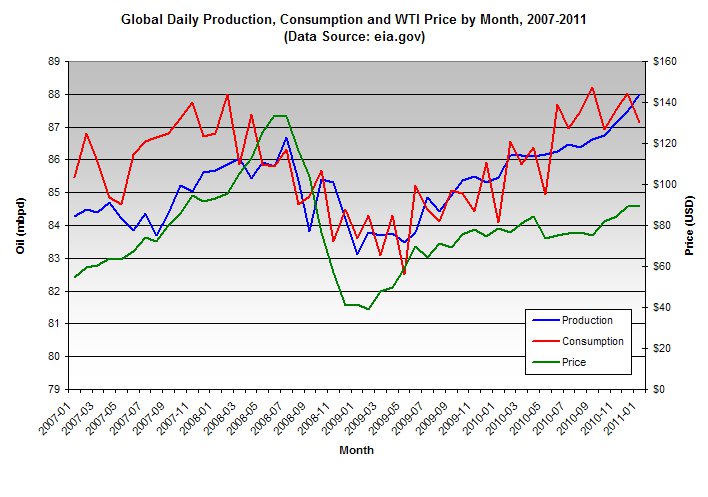 Global daily oil production, consumption and WTI price by month, 2007 to 2011 (Source: EIA)
Particularly over the past year, oil consumption has increased steadily from around 86 million barrels per day (mbpd) in January to 88 mbpd this year. Production has tended to lag behind consumption, and the price started drifting toward $100/barrel in September.
In other words, last week's price spike didn't come out of nowhere after all. It only seems that way because daily journalism has no memory.
Wishful Thinking
Saturday's Spectator editorial warned: "The net result of sustained higher prices for crude oil could be much more serious, and could even push Canada and other countries back into recession."
Unfortunately, the editors seem to think that a stable transition in Libya and increased exports from Saudi Arabia will save the day.
Think again. Saudi Arabia has been promising for several years to assert its traditional role as global swing producer and boost production in response to price signals, and yet its exports continue to decline.
After a June 2008 promise to increase production from 9.5 mbpd to 10 mbpd, Saudi production has actually dropped to 8.5 mbpd in the past two and a half years. Just last December, Saudi oil exports dropped 4.9% in a single month.
Worse still, Saudi exports are falling faster than Saudi production, as domestic consumption increases and diverts a bigger share of the total. This is a general pattern among oil producing countries when they pass their production peaks.
Bumpy Plateau
As I warned last May:
Can we replace a two or three percent annual drop in oil production rates through some combination of conserving and replacement without recessionary demand destruction? I'm not so sure.

If we can't, we will spend the next several years reliving the boom-superspike-bust economic cycle again and again, while our indebtedness grows steadily and our median standard of living ratchets down by painful degrees.
And a year before that:
The "bumpy plateau" is what happens when global oil production has reached its maximum rate but demand keeps growing: the price of oil rises, then super-spikes (as Goldman-Sachs termed it in an April 2005 projection) due to a rapid increase in the marginal cost of production until persistent high prices have destroyed enough demand to bring it in balance with supply.

What ends up happening, however, is that the price spikes so high that the economy goes into recession and demand falls significantly below the maximum rate of production. Oil prices collapse in response.

Sooner or later, low oil prices help to spur a new economic expansion, which leads growth in demand for oil until once again it approaches the maximum production rate, leading to another price spike and another economic crisis.
Sound familiar?
This is what we're dealing with: not the temporary blip of a political upheaval or a mercurial despot, but the perpetual squeeze of a market that wants to consume more oil and an industry that simply cannot get oil to market any faster.
Live and Don't Learn
At RTH, we've been sounding the alarm about this since early 2005; but even today, it's still nearly impossible to read anything sensible about peak oil in the mainstream news media.
That basic ignorance about what we're dealing with from a macro-economic perspective has devastating consequences.
Council votes to spend billions expanding an airport that will be laughably obsolete in a decade while agonizing over the cost of a new light rail line that will drive urban revitalization and make the city less vulnerable to oil prices.
Suburban councillors fight against narrow frontage and medium-density infill and veto bike lanes - and can't draw the connection between land use that makes car ownership mandatory and suburban drivers crying foul about the rising cost to fill up their SUVs.
Nor will they be able to draw the deeper connection between peak oil and the crippling cycle of economic growth and oil price spikes leading to recession and retrenchment, followed by a slow recovery and another oil price spike.
Post a Comment
You must be logged in to comment.