Rising Gas Prices and the Unnameable Cause
Today, after all the ink spilled on peak oil in the past several years, it's inexcusable for a newspaper report on high oil prices not to identify the culprit.
By Ryan McGreal
Published November 17, 2010


Gasoline $1.098 per litre in Hamilton
An article in today's Spectator on high gasoline prices in Hamilton makes reference to the underlying cause without actually naming the culprit.
Jason Toews, co-founder of price comparison site GasBuddy.com, said the escalating cost of crude oil is largely to blame for the numbers consumers are seeing at the pumps.

"It's harder, more expensive and more costly to get crude oil now, and that's pushing prices up," he said. "Gone are the days when it just bubbled out of the ground."
If only there were a recognized name for the phenomenon in which the production of cheap, easy-to-reach oil peaks and goes into decline, creating a geological situation in which it becomes prohibitively difficult to continue increasing the rate of production.
In fact, the world has been in a state of peak oil production for more than five years now. Consider the following chart.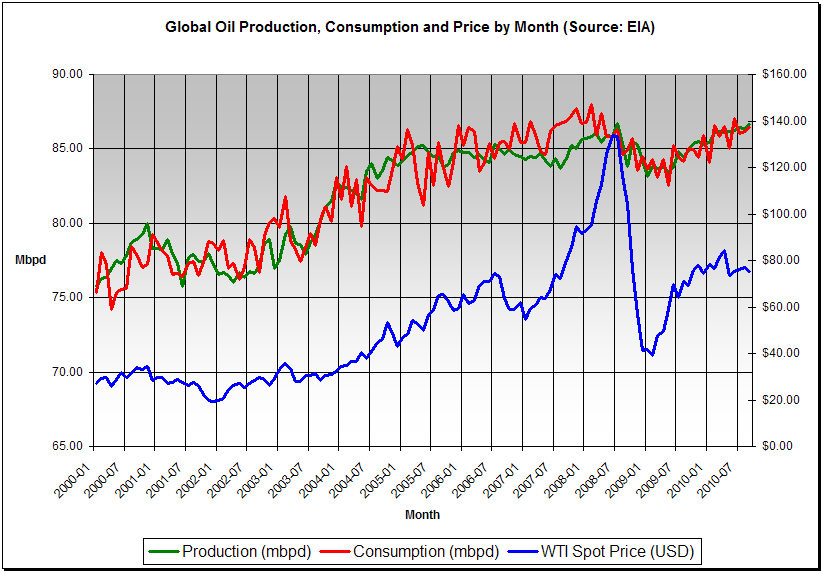 Global oil production, consumption and price by month, 2000-2010. Click the chart to view full-size. (Source: EIA)
The green line is global daily oil production by month, starting in January 2000. The red line is global daily oil consumption by month. Production and consumption are both in millions of barrels per day (mbpd) and are pegged to the scale on the left Y axis.
The blue line is the average WTI spot price by month. It's in US dollars and is pegged to the scale on the right Y axis.
Notice that the red and green lines track each other closely from 2000 until 2006-2007, at which point consumption starts to outstrip production.
During the period from mid-2007 through mid-2008, demand (consumption) significantly outstrips supply (production). Oil inventories go into decline to cover the shortfall, and the price skyrockets from $60 per barrel to $147 per barrel as the marginal cost to produce an additional barrel becomes prohibitive.
After mid-2008, aggregate demand collapses due to the excruciatingly high price - timing that correlates very closely with the onset of the recession - and the price collapses with it, back to $40 per barrel.
Peak Production
What is abundantly clear from the data is that demand steadily outstrips supply starting in early 2007 and that the oil price, in keeping with introductory economics, rises in response.
It is also clear that the supply cannot increase to meet the rising demand, even as price signals to increase production skyrocket.
It is also clear that the prohibitive cost of oil in mid-2008 is what triggered the generalized crash in demand that characterized the latter half of 2008 and continued well into 2009 before demand finally started to recover.
I'm not aware that the data permit any other plausible explanation. In any case, I cannot think of one and have not seen anyone else present one.
Blaming the housing bubble for the collapse confuses symptom with cause. The housing bubble was able to continue expanding as long as the economy continued growing - but something had to put the brakes on further economic growth.
That "something" was the spike in oil prices, which in turn forced an increase in the cost of every good and service that consumes oil as part of its manufacture or delivery.
Price Elasticity of Supply
We can look at the data another way to arrive our conclusion. If we plot production against price, we get a price elasticity graph.

Elasticity of Global Oil Supply (Source: EIA)
This chart plots production (in mbpd) across the X axis against the price at that production level along the Y axis. This tells us the price elasticity of supply for oil.
In economics, price elasticity is a measure of the extent to which production can increase to meet rising demand. If the supply is elastic, increased production is associated with a very modest increase in price.

Elastic supply(Image Credit: Investopedia)
If the supply is inelastic, that means increases in production are accompanied by sharper increases in price.

Inelastic supply (Image Credit: Investopedia)
Now look again at the supply elasticity graph for global oil production. As you can see, supply is elastic up to around 83 million barrels per day. It's a classic elastic supply curve.
From 84 mbpd on upward, supply becomes decidedly inelastic, following a classic inelastic supply curve.
This is precisely what peak oil theory predicts: beyond 84-85 mbpd, the marginal cost to produce an additional barrel of oil starts racing toward prohibitive. The data overwhelmingly bears this out.
We Are in Peak Oil
We are in peak oil, and have been for several years. The very high price of oil (and hence gasoline) we're experiencing today, in mid-November as the global economy crawls out of the sharpest recession in 70 years, is directly related to recovering demand after the recession bumping up against tight supply.
How a journalist managed to write an entire article about high oil prices that actually quotes an energy analyst describing peak oil - but neglects to point out that the phenomenon being reported is well-understood, exhaustively researched, strongly supported by empirical data, and has a name - is beyond me.
Three or five or eight years ago, this gross oversight would have been more understandable, if still an unfortunate missed opportunity to introduce readers to an important concept. Today, after all the ink spilled on peak oil in the past several years, it's simply inexcusable.
(h/t to Jason Leach for pointing out the Spectator article.)
Post a Comment
You must be logged in to comment.