LRT is the Future, But Let's Also Respect the Past
With Hamilton's LRT plan, we're actually bringing an old idea back. Why in the world did the city remove it in the first place?
By Rene Gauthier
Published September 19, 2010
Recently, my family excitedly went to the Halton County Radial Railway Museum, on the other side of Milton, in the Guelph/Ermosa township community of Rockwood. My boys, being railfans, love the place.
For those who are not familiar with it, it is a museum of restored and fully working streetcars from the many eras of the TTC. They also feature subway cars from the TTC's past, along with one set of metrorail cars from Chicago. Then there are the working interurban passenger railcars from the Montreal and Southern Counties line, as well as the London and Port Stanley line.
In a nutshell, it's the Warplane Heritage Museum of streetcars. If you really want to see the entire collection list and photos, click the link above and go to the website now!
Unlike the metal monsters maintained at the Warplane Heritage Museum, the majority of these cars are made of wood and are subjected to the natural processes of decomposition that comes with it. But when they are fully restored, they are beautiful things. And the trip up and down their rail line makes one think back to the days when such services were quite common. It's rather sad to know that a lot of these railway lines are gone, probably to never come back.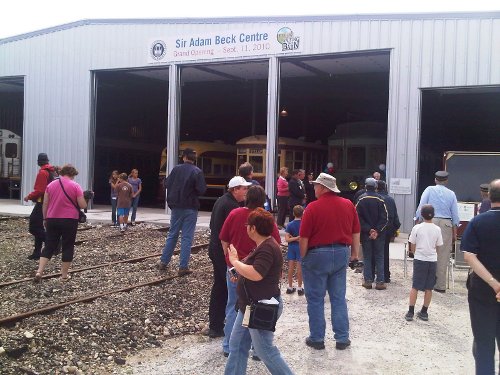 Sir Adam Beck Centre (Unless otherwise stated, all photos by Rene Gauthier)
We really picked the right day to visit the place, as the Sir Adam Beck Centre, barn #4, opened its doors to the public for the first time. This was their new indoor facility, a vision realized after a decade and a half. This building will allow the facility to get more exhibits, especially one of the soon to be retiring streetcars from the TTC. But that's not really what got my attention.
First, when you come into the parking lot, you see four of Hamilton's trolleybuses, 7801, 7802, 765, and 732. These in themselves were a part of our daily fabric when taking the bus along the King, Barton and Cannon routes.
I know that I've taken many a ride on at least three of these vehicles. Living around Reid and Dunsmure, I would pass the Cannon trolleybuses as I was walked to my school, Sir Winston Churchill. At one point we were relieved to see that the HSR were continuing the trolleybus service as they set up the original Eastgate Square terminal with the double wires. That was until I started seeing that the Cannon buses were no longer trolleybuses, but diesel buses.
And so began the end...
At one point, we were encouraged by the testing of an articulated bus that used both trolley wires and a diesel engine, but that was short-lived. The King and Barton routes eventually followed the Cannon's fate and those double wires we were so accustomed to seeing above the streets just disappeared. Then there was the ill-fated project to install diesel engines in the trolleybuses. By that time, the writing was on the wall.
So why did they do away with them? I got some perspective from my father-in-law, who used to work in the maintenance department before retiring in 1996. He told me that the problem with the trolleybuses was in having to replace the poles when they came off the wires, which was quite inconvenient, especially to the drivers. There are several ways the poles could lose contact with the wires, and that's largely because the buses were not on a fixed track so even sudden movements could move the poles off if the driver didn't know what he was doing. They finally came to the conclusion that they were too much of an inconvenience to the drivers and maintenance personnel alike so they decided to remove them altogether. And the rest is history.

Courtesy: Halton County Radial Railway Museum
So my journey to barn #4 began and I started looking for it. It wasn't there so I went into barn #3 and I found it. Before, one would have to struggle with finding it, but now that barn #4 is open, it's stands there in plain sight. I am talking about HSR #521. It is the only known streetcar in the HSR fleet still standing and it's story is a tragic one. After deciding to do away with streetcars, they sold of their fleet and #521 ended up on a farm in Beamsville, used as a shed.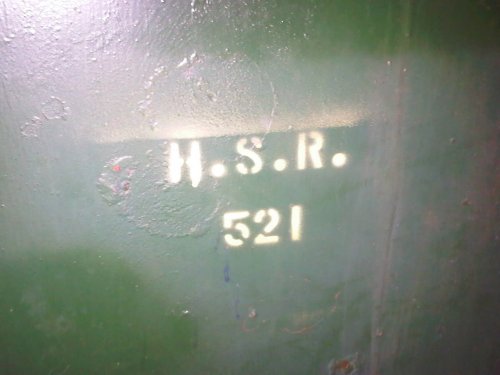 HSR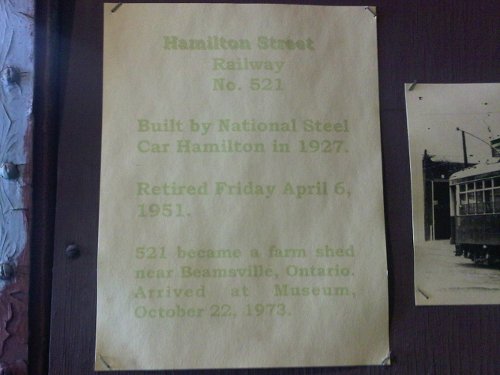 HSR No. 521
We gave up streetcars for buses and trolleybuses. The city buried those tracks along Main Street, to remove them once and for all in the '90s. Other than #521, we are not sure where the other streetcars are. As I'm sure that the Warplane Heritage folks can concur with their planes, this is the typical fate of old buses and streetcars everywhere. They end up on some sort of farm for storage or accommodations. Yes folks, that's our heritage wasting away at some obsure place in the country, because the city would rather get rid of them rather than preserve a piece of history.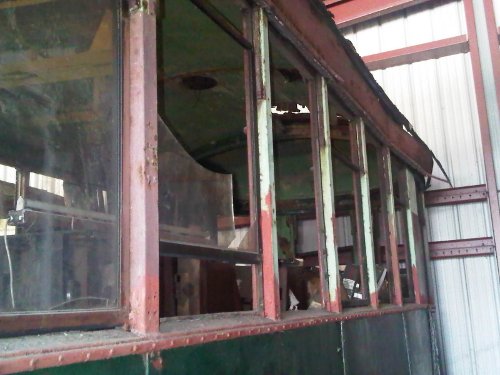 Broken Windows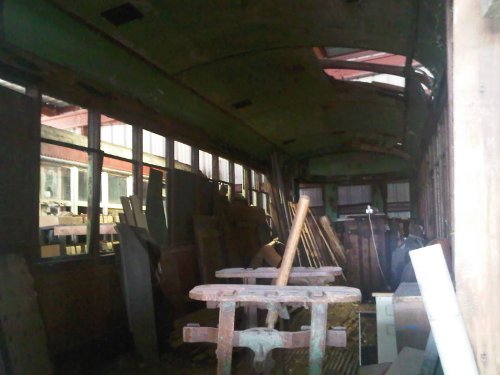 Interior view
Now here we are, considering the installation of an LRT system. And now I'm wondering why after all this time, we want to bring this back. Isn't that what this idea is? Sure it may not necessarily share its tracks with the cars. We don't know that plan yet. But consider the fact that we are actually bringing an old idea back, no matter what part of the road it sits on.
Such things make me ask: why in the world did the city remove it in the first place? Wouldn't it have saved us trouble if we just kept it? I mean, this is a very expensive lesson that has just been passed onto us. It is indicative of the short-sightedness that we have come to know and despise about living in Hamilton.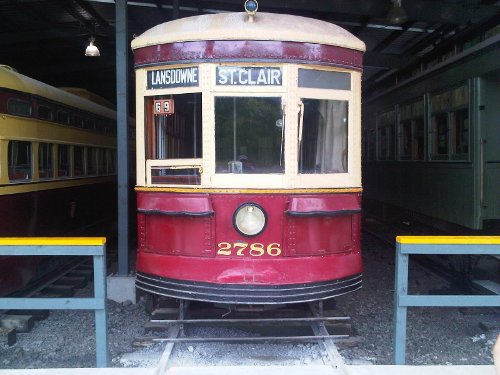 Peter Witt
I look at this wonderfully restored Peter Witt, that the city of Toronto chipped in and helped rebuild, to find the last relic of our transit system past, languishing in the neglect of its original owner and I have to wonder why would we want to go back to this.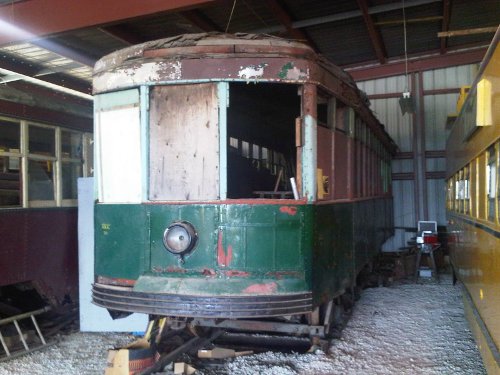 Languishing in the neglect of its original owner
I say this because we made a commitment to this system for about four decades before finally doing away with it, so what's to stop the city from doing the same 40 years later? If we are headed in this direction, it should be a permanent, longer-term commitment, beginning with the city immediately funding the restoration of this wonderful machine.
We have spent the last year arguing about a legacy of another kind. We currently have a series of places that maintain a legacy in sports. How about bringing back one that traveled along our streets before a lot of us were born? That's the challenge I make to the next mayor of Hamilton.
This article was first published on Rene's website.
Post a Comment
You must be logged in to comment.