Cycle Track a Fast, Easy, Cheap Fix for Main
By Jason Leach
Published May 09, 2014
It looks like Toronto will be moving ahead with New York City-style protected lanes on their four-lane one way freeways, Richmond and Adelaide.
Environmental assessments are underway for cycle tracks between Bathurst and Sherborne, but the Transportation Department wants to run pilots this summer to help fine-tune the final design.
Too bad Hamilton has so much more traffic and congestion than cities like Toronto and New York or else we could do this on King and Main. I've already argued that we should do this on King, but Main Street could be done tomorrow: make the north curb lane a two-way cycle track physically separated by parallel parking.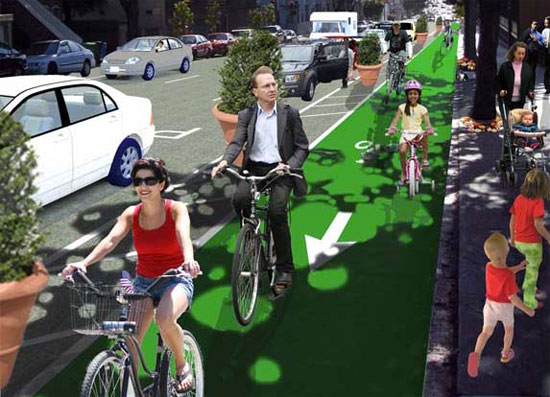 Protected bike lane with curbside parking and planters (Image Credit: Streetsblog)
That would still leave three full travel lanes. We've been down a lane around Main and Caroline for well over a year and traffic still flows freely, even at rush hour. At times the number of lanes has been reduced to three and even two without cataclysm.
We could run a pilot program from Dundurn right through to the Delta, costing nothing but some paint and knockdown sticks. That would leave three travel lanes from Dundurn to Sherman and two farther east from Sherman to the Delta, where traffic volumes are lower. The daily volume drops to 20,000 at Victoria.
This proposal could be done simply with paint and bollards as soon as next year's budget. On Main West, we could extend the protected two-way bike lanes to Longwood Road, and Dundurn Street.
Riders would shift to the north curb at Dundurn in a bike box. This would allow for safe cycling on Main from Westdale to the Delta at minimal cost.
If our traffic department loses their minds at the prospect of going down to three lanes on Main, we could start by having no parking on the second lane during rush hour. The bike lanes should still be physically protected with bollards or planters: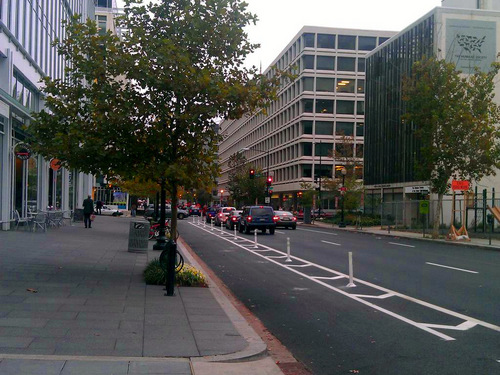 Left curb cycle track separated by knockdown sticks (Image Credit: Greater Greater Washington)
What a difference this one change would make, along with the trees added in bumpouts to make the crossing safer for pedestrians. Seriously, it is an embarrassment in 2014 that we still have a five lane expressway blasting through the heart of the city.
Post a Comment
You must be logged in to comment.