Update on Jackson Square LCBO
By Sean Burak
Published November 06, 2012
On October 26, 2012, I met with the regional manager and the store manager of LCBO #571 (Jackson Square, Hamilton). The meeting was based on several comments I registered over the past few months via their general customer service channels.
Leading up to the meeting, I issued a call for comments from local residents though email, social media and on Raise the Hammer.
The response to this survey was overwhelming: 130 replies were collected, and almost every response included personalized lists of product requests. Many also included detailed commentary.
The care that went into these responses demonstrated that there has been a pent up frustration with the Jackson Square location among many community members.
At the meeting, we discussed a lack of selection, a lack of space and we also touched on the effect of this location on the community. Both managers were very open to the discussion and recognized all of the issues.
There was a hint of defensiveness at times. The store manager in particular felt that she was working as well as she could within the physical limitations of a tiny store in an urban mall with no storage and no dedicated loading area.
I presented a hard copy of all survey responses as proof of a demand for better selection, and both were pleased to receive the information.
Rumours of a new store opening in Jackson remain unverified: both managers claim to have no knowledge of such plans, but they admit that store openings form no part of their responsibilities, so they could not rule the possibility.
Exactly a week after the meeting, the local store manager sent me this follow-up:
Hi Sean,

I wanted to give you the heads up that we have recently listed 9 new craft beers for you to come in and check out. I have listed Boneshaker but it is back ordered at the moment. Amsterdam will deliver as soon as it is available.

Hopefully you will find one or two that you haven't tried.

Get the word out!!

Have a great weekend!

Cheers!

Kim Belliveau
Manager Store 571
Jackson Square, Hamilton
I dropped in to the store today and captured this photo of the new section. It is on the small side, but it is a great start and it serves as proof that the management is interested in its customers' desires.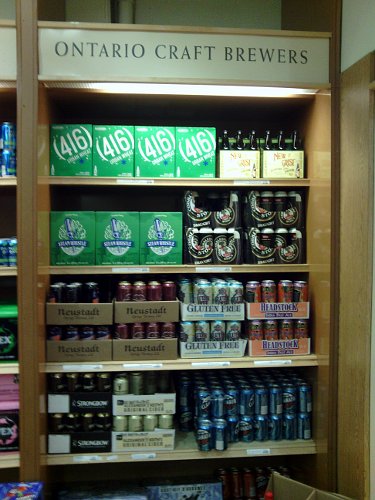 New craft beer section at downtown LCBO
I am hoping that the other issues we discussed will be taken to heart as well. We all agreed that the ultimate solution is a larger store with a proper street presence. If the community continues to express its desires, perhaps we'll see these bigger changes.
In the meantime, I have set up a contact form that will allow anyone to easily send comments, questions and product requests directly to Kim Belliveau, the manager of the Jackson Square location:
Post a Comment
You must be logged in to comment.