Will Council Support a Vote for Walkability?
By Ryan McGreal
Published June 17, 2011
The biggest decisions don't always make the biggest impact. Great cities are built on a vast array of small decisions, each of which nudges the city in a positive direction.
In Hamilton, a safe pedestrian crossing at Aberdeen Avenue and Kent Street is just one of many opportunities to improve walkability, thereby making our city more liveable. Council will soon have a chance to put its unanimous support for walking into practice.
Ward 1 councillor Brian McHattie submitted a notice of motion to the June 6, 2011 Public Works Committee meeting to request the installation of a pedestrian-activated crossing signal on Aberdeen Avenue at Kent Street. If passed, it will go on to council for final approval.
The motion asks staff to consider funding the $80,000 crossing using money from the recent area rating levy. This, despite a recent traffic engineering staff report that recommends against a crossing in that location.
Signs are posted on both sides of Aberdeen at this intersection, instructing pedestrians to cross at Locke or Queen Streets - a 400-metre round-trip, either way. The city posted the signs in 2008, citing safety concerns identified in the Kirkendall Traffic Management Plan.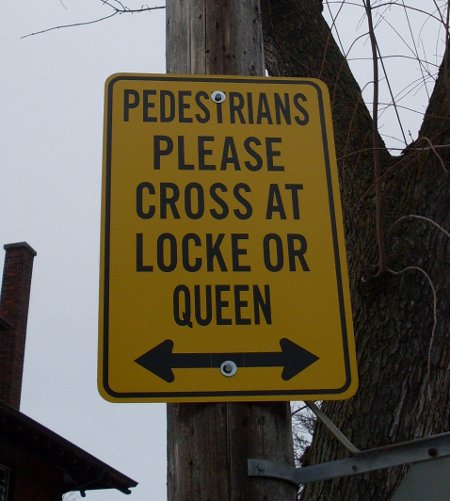 Posted sign at Aberdeen and Kent: 'PEDESTRIANS PLEASE CROSS AT LOCKE OR QUEEN'
The review came after local resident Dr. Madeleine Verhovsek led a citizen campaign to have a proper crosswalk installed at Kent and Aberdeen. The report states that a crosswalk is not necessary, in part because staff "identified sufficient gaps in the traffic for pedestrians to safely cross Aberdeen at Kent."
So the intersection is dangerous enough that the city has posted signs, warning pedestrians not to cross at that location, but then turns around and states that it's safe enough that a crosswalk is not warranted.
If that's not Kafkaesque enough for you, the report raises another issue: a review of the intersection found fewer than 100 pedestrians crossing the street over an eight-hour period.
In other words, the city installs signs instructing pedestrians not to cross the street - and then recommends against a crosswalk because many pedestrians are obeying the signs.
Aberdeen and Kent is an excellent candidate for a pedestrian crossing. Kent is the only north-south street between Queen and Dundurn and terminates at a large community park (H.A.A.A) and Ryerson middle school. There are HSR bus stops on both the north and south side of Aberdeen at Kent.
Councillor McHattie says he is working with staff to make it happen. "Safer crossings will mean more pedestrians, with a concurrent reduction in greenhouse gases and air pollution, better health outcomes, and a generally more sane way of life," he explains.
It seems hard to argue with this logic. Indeed, Hamilton's Transportation Master Plan appears to support the following hierarchy when considering policy:
Pedestrians > Bicycles > Transit > Local Vehicular Traffic > Through Traffic
But so far, this hierarchy does not seem to have had much impact on day-to-day operational decisions. In what quantifiable way do we prioritize pedestrians over motorists? Does the city aim to maintain a given level of service for pedestrians, just as it maintains service levels for motorists?
At Aberdeen and Kent, pedestrians are asked to walk five minutes out of their way so that motorists are spared the inconvenience of an occasional 30-second stop. That doesn't sound like prioritizing pedestrian traffic over vehicular traffic.
However, there are signs that this may be changing. The city has launched a pedestrian mobility master plan study to "improve the pedestrian environment and increase the opportunity for walking as a mode of transportation (active travel) and recreation that is efficient, comfortable, safe inclusive, accessible and improve health of communities and economic development."
The vision comes right out of the International Charter for Walking, which council unanimously endorsed in April 2008: "Creating healthy, efficient and sustainable communities where people choose to walk."
This was first published on OpenFile Hamilton
Post a Comment
You must be logged in to comment.