Merulla to Ask Council to Cease Action in Building Stadium
By RTH Staff
Published December 14, 2010
this blog entry has been updated
On November 3, Ward 4 Councillor Sam Merulla announced his intention to introduce a motion calling on Council to "cease any further action in building a new stadium" for the Pan Am Games and the Hamilton Tiger-Cats. The City's current proposal involves building the stadium at the CP Rail Yard near Aberdeen and Longwood.
Now the motion has been posted to the City's website [PDF link] for inclusion in the agenda for the December 15 Council meeting (under Notices of Motion, section 8.1).
The project is under-funded by somewhere in the range of $70 million. The Federal government has stated that it will contribute no additional money beyond the commitment it already made to the Pan Am Games, and private sector partners have not stepped forward to help pay for the Stadium.
The Ticats have offered $8-10 million in capital costs toward the stadium, to be paid over ten years and are willing to manage the stadium operations in exchange for an annual $300,000 management fee.
The Ticats also plan to buy a parcel of land on the CP Rail Yard to build a 150-room hotel, conference centre, restaurants and other businesses as part of a "stadium precinct".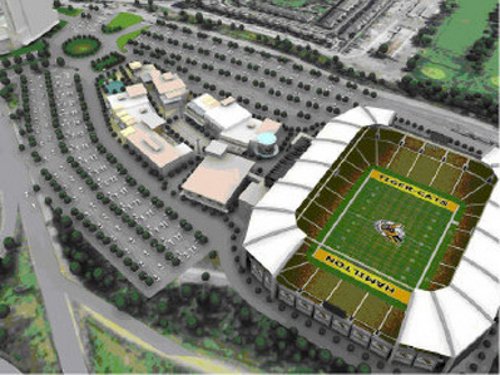 Mockup of the Ticats' planned 'Stadium Precinct' at the CP Rail Yard
Councillor Merulla has been a steadfast opponent of the City's plan to use $60 million of Future Fund money on a Pan Am stadium and velodrome, saying the debate has been "fueled by emotion and based on wants rather than needs of our community."
According to Merulla, "a number of councillors have expressed support" for his motion.
(h/t to the alert RTH reader who directed this to our attention)
Update: Councillor Merulla clarified in a follow-up email to RTH that the motion will not be debated at the December 15 meeting. "It won't be debated today. It is a notice to be debated at our next council meeting."
Post a Comment
You must be logged in to comment.